Location
2955 Randolph Ave. #B, Costa Mesa, CA 92626
Registration fees
$15 per person
NexGen SoCal Summit 10/22/2022: Save Your Spot!
Join us on Saturday, October 22nd, in Costa Mesa for a jam-packed event with NexGen Los Angeles, Orange County, and San Diego! It's going to be a day full of professional development, education, and networking with Southern California's most elite NexGen advisers.
The Summit will feature a keynote speaker presentation, member-led collaboration sessions, and an open forum panel of successful planners to glean wisdom from.
For a small registration fee of $15, breakfast (pastries), lunch, and a drink ticket for the post-event happy hour will be provided.
We are limiting the event to 40 attendees, so register now and save your spot. You won't want to miss it!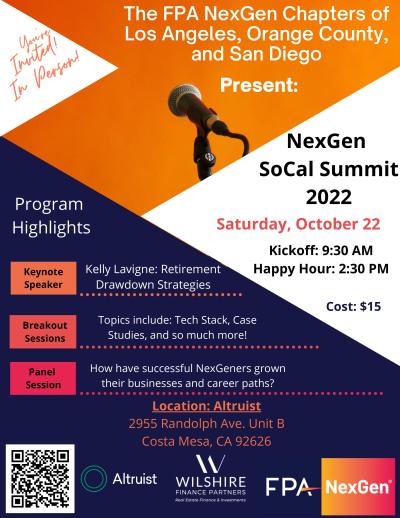 Topic
General Financial Planning Principles
Practice Management
Career stage
Learning / Aspiring
Early-Career