November Quarterly Education Meeting Agenda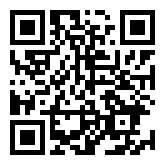 Scan this QR Code to visit our Survey Monkey link where you can submit for CE credits. Alternatively, you can visit www.FPAQEM.com and also get this same link through our Eventee app.
Welcome & Pledge: 8:30am
President's Message: 8:35am
What's The Wrong Price? 8:45am
Harley Bassman, 35-year Senior Managing Director on Wall St., creator of the MOVE Index, and Managing Partner at Simplify Asset Management shares his views on how shifts in monetary policy, demographics, and volatility are impacting asset prices and our broader financial system as a whole.
Mr. Bassman discusses the current market environment, implications for equities, fixed income, real estate, and derivative markets, and what this might ultimately mean for policy makers and investors alike. Participants will gain insight into actionable steps to navigate the current market environment.
9:35am: CNL Gold Partner Presentation
9:45am: Break
10:10am: Chapter Announcements
10:20am: Power of Financial Planning Award
Have you ever wanted to customize your clients' portfolios, but felt that ETFs or mutual funds just weren't up to the task? If so, you might want to consider personalized indexing, a technology-based approach for customizing your clients' investment portfolio to reflect their unique values, financial objectives, and tax-loss harvesting needs. Traditionally, only institutional or ultra-high-net-worth investors had access to personalized indexing portfolio management tools. Attend this session to learn how you can grow your business by creaking bespoke investing experiences for your clients—at scale.
Jonathan Hudacko is the Principal of Personalized Indexing at Vanguard, formerly CEO of Just Invest and Just Invest Systems, a Registered Investment Advisor and an independently operated wholly-owned subsidiary of Vanguard. Prior to Just Invest, Jonathan was the COO of Pluribus Labs, a Berkeley-based research and technology firm employing advanced AI and textual analysis to derive investment signals from non-traditional data sources.
Jonathan's investments career began at MSCI Barra, where he headed the Portfolio Analytics business for institutional investors. Jonathan managed the business unit P/L and worked with leading global investors to drive product innovations in multi-asset class risk modeling and asset-allocation solutions. Before entering the investments world, Jonathan started his career at Apple Computer. 
Jonathan holds dual BAs from Stanford University and an MBA from the Haas School of Business (UC Berkeley).
11:20am: Sponsor Introductions
11:30am: Lunch
12:30pm: Meet the 2022 FPAOC Board
12:35pm: Advisor Internship Program - Will be done live, virtually.
Yeske Buie will share experiences with interns (summer, school-year, international/domestic students) over the past 13 years. We'll focus on benefits to the firm, how to craft a good experience for the intern, and will share learning lessons and what we've identified as best practices for our firm.
Yusuf Abugideiri, CFP® holds an M.A. in Economics from George Mason University and a B.S. in Finance from Virginia Tech's Pamplin College of Business. He has been practicing financial planning since 2009.
1:30pm: California Tax Update 
This California tax update will help CFPs understand new California laws that affect planning for both tax and financial planning. We will discuss:
* AB 150 and the Passthrough Entity SALT tax regime
* AB 80 and how California's nonconformity to federal PPP forgiveness can increase the California tax liability
* Leaving California and how your clients who want to leave California should structure their move to minimize the effect of residency audits and suggestions on how to handle businesses that are sold before of after the move
* Other miscellaneous cases and legislation that would be of interest to CFPs
Lynn "Ms. California Tax" Freer is President of Spidell Publishing, Inc.® She works closely with all state tax agencies and is often consulted for input on policy decisions. She always has the inside information on what's happening at the state level because she devotes herself full time to analyzing, writing about, and teaching California tax law and procedures. Lynn speaks at Spidell's annual Federal and California Tax Update Seminars, as well as many other seminars and webinars.
2:20pm: Break
2:40pm: Diversity & Inclusion Initiatives update
2:50pm: The Advisor Guide to Crypto
Education is the foundation of the financial advisor-client relationship. Advisors need to be educated--not just before they start their practice, but on an ongoing basis throughout their career. In turn, the most effective financial advisors educate their clients, empowering them to make sound financial and life decisions.
Join Onramp CEO & Co- Founder Tyrone Ross as he breaks down the essentials and investment theses for Crypto to empower today's financial advisors to be better prepared to speak to clients about this asset class.
Tyrone Ross is the CEO and co-founder of Onramp Invest and the Founder of 401stc, a storytelling consultancy.
He is a graduate of Seton Hall University, and was also a 2004 Olympic Trials qualifier in track and field in the 400 meters.
He was recognized as part of the 2019 InvestmentNews 40 under 40, and was also recognized by Wealth Management as one of the top ten advisers set to change the industry in 2019. Financial Planning named him as one of 20 people who will change wealth management in 2020, and he was recently named as Investopedia's top 100 financial advisers.
 3:40pm: Closing Remarks
 4:00pm: Happy Hour at Zov's – 21123 Newport Coast Drive
To ensure the safety of our guests and staff, please note FPAOC only requires masks for unvaccinated individuals indoors if there is no social distancing. We request that, if you are unvaccinated and choose not to wear a mask you maintain social distancing as required out of respect for the law and your colleagues. For individuals who are fully vaccinated but uncomfortable knowing that we cannot monitor or enforce social distancing rules, please note that you are welcome to continue wearing a mask. ''Fully vaccinated'' means you have received at least 14 days prior either a second dose in a two dose COVID-19 vaccine series or a single dose COVID-19 vaccine Pursuant to Center for Disease Control Guidance. If you are experiencing any COVID 19 symptoms, including fever or chills, cough, difficult breathing, sore throat, or new loss of taste or smell, please stay home. If you are exhibiting symptoms while at a FPAOC event, you may be asked to leave.