May 2023: Serving Business Owners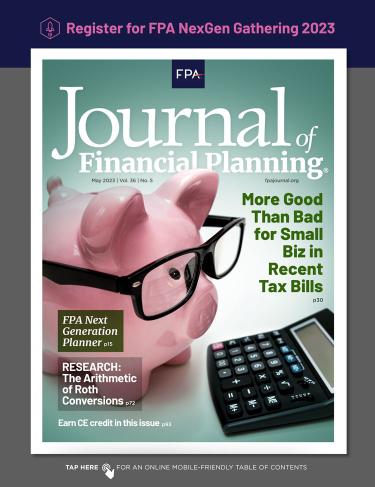 COVER STORY
By Randy Gardner, J.D., L.L.M., CFP®, CPA, RLP, AEP, and Julie Welch, CFP®, CPA/PFS, AEP
Recent legislative changes have made tax season and setting up retirement plans easier for a lot of businesses.
PRACTICE MANAGEMENT
By Michael Rose
Transparency is key if you want to nurture an environment of mutual trust in your practice.
FEATURE
By Dan Johnson
Planners who serve—or seek to serve—clients with athletic aspirations should become familiar with how name, image, and likeness rule changes affect the way these young people are compensated.

FPA NEXT GENERATION PLANNER
Lead Article
By David Haughton, J.D.
Featured Article
By Philipp Hecker
My Career Path
Tips for the NexGen Community
Planning a STUDY GROUP?  Check out suggested questions and other resources to make your study group a success!

COLUMNS
By David DeVoe
Trade the outdated valuation rule of thumb for a more inquisitive approach to succession planning.
By Chris Heye, Ph.D.
Business owners have a duty to others that makes planning for health risks a business priority.
By Christine Simone
Sole proprietors or small employers have options for health coverage.
By HanNa Lim, Ph.D., CFP®, and Joseph Ji, Ph.D.
Employees are an asset and a risk for small business owners.
RESEARCH
By Edward F. McQuarrie and James A. DiLellio
Does paying the required tax outside a Roth conversion eventually pay off for any investor if the planning horizon is long enough?
Earn one CFP CE® credit by reading this month's Journal and access past exams for additional credits. 

DEPARTMENTS
STARTING THOUGHTS
OBSERVER
JFP ACADEMICS

IN CASE YOU MISSED IT
By Yuanshan Cheng, Ph.D., CFP®, CFA; Tao Guo, Ph.D., CFP®, CFA; Philip Gibson, Ph.D., CFP®; and Janine Sam, Ph.D., CFP®
Did the frequency and message of tweets have a correlation to RIA performance during the pandemic? This paper looks at how RIAs that didn't panic sell fared during the market downturn.