January 2023: Behavioral Finance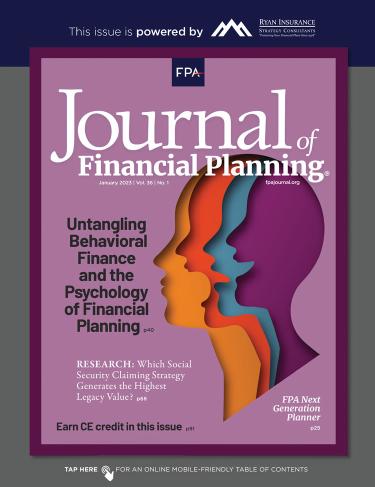 COVER STORY
By Bradley T. Klontz, Psy.D., CFP®
Recognizing a client's behavioral bias doesn't necessarily mean that planners are equipped to address it without causing more pushback.

PRACTICE MANAGEMENT
By Gerry Herbison, CFP®,  D.B.A., ChFC, CASL, CLF
The most effective leaders focus on getting results and inspiring team members who stay engaged and focused on the firm's objectives.
FEATURE
By Sydney Hanson and Blain Pearson, Ph.D., CFP®, AFC
Patience is key to addressing these two forms of availability bias among clients that can hamper an investor's financial wishes.

FPA NEXT GENERATION PLANNER
Featured Article
By Luis Rosa, CFP®, EA
 
Case Study
By Tanya Staples, CFP®, and Ashlyn Rollins-Koons
 
My Career Path
Planning a STUDY GROUP?  Check out suggested questions and other resources to make your study group a success!

COLUMNS
By Dani Fava
Clients encounter myriad opportunities for impulse spending. How does that affect financial planning and goal setting?
By Barbara Kay, LPC, RCC, TIPC
Relentless stress can drain energy and effectiveness. Planners can help clients and employees focus on the positive.
By Kalli Fedusenko
Understanding why clients do what they do helps planners maximize the impact of their communications.
By William Reichenstein, Ph.D., CFA
Two proposals have the potential to dramatically change Social Security's role in retirement income. 
RESEARCH
By Wade D. Pfau, Ph.D., CFA, RICP, and Steve Parrish, J.D., RICP, AEP, ChFC, CLU
It's time to analyze whether delaying Social Security as long as possible for a higher payout or claiming earlier to invest the distribution provides a longer lifetime value.
Earn one CFP CE® credit by reading this month's Journal and access past exams for additional credits. 

DEPARTMENTS
STARTING THOUGHTS
By Danielle Andrus
OBSERVER
Q&A
VOICE
JFP ACADEMICS


IN CASE YOU MISSED IT
By Megan McCoy, Ph.D., LMFT, AFC, CFT-I; Ives Machiz, CFP®; Josh Harris, CFP®, AFC; Christina Lynn, CFP®, AFC, CDFA; Derek Lawson, Ph.D., CFP®; and Ashlyn Rollins-Koons
Technical skills aren't enough to earn clients' trust. New research identifies five antecedents to building trust and getting client buy-in.