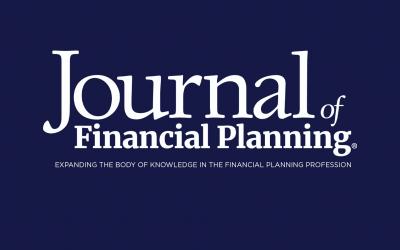 TABLE OF CONTENTS
 
STARTING THOUGHTS
by Danielle Andrus

COVER STORY
by Mark L. Prendergast, CFP®, CPA, CDFA
Gray divorces are on the rise, and the documents that protected clients' interests upon their death will likely become outdated. Learn what changes you can—and can't—make regarding these emotional planning decisions.
 
FEATURE
by Fabio Ambrosio, Ph.D., J.D., LL.M., CFP®, EA, CPA/PFS
Passing along assets in an estate is always tricky, especially if one or both partners are not citizens of the United States. Are QDOTs a viable solution for a noncitizen to receive property?
 
PRACTICE MANAGEMENT
by Greg Opitz
Self-reflection is key to improving yourself. When things go bad, it's intuitive to reflect on what went wrong, but should you be evaluating the good periods more critically?
SPECIAL SECTION
Click HERE for this month's issue of the FPA Next Generation Planner, which is now included in the Journal of Financial Planning for your convenience.
 
JFP ACADEMICS
UPCOMING RESEARCH: Look for these research papers in future issues of the Journal of Financial Planning. 
Page through the latest issue in our online digital edition with archives back 10+ years! The digital edition offers many useful features including search, bookmarks, notes, clipping, printing, PDF downloads, and sharing options.  Page through the latest or past issues today!
Planning a study group?  Check out suggested questions and other resources to make your study group a success!
Earn one CFP CE credit by reading this month's Journal and access past exams for additional credits. 

VOICE

OBSERVER
CHAPTER SPOTLIGHT
COLUMNS
 
by Dennis Moore, CFP®
FPA believes financial planning is an essential profession that has an important impact on society. That's why pursuing title protection will be our primary advocacy objective.
by Chris Heye, Ph.D.
The biggest concern retirees have isn't outliving their portfolio but health-related issues, chief among them making financial decisions as decision-making capability wanes.
by Bob Veres
This year's "T3/Inside Information Software Survey" reveals what sort of software solutions different financial advisers are using in their firms, and compares FPA members' utilization to other planners'.
by Bridger Cummings
A temporary relief period for the Public Service Loan Forgiveness program is ending soon. Clients with outstanding student debt who work in a nonprofit or for the government could save a lot if they act now.
RESEARCH
by Mikel Van Cleve, CFP®, and Bradley Klontz, Psy.D., CFP®
As more people remarry and introduce kids from previous marriages, it is vital that both partners feel comfortable with how the estate is set up regarding the children, especially if one partner makes more than the other, so there is no resentment.
Get Published
Submit your own research for peer review. Click HERE for more information.
 
IN CASE YOU MISSED IT
by John E. Grable, Ph.D., CFP®; Eun Jin Kwak; and Pan-Ju Chen
Using the marital status of your clients when determining their risk tolerance has been a point of debate. This paper explores this association in conjunction with other variables to discover how much of an effect it really has.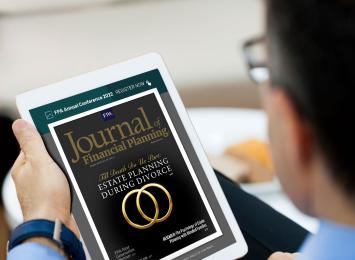 Digital Edition
Page through the latest digital edition online or through the FPA Publications app with archive access back 10+ years.