Location
Virtual through Zoom
Registration fees
Complimentary
Grab your favorite beverage and join us at our November Happy Hour Meet-Up as we learn from one another and build new friendships!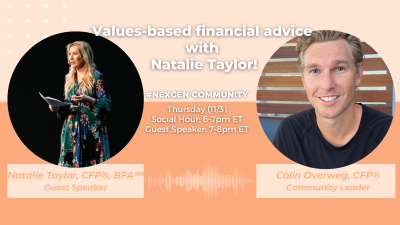 We are so excited to welcome Natalie Taylor as our special guest at the November 3rd NexGen Happy Hour Meet-Up. NexGen Happy Hour is open to all financial planning and allied professionals who are "new to their career". We welcome and encourage financial planning students to join as well! 
When:  Thursday, November 3rd
Social Hour:  6 - 7 pm ET
Natalie Taylor:  7 - 8 pm ET
About Natalie:  Natalie is a Certified Financial Planner™ professional and Behavioral Financial Advisor™. She's on a mission to help people align their finances with what really matters to them so they can not only make progress, but find confidence, balance and peace along the way.
Frequently quoted in major publications such as Business Insider, Huffington Post, Forbes, and Lifehacker, Natalie draws on close to 20 years of comprehensive financial planning experience, 9 years in fintech, and a decade of professional speaking to share advice that works in real life, not just on paper.
After eight years in private practice, Natalie joined LearnVest, a fintech startup on a mission to make financial planning affordable and accessible to the masses. She moved on to be the Director of Financial Advice for LearnVest after they were acquired by a Fortune 100 company, and left in mid-2018 to start a fintech consulting and professional speaking business. She consults for companies like SoFi, Ellevest and LearnLux, and continues to speak to audiences throughout the country, including speaking for the second year in a row at the annual Beachbody Summit in Indianapolis alongside James Clear and Rachel Hollis to a crowd of 20,000+ business owners.
As of February 2020, Natalie opened a financial planning practice to work one-on-one with clients again, returning to her first (career) love.
And as of June 2021, Natalie joined Monarch Money as Head of Financial Advice to build fiduciary level financial planning tools and content for consumers.
*If you can't join us for the whole time, that's okay . . . jump on/off when you can!