8:00am - 4:00pm PT, Happy Hour from 4-5.
Location
Mariners Conference Center
5001 Newport Coast Drive
Irvine, CA 92603
Registration fees
Member: $40
Non-member: $100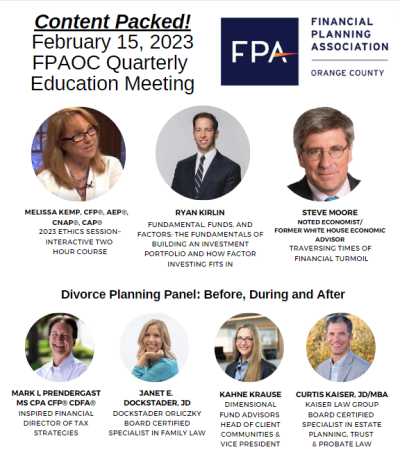 **First time attendees- receive complimentary registration.** Email admin@fpaoc.org for your discount code.
First presentation scheduled to begin at 8:15am.
Being held live at: Mariners Conference Center, Irvine. 5001 Newport Coast Drive, Irvine, CA 92603
Light Breakfast, Lunch, Beverages, and Desserts!
Presentations are scheduled throughout the day. Doors will open at 7:30am and we will start promptly at 8am.
Cost: FPA Members $40 | Non-Members $100
Current Students, FPAOC Passholders, & Partners - You're discount code will get you complimentary access to the QEM. Contact Admin@FPAOC.org if you have any questions. We anticipate offering 5.0 hours CE for CFP® Professionals and 5.0 hours CPA. Two hours of the five are for ethics. 
Schedule, Speakers, and Sessions
7:30 am - Doors Open
8:00 am- Welcome and Pledge
Session 1: Fundamental, Funds, and Factors: The Fundamentals of Building an Investment Portfolio and how factor investing fits in, Presented by Ryan Kirlin. 
In every endeavor of life, whether it be basketball, mathematics, or investing it is key to learn (and relearn!) the fundamentals. Without knowing and understanding the fundamentals, it is nearly impossible to understand the more advanced areas of a subject. It is like trying to hang leaves on a tree without a trunk to attach them to!
From this discussion, you should gain a framework to be able to apply to your investment decisions and gain confidence in why you make the decisions you do. It will be useful for those newer to building investment portfolios all the way to the most experienced as even the pros drill their fundamentals regularly!
About our speaker: Ryan Patrick Kirlin is Head of Capital Markets for Alpha Architect. He works with financial advisors to analyze and create affordable, tax-efficient, investment portfolios in partnership with Alpha Architect and our ETFs. Alpha Architect has eight systematic ETFs.
His previous roles in the New York Stock Exchange's ETF Group (where he was part of launching about 650 ETFs) and at RevenueShares ETFs help give him a well-rounded view on ETF structure and the opportunities for investors within the industry. When RevenueShares was acquired by the mutual fund behemoth Oppenheimer Funds, Ryan received an inside look at the challenges faced by legacy asset managers in adapting to the future of asset management.
Ryan attended Fordham University for his undergraduate degree. He was a member of the US Rowing Team in 2011 and competed at the Pan American Games. He still rows and his backtested performance results look great. He is not as confident in his forward expected returns due to new unaccounted transaction costs in his life (a baby, age, and golf).
Session 2 (Two Hours): Ethics Presentation. This program fulfills the requirements for CFP® Board approved Ethics CE.
About our speaker: Melissa Kemp, CFP®, AEP®, CAP®, CNAP® currently serves as the contract Executive Director for the Financial Planning Association of Greater Phoenix. Prior to accepting the Executive Director role in 2015, Melissa had been a chapter member since 2000. She owns Premium Administration, LLC, specializing in providing professional administrative solutions to trustees of Irrevocable Life Insurance Trusts. Operating continuously since 1998, this company accepts new business exclusively through referral networks. She also owns Premium Organization, an Association Management Company, launched in 2000. Premium Organization provides administrative solutions for many non profit organizations, including 501(C)(3), (C)(4), and (C)(6) type entities.
Recently, Melissa has been vetted and confirmed as a Hearing Panel Volunteer by the CFP® Board of Standards Disciplinary and Ethics Commission. The Hearing Panel is responsible for overseeing and processing disciplinary actions. In 2017, Melissa developed a fun and interactive Ethics course titled "A Pragmatic Walk Through the Ethical Looking Glass". This course quickly became popular with CFP® attendees, because it incorporated gamification learning tools like Kahoot! and utilized authentic Anonymous Case Histories from the Disciplinary Ethics Commission. Among the continuing feedback from professionals taking the course, many noted it was the first time an approved Ethics course actually delivered on every required learning objective and carved out time for useful ethics discussions. When the Board elected to produce its own new Ethics Course in advance of rolling out the new practice standards, Melissa served on the Ethics Work Group volunteering time and talent to shape the new course. Much of her early work proving that fun and interactive courses were possible and could meet the Ethics Learning Objectives opened a path for the final course to integrate many concepts from the Pragmatic Walk Through the Ethical Looking Glass.
Session 3: Divorce Planning: Before, During and After- Panel Discussion
This presentation will start with the foundation of a divorce through the legal system, from the initial court filing to the final divorce decree.  From there, we will compare/contrast planning for a client-couple with its inherent conflicts, versus a situation where only one spouse engages the planner.  Both attorneys and the financial planner discuss possible recommendations before filing for divorce and after filing when all assets are under the jurisdiction of the court.  
We will discuss the Automatic Temporary Restraining Orders ("ATROs") which dictate what financial actions and transactions the divorcing spouses can do and what they are prohibited from doing.
The session will close with post-divorce actions the financial planner need to help the client accomplish.
About our speakers: 
MODERATOR: Kahne Krause, Dimensional Fund Advisors, Head of Client Communities & Vice President
As head of client communities, Kahne oversees more than 80+ groups and forums ranging from traditional advisor study groups to executive forums and specialized groups focused on common interests – such as Women & Wealth and Sustainable Investing. Dimensional communities provide a place for clients to have trusted conversations, build on their expertise, share ideas and learn from each other. Kahne has been at Dimensional for over 15 years. In that time, she has also worked closely with RIAs to address their most significant issues - from developing investment solutions to addressing practice management needs to working through strategic business initiatives.
Prior to joining Dimensional in 2007, Kahne was a principal audio/video engineer at Walt Disney Imagineering, where she worked on the design and installation of theme park attractions at Disney parks worldwide. Kahne holds an MBA from the Anderson School of Management at UCLA and a bachelor's degree in aeronautical and astronautical engineering from Purdue University. She is a CFA Charterholder.
PANELIST: Janet E. Dockstader, JD, Dockstader Orliczky, Board Certified Specialist in Family Law
In 2019 Janet and her associate, Nadine Orliczky, partnered up after 10+ years in a large family law firm in Long Beach.  They moved their team to Seal Beach where they now run a boutique family law firm.
Janet's reputation as a staunch advocate for her clients as well as having a confident and professional courtroom presence quickly earned her a favorable reputation among local judges and attorneys.  Janet is well experienced in the courtroom and has strong litigation skills.  She is also trained in mediation and uses these skills to negotiate settlements that can help clients avoid litigation all together.
She holds the highest peer rating possible of AV Preeminent* from Martindale-Hubbell; she has an Avvo "Superb" rating.  She is an active member of the Ball Hunt Inns of Court, an organization that includes prominent attorneys and judges.
PANELIST: Curtis Kaiser, JD/MBA, Kaiser Law Group, Board Certified Specialist in Estate Planning, Trust & Probate Law
Curtis Kaiser provides "Purposeful Planning for the Multi-Millionaire Next Door®."
Curtis' experience in carrying out hundreds of "traditional" estate plans and seeing their shortcomings in taking care of clients' loved ones led Curtis to develop the firm's Legacy Program. This is a collaborative process including the client and his/her trusted advisors. This client-centered model focuses on linking assets to the estate plan and using an ongoing client relationship to assist clients to accumulate and sustain family wealth in all of its forms, across generations.
Drawing on his focused and ongoing estate planning training and compassionate dedication to his clients, Curtis adeptly guides families, individuals, and small business owners to create estate plans that help to minimize all forms of taxes, costs, and complications, while maximizing simplicity, ease of implementation, and family harmony. Kaiser Law Group's Legacy Program is perpetually adaptable to serve the client's needs and life circumstances.
PANELIST: Mark L Prendergast MS CPA CFP® CDFA®, Inspired Financial, Director of Tax Strategies
Mark Prendergast is the Director of Tax Strategies at Inspired Financial where he focuses on income tax planning, estate planning, and divorce planning.  Inspired Financial has a client-focus of women-in-transition (widows, divorcées, executives retiring, business owners) which is a perfect fit for his skill set.
Mark has been a practicing CPA for over 40 years and a CFP® practitioner for 35 years.  He has held numerous FPA leadership positions at the local chapter, regional, state and national level, including serving on FPA Board of Directors (2011-2013).
Session 4: Surviving Financially in Times of Financial Turmoil, Presented by Steve Moore
About our speaker: Stephen Moore is an economist/writer and Fox News Channel analyst.  He served as a senior economic advisor to the Donald Trump for President campaign in 2016. He helped write the Trump tax plan and worked on energy and budget issues for candidate Trump.   In 2020 Moore served as a member of President Trump's Coivd-19 Economic Recovery Task Force.  He is currently an economist at FreedomWorks and is a senior fellow at the Heritage Foundation - ranked the number one most influential think tank in the world.
Topic
Ethics
General Financial Planning Principles