Journal of Financial Planning: March 2021
WHO: Patrick Mahoney
WHAT: CEO, Financial Planning Association
WHAT'S ON HIS MIND: "There has never been a more important and critical time for financial planning than there is now."
VIDEO: Click or tap below for a YouTube video with additional questions and answers with Patrick Mahoney.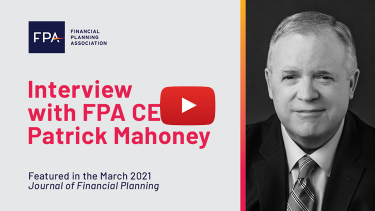 How has financial planning impacted your life?
A little story about me that goes back to my childhood when I was introduced to financial planning early on:
My father was a child of the Great Depression. His family grew up in very modest circumstances, so he was very thrifty all of his life. He did not believe in allowances. When I was 9 years old—bordering on 10—all of my friends in the neighborhood had allowances, but I did not. And I begged and begged [to have one]. I nagged my parents quite a bit.
On my 10th birthday, I still remember, we sat at the kitchen table and he announced that I was going to get an allowance. He and my mother had agreed: I would get $1 a week, every Saturday. There were rules, though.
He had a contract that I had to sign at the age of 10, and the contract had stipulations. The first stipulation was what I had to do to earn the dollar a week. I had three chores: I had to make my bed every morning, help my mother with the breakfast dishes before I went to school, and I had to clean up after the dog.
The second stipulation was that out of the dollar that I got, 10 cents had to go in the collection basket at church on Sunday; and 40 cents had to go into my passbook savings account—they don't have those anymore, but at the time they were quite the rage. My father would match 100 percent of everything I put into my savings.
That left me with 50 cents. Now, you have to understand that at the time when I was 10 years old, Hank Aaron was approaching breaking the record for home runs, and I was very big on baseball cards. A really high-quality Hank Aaron baseball card cost 35 cents. I instantly realized I had hit payola getting 50 cents, so I was all about it.
I didn't realize until later what kind of deal my father had done. That 40 cents every week, matched by my parents and then compounded with interest, turned into a tidy sum. By the time I graduated from high school and went off to college, I had quite a bit saved that my parents had matched in my savings account.
When my 15th birthday came—before I learned how to drive—as a birthday present, I was given a session with a financial planner. He was a friend of my father's and I got to put my first budget together. By that time, I was getting ready to drive and getting ready for my first job. I knew how I was going to save and what I was going to budget for.
That lesson stayed with me all my life—the idea of savings and a consistent steady pattern of investment—and enabled me to have a pretty stable life and put our children through school.
I learned early on the value of financial planning, so when this opportunity [to become FPA's CEO] came along, I felt like I was coming home.
You recently said that you fell in love with FPA. What about the organization inspired you to become its permanent CEO?
I think a couple of things. One was the mission of the organization, the dedication of the staff, and the dedication of FPA's volunteers and our ever-important chapters. When you look to the future, there's a massive generational transfer of wealth currently in play, and which will continue over the next decade. There has never been a more important and critical time for financial planning than there is now.
In many ways, you can see financial planners on both sides of the table representing each generation. Those generations—those transferring wealth and those receiving wealth—are going to be relying upon their financial planners for astute advice based upon their subject matter expertise. So there's never been a better time to be a financial planner and that's going to linger for many, many years to come.
If you could sit down with each member of FPA and have a conversation with them, what would you tell them?
I would tell them that I appreciate them. I appreciate their dedication to the profession. I appreciate them as a member, and I would ask: how can we better serve you? I would listen more than talk. They have a lot to say. They're cheering on the sidelines for FPA to succeed. Yes, we have some members that tell us how to be better and I welcome that because they want us to be better. They want their membership association to succeed—and I'm all for that. So I'd be grateful to have them for a few moments of conversation, tell them how much I appreciate them, and ask for their advice about how we [can] grow.
Tell us about your family.
My wife, Lesley, and I will be married 30 years this year. We have four children—three girls and a boy. Our youngest, our son, is in his final semester in college, so our tuition days are behind us shortly.
Our eldest daughter is a research analyst in Washington, D.C. Our second daughter is a neonatal intensive care unit nurse at a hospital here in Connecticut. Our next daughter is an ICU nurse, also at a hospital in Connecticut, but lately she's been a COVID-19 ICU nurse. Our son is a senior at George Washington University, majoring in aeronautical engineering, and attending on a Navy scholarship. He graduates in May, receives his officer commission as an ensign into the Navy, and then he's off to flight school in Pensacola.
You say to focus on the windshield and not the rearview mirror. What are some of the things you're focusing on in your first year at FPA?
First and foremost, my focus for FPA in terms of the staff is fulfilling our strategic objective defined by the board. That means addressing membership: are we offering the products and services that our members want?
A very close second to that is, are we offering members what they're going to need in the future to continue to be relevant in the market space, while also addressing how we can equip them to help them grow their practices? So that's first and foremost—working on membership.
I'm also focusing on navigating FPA through another year of the pandemic. I think the country will have a really good idea of where things stand after the Fourth of July—Independence Day. By then, the pandemic should be under control and we'll start seeing things start to thaw in terms of travel, and I'm looking forward, hopefully, to having our annual meeting in Columbus, [Ohio], in September.
You said FPA will have a resolute, laser-like focus on membership. What does this look like and how will it improve the member experience?
First of all, when a member calls or reaches out to FPA, they should get a response that day or the next day. So my expectation of service level is very high. It's a privilege to serve the financial planner community, and we have to treat that privilege with the respect that it deserves. There's going to be a big focus on customer service, delivering value, and helping our members grow their membership portfolios in ways that are helpful—including being exposed to learning opportunities.
There are a lot of positive things coming out of FPA in the future, and I'm very excited about it. I'm more excited for our members than for anything else. It's a privilege to have them here. It's a privilege for us to serve them and we're all about making sure that they and the ever-important chapters have the experience from us that they need.
When we use a self-service kiosk at U.S. post offices, we have one of your patents to thank for that. Tell us more about that work and how it influences what you do now.
A very long time ago, I worked for Pitney Bowes and I was in charge of strategic product development. Our readers will know of Pitney Bowes as they make postage meters. When you get an envelope in the mail, it has that red imprinted message on the upper right-hand corner for postage in a city and state [that's Pitney Bowes].
The idea was to come up with a different use for the postage meter in a way that diversified revenue. I happened to be talking with a bankruptcy court judge, and that led to a conversation with his staff. They had a need to be able to receive documentation for those attorneys [who] were filing bankruptcy proceedings. Many of them couldn't get to the courthouse or got to the courthouse too late and it was closed. How can they submit the documents at 11 o'clock at night when the courthouse closed at 6?
That led to the idea of having an ATM-like device in the outside wall of the courthouse where people could deposit their documents. My team and I came up with the idea of an ATM-like document receiver meter, and embedded in that was a postage meter—but instead of having the city, state, and date, now you got the date that it was received. On a keyboard, you typed in the name of the case and you got a receipt that was stamped with our meter, which then verified that you had met the judge's timing requirements.
As it turned out, it was too expensive for the bankruptcy court to use and it didn't go anywhere. About a year or two later, I got a phone call from the patent attorney at Pitney Bowes, congratulating me that the patent had been picked up by the United States Postal Service.
So when you go into a post office today, in their lobby, and you see a self-service kiosk, that is the machine that we invented the technology for. All I got for that was a tie clip and a $500 check, and that was a long time ago—but it's a source of pride for me, and my kids get a kick out of it that their dad's an inventor.
What are you most looking forward to when FPA can resume its in-person events?
What I'm most looking forward to when we resume in-person events—which is what everyone else is yearning for—is being able to rub shoulders and say hello and give a handshake and a pat on the back. [And to] say, 'How are you? Good to see you again. Let's try to do business together.' It's the connection that we all miss.
In the financial planning profession, what everyone needs in order to grow is referrals. This business grows by referrals, by word of mouth, primarily—particularly with some of our members [who] have their own practices that they're building from scratch. And the idea to bring everybody together in a common space to celebrate the success of the profession—to put in front of them innovative, thought-provoking speakers to help them think about what's around the corner and what's coming for the industry. Those are the things that I missed the most, that we all miss the most, quite frankly. That's what I'm looking forward to just as soon as we can do so safely.
What are some misconceptions about FPA that you'll work to correct?
It bothers me, sometimes, when I read in the trade journals that people question the relevance of FPA going forward. That's a false negative that we're going to disprove. It's interesting—we hover a retention rate among CFP® [professionals] around 75 to 76 percent, even in bad years like the one we just left in 2020. And that tells me that we have a very devoted volunteer base and membership that want us to succeed.
What we've suffered from the most is that—in terms of telling our story—we've been a candle under a basket. We haven't talked about ourselves enough. We haven't talked about the good things that we're doing. And that's why I want to engage the media, influencers, chapters, members, and anyone else [who] will listen to talk about the good things that are going on at FPA and what our hopes are for the future.
Is there anything that we didn't ask that you'd like to include?
I'm very grateful for the opportunity that the board of directors has given to me—the privilege of leading the organization. We have a wonderful board, we have a wonderful staff, and the more I encounter of all our great members across the chapters, I'm reminded of the importance that this organization has to the fabric of the nation. This country needs to embrace financial planning. Those who are sophisticated and smart to think ahead already have.
We want people to be confident in their future. We want the average citizen—every woman, every man, every child—to grow up in a financially stable environment and to be confident of their own control over their own future by the virtue of saving, concentrated spending, and a good financial plan.
And where better to have that start than with the Financial Planning Association?
We have a lot ahead of us, [and] we have a lot to do, but I'm very excited about it and I look forward to the journey. 
Career stage
Learning / Aspiring
Early-Career
Mid-Career
Advanced/Established-Career