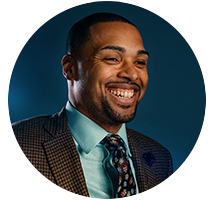 Tyrone Ross is the CEO and co-founder of Onramp Invest and the Founder of 401stc, a storytelling consultancy.
He is a graduate of Seton Hall University, and was also a 2004 Olympic Trials qualifier in track and field in the 400 meters.
He was recognized as part of the 2019 InvestmentNews 40 under 40, and was also recognized by Wealth Management as one of the top ten advisers set to change the industry in 2019. Financial Planning named him as one of 20 people who will change wealth management in 2020, and he was recently named as Investopedia's top 100 financial advisers.  Twitter | LinkedIn | Website
Session Information
Be the Change: The Power of You
Tyrone Ross will walk through his proven formula for creating a foundation upon which to build a legacy of change with the "3 E's: Exposure. Education. Empowerment." Wherever your interest lies, you can use the 3Es to affect change in your firms, FPA chapters and local community.