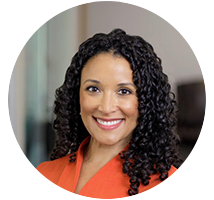 Rachel J. Robasciotti is the Founder & CEO of Adasina Social Capital, an investment and financial activism firm that serves as a critical bridge between financial markets and social justice movements. Adasina was built out of the Social Justice Investing strategy originally developed at Robasciotti & Philipson, an investment firm Rachel founded in 2004.
As a queer, woman of color, Rachel is a fierce advocate for social justice in the financial industry. Rachel also serves as the Director of Advocacy & Engagement at Abacus Wealth Partners, bringing more than 15 years of expertise as a financial advisor.
Rachel is regularly featured in the media, including The New York Times, Bloomberg, CNBC, Forbes, and Financial Planning Magazine, as a leader in the financial industry for integrating issues of racial, gender, economic, and climate justice into investment portfolios. Rachel currently serves as Treasurer of the Board of Directors for Resource Generation and as a Board Member for One Fair Wage and the Grab Your Wallet Alliance.  Twitter | LinkedIn | Website
Session Information
Socially Responsible Investing: Integrating Issues of Racial, Gender, Economic and Climate Justice into Investment Portfolios
This session will help you define socially responsible investing (SRI) while pointing to concrete examples of the impact these portfolios can have on society. With this knowledge, you will be able to approach socially responsible investing discussions more confidently with clients where having an impact-driven investment portfolio is a primary goal.