September 2022: Regulatory/Fiduciary Update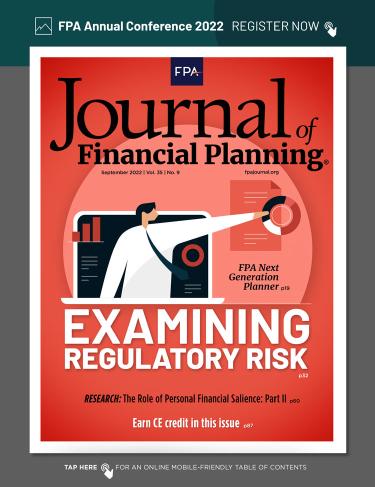 COVER STORY
By Ken C. Joseph and Anna Povinelli
Among the SEC's enforcement priorities for next year is the new marketing rule. There are several intentional and unintentional regulatory pitfalls that advisers need to avoid.
 





PRACTICE MANAGEMENT
By Tammy Breitenbach
Employees in stasis need help prioritizing new goals. Some people might plateau, and there are several techniques for bringing that spark back.
 
FPA NEXT GENERATION PLANNER
Featured Article
By Kristine McManus, CRPS
 
My Career Path
Tips for the NexGen Community
YAFPNW
By Hannah Moore, CFP®
Planning a STUDY GROUP?  Check out suggested questions and other resources to make your study group a success!

COLUMNS
By Alexandra Armstrong, CFP®, CRPC
Examples bring financial concepts to life when clients can't grasp the importance of their decisions and how that will affect their portfolios in the long term.
By William Reichenstein, Ph.D., CFA
The revised SECURE Act would push back the age for RMDs, but the tax on accounts is still a concern. Is it really better to delay RMDs as long as possible?
By Charesse Spiller
There are three different approaches you can take to servicing clients, and each has their pros and cons in managing client expectations as you move into the implementation phase.
By Dawn Harris
First-gen college students may face emotional and financial trials their peers don't. Helping them foster ideal money habits can have broad impacts in their families.
RESEARCH
By Blain M. Pearson, Ph.D., CFP®, AFC
This paper follows up another research paper published in August 2021. How effective is PFS on financial satisfaction and retirement insecurity?
 
By Jason Anderson, CFP®, CPA; Joanne C. Wu, CFP®, PFP; Ashlyn Rollins-Koons; Stephen Azaloff; Ruth McCaleb; Cheryl Rauh; and Megan McCoy, Ph.D., LMFT, AFC, CFT-I
Ten years of research are analyzed. Trends in types of research papers and sources used are examined, and guidance is given to other researchers who want to submit to the JFP.
 
Earn one CFP CE® credit by reading this month's Journal and access past exams for additional credits. 

DEPARTMENTS
STARTING THOUGHTS
By Danielle Andrus
OBSERVER
JFP ACADEMICS
Get Published: Submit your own research for peer review. Click HERE for more information.


IN CASE YOU MISSED IT
By Mikel Van Cleve, CFP®, and Bradley Klontz, Psy.D., CFP®
As more people remarry and introduce kids from previous marriages, it is vital that both partners feel comfortable with how the estate is set up regarding the children, especially if one partner makes more than the other, so there is no resentment.