November 2022: Diversity, Equity, and Inclusion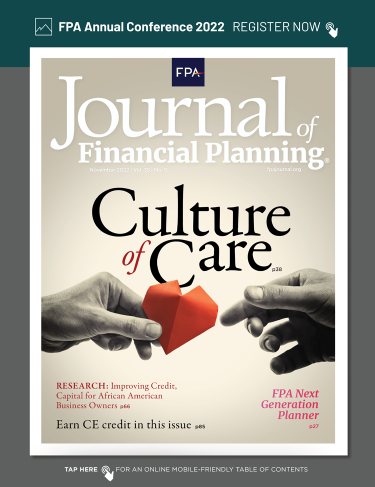 COVER STORY
By Danielle Andrus
Building skills in empathy and emotional intelligence can help planners serve international clients and people from different backgrounds.

PRACTICE MANAGEMENT
By Ana Trujillo Limón
ERGs can be a valuable tool in building psychological safety, developing talent, and gathering feedback about employee needs.

FPA NEXT GENERATION PLANNER
Featured Article
By Elisabeth Felten, CPA
My Career Path
By Hannah Moore, CFP®
Tips for the NexGen Community
Planning a STUDY GROUP?  Check out suggested questions and other resources to make your study group a success!

COLUMNS
By Chris Heye, Ph.D.
Crypto and ESG get lots of headlines, but they might be distracting us from what's really important, such as rising healthcare costs.
By HanNa Lim, Ph.D., CFP®, and Blake Gray, Ph.D., CFP®
Understanding cultural and religious taboos helps planners overcome clients' reluctance to make insurance decisions.
By Jennifer N. Coombs, CSRIC, CRPC
The industries that tend to outperform in conflicts are typically excluded from ESG portfolios. Is there a missed opportunity, or is this better in the long term?
SPECIAL REPORT
By Randy Gardner, J.D., L.L.M., CFP®, CPA, RLP, AEP, and Creyton Gardner
The IRS clarified options for substantially equal periodic payments from some retirement plans. Make sure you are guiding clients correctly to avoid unnecessary penalties.
 
RESEARCH
By Leon Chen, Ph.D., FRM; Sophia Duffy, J.D., CPA; and Daniel Hiebert, Ph.D., CFP®
African American business owners face challenges that White entrepreneurs don't. Learning how to address them as a planner will help close the wealth gap that currently exists.
Earn one CFP CE® credit by reading this month's Journal and access past exams for additional credits. 

DEPARTMENTS
STARTING THOUGHTS
By Danielle Andrus
OBSERVER
JFP ACADEMICS
VOICES
Get Published: Submit your own research for peer review. Click HERE for more information.


IN CASE YOU MISSED IT
By Jason D. Fink, Ph.D., and Kristin E. Fink, Ph.D.
For a long time, investing in commodities has been a valuable hedge in a portfolio. Has the financialization of commodity markets negatively impacted that benefit?