March 2023: College Planning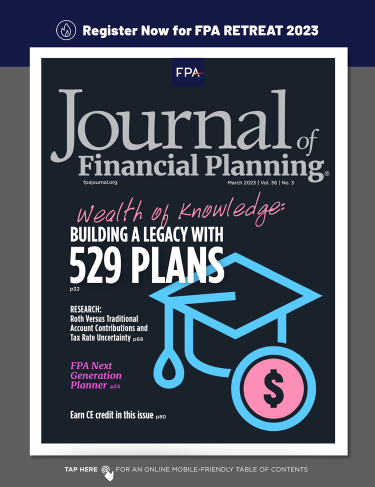 JFP Reader Survey
We Want to Hear from You!
Take this short survey to let us know how to improve the online reading experience.
COVER STORY
By David Y. Oh, J.D., L.L.M.
Families recognize the role of education in their own success and well-being. The transfer tax benefits available with 529 plans help families create educational legacies and an intergenerational wealth transfer.

PRACTICE MANAGEMENT
By Tammy Breitenbach
From poor communication to decision paralysis, everyone faces these obstacles at some point in their career.
FEATURE
By Randy Gardner, J.D., L.L.M., CFP®, CPA, RLP, AEP, and Julie Welch, CFP®, CPA/PFS, AEP
Here's your point-by-point list of the major changes affecting clients' retirement plans.

FPA NEXT GENERATION PLANNER
Featured Article
By Gretchen Glapion Halpin
Tips for the NexGen Community
Planning a STUDY GROUP?  Check out suggested questions and other resources to make your study group a success!

COLUMNS
By Ivory Johnson, CFP®, ChFC
Legislation is always slow to respond, but policymakers are rushing to address cryptocurrencies as fast as possible.
By Charesse Spiller
A thorough calendar helps planners address capacity issues and ensure a consistent client experience.
By Alexandra Armstrong, CFP®, CRPC
Some retired clients may want to contribute to a grandchild's education. Here's how to help them give without losing sight of their own retirement needs.
SPECIAL REPORT
By Daniel M. Yerger, CFP®, ChFC, AIF, CDFA; Martin Seay, Ph.D., CFP®; and Maurice MacDonald, Ph.D.
A vignette study of financial planners found significant variance in how financial planners with the same and different service models would charge the same clients.
RESEARCH
By David S. Hulse, Ph.D.
There is a tradeoff between after-tax accumulation and certainty in the face of increasing or decreasing tax rates. A Roth account's uncertainty could be higher than a traditional account under the right conditions.
Earn one CFP CE® credit by reading this month's Journal and access past exams for additional credits. 

CALL FOR PAPERS
At FPA, we value our members of the academic community. The Journal of Financial Planning is once again accepting extended abstracts (1,000 to 1,500 words) of unpublished research to consider for presentation at the FPA Annual Conference in Phoenix, September 27–29, 2023.   Learn more HERE. 

DEPARTMENTS
STARTING THOUGHTS
By Danielle Andrus
Q&A
CHAPTER SPOTLIGHT
OBSERVER
JFP ACADEMICS

IN CASE YOU MISSED IT
By Eric T. Ludwig, CFP®; Stuart J. Heckman, CFP®; and Megan McCoy, Ph.D., LMFT, AFC, CFT-I
It is vital to understand how much, how, and why different groups of people reach out for help, particularly to financial planners, if we are to help close the wealth gap.