December 2022: Charitable Giving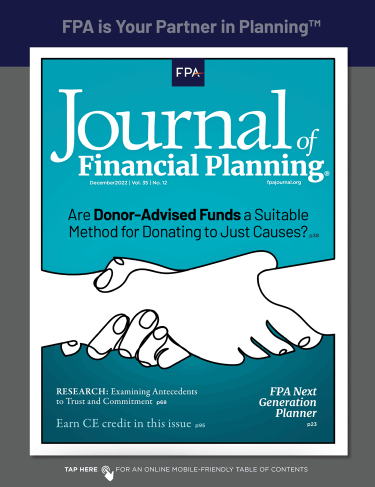 COVER STORY
By Bridger Cummings
Charitable giving can quickly become complicated, and DAFs offer a host of solutions to struggles that many would-be donors experience.

PRACTICE MANAGEMENT
By Gerry Herbison, DBA, CFP®, ChFC, CASL, CLF
Creating your dream team requires constant vigilance for quality candidates and offering the right incentives.
FEATURE
By Jason K. Branning, CFP®, RICP, and M. Ray Grubbs, Ph.D.
An emergency fund is only one part of a client's contingency fund. Use an active risk selection matrix to aid in decision-making.
 
CONFERENCE GUIDE
In the Spotlight

FPA NEXT GENERATION PLANNER
Featured Article
By Daniel Yerger, CFP®, ChFC, AIF, CDFA
Tips for the NexGen Community
Planning a STUDY GROUP?  Check out suggested questions and other resources to make your study group a success!

COLUMNS
By Alexandra Armstrong, CFP®, CRPC
Women generally donate more than men, and their donations are set to rise as they inherit more wealth
By Charesse Spiller
Practice leaders need a clear view of their firm's tech capabilities and costs to streamline their operations and know what features are needed or can be removed.
By Ivory Johnson, CFP®, ChFC
The same process one would apply to the current menu of asset classes when building a portfolio should be applied to digital assets.
 
RESEARCH
By Megan McCoy, Ph.D., LMFT, AFC, CFT-I; Ives Machiz, CFP®; Josh Harris, CFP®, AFC; Christina Lynn, CFP®, AFC, CDFA; Derek Lawson, Ph.D., CFP®; and Ashlyn Rollins-Koons
Technical skills aren't enough to earn clients' trust. New research identifies five antecedents to building trust and getting client buy-in.
Earn one CFP CE® credit by reading this month's Journal and access past exams for additional credits. 

DEPARTMENTS
STARTING THOUGHTS
By Danielle Andrus
OBSERVER
Q&A
JFP ACADEMICS


IN CASE YOU MISSED IT
By Leon Chen, Ph.D., FRM; Sophia Duffy, J.D., CPA; and Daniel Hiebert, Ph.D., CFP®
African American business owners face challenges that White entrepreneurs don't. Learning how to address them as a planner will help close the wealth gap that currently exists.