SEPTEMBER 2023: Regulatory/Fiduciary Update
September 27-29, 2023 -- Phoenix, AZ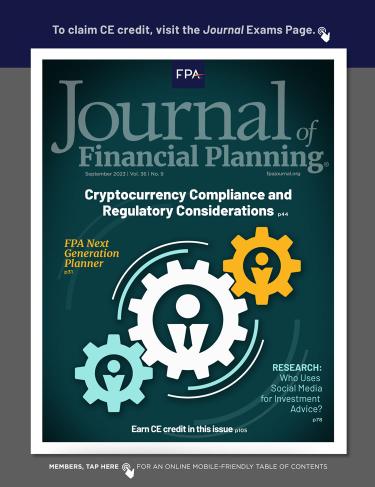 COVER STORY
By Sean J. Coughlin and Angela A. Turiano with assistance from Richard Dow
Regulators have yet to offer a clear framework for oversight of digital currency investments.
FEATURE
In celebration of this landmark anniversary of the CFP® mark, FPA sat down with a few of the pioneering practitioners and talked about the history and future of financial planning.

PRACTICE MANAGEMENT
By Gerry Herbison, D.B.A., CFP®, ChFC, CASL, CLF
Actively controlling your time and your development is vital, as you can never recover time.
CONFERENCE GUIDE
Two keynote speakers explain that concise, direct communications with prospects help them understand what you can offer them.
Some of our presenters shared a preview of what you'll hear during the Journal of Financial Planning Research Showcase sessions.

FPA NEXT GENERATION PLANNER
Lead Article
By Danielle Andrus
My Career Path
Skill Builder
By Kristine McManus
Planner Poll
Planning a STUDY GROUP?  Check out suggested questions and other resources to make your study group a success!

COLUMNS
By Ivory Johnson, CFP®, ChFC
Bitcoin and other cryptocurrencies have had their time in the limelight, but another standard may supplant their usefulness.
By William Reichenstein, Ph.D., CFA
Planners can help their clients save thousands in additional taxes following
life-changing events.
By Charesse Spiller
A strong training program is fundamental for multi-adviser firms that struggle to convert prospects.
By Alexandra Armstrong, CFP®, CRPC
Helping clients achieve comfortable retirements means helping them prepare for life's bumps.
RESEARCH
By Miranda Reiter, Ph.D., CFP®; Di Qing, Ph.D.; and Morgen Nations
Social media is a growing source of financial information via "finfluencers." Not everyone is as receptive to financial information received this way, and investors' investment choices may reflect the information received.
Earn one CFP CE® credit by reading this month's Journal and access past exams for additional credits. 

DEPARTMENTS
STARTING THOUGHTS
OBSERVER
Q&A
JFP ACADEMICS

IN CASE YOU MISSED IT
By Jason N. Anderson, CFP®, CPA, and Derek R. Lawson, Ph.D., CFP®
Those who exhibit a higher personal achievement tend to have higher risk tolerance. This can result in more risky assets, such as cryptocurrency, in their portfolio. This could be a positive development.