11:00 AM - 12:00 PM CST I 12:00 PM - 1:00 PM EST
Registration fees
FPA Members - Complimentary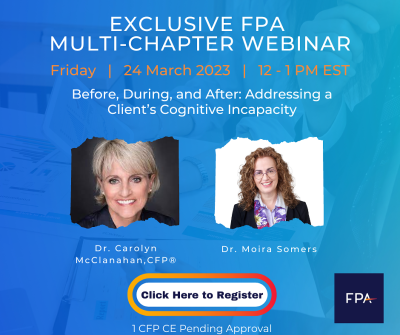 Before, During, and After: Addressing a Client's Cognitive Incapacity 
Join FPA Dallas/Fort Worth, along with 9 other FPA chapters for a multi-chapter virtual event on March 24th!

Financial professionals are often in a prime position to detect cognitive impairment in their clients, but they frequently struggle to know what to do in response.

When and how should they address their concerns? What, if anything, can be done proactively to protect everyone involved? What ethical principles and standards come into play?

Drs. McClanahan and Somers will be presenting actionable recommendations for how advisors can manage both the issues and the difficult emotions that frequently arise in the course of dealing with cognitive incapacity.

Among the topics to be covered:
• Components and developmental trajectory of financial competency
• Differing presentations of financial incapacity
• Best practices to implement before decline sets in
• Issues arising from significant health diagnoses, mental health crises, and dementias
• Communication tips
• Boundary setting

1CFP CE Pending Approval 
About Our Speakers:
Dr. Moira Somers  - Psychologist, family wealth consultant and executive coach @Money, Mind and Meaning
Dr. Moira Somers is a neuropsychologist, author, and financial psychologist. In her clinical practice, Dr. Somers works with patients facing life-threatening diseases and cognitive decline. She consults extensively to financial professionals and businesses on issues relating to cognitive incapacity, behavioral economics and advice implementation. Although Canada is her home, her client base is international. Dr. Somers is a faculty member at the Ultra High Net Worth Institute and at the Financial Transitionist® Institute. She leads the Financial Psychology Special Interest Group for the American Psychological Association. She is a featured guest and writer for many financial advising / family office podcasts and publications. Her book, Advice that Sticks: How to Give Financial Advice that People Will Follow, tackles the problem of unimplemented financial advice. https://moneymindandmeaning.com/
Carolyn McClanahan, M.D., CFP®  - Founder of Life Planning Partners, Inc. @Life Planning Partners, Inc.
Dr. McClanahan began her career as a physician in 1990 after completing her undergraduate degree at Mississippi University for Women and medical school at University of Mississippi. She completed her residency in Family Medicine at the Medical College of Virginia. After a couple of years in private practice and emergency medicine practice in Richmond, Virginia, she moved to teach at the University of Florida, Jacksonville. She also worked in various emergency departments in the Jacksonville area. Finding that most financial planners were mainly interested in managing her portfolio and not in providing the advice she needed, she enrolled in the CFP® curriculum at the University of North Florida. Realizing the similarities between medicine and financial planning, and feeling more empowered by being able to help people plan for their future, Dr. McClanahan decided to make a career change into financial planning.
Career stage
Learning / Aspiring
Early-Career
Mid-Career
Advanced/Established-Career