10:00 AM ET to 3:00 PM ET
Location
Virtual Through Zoom
Registration fees
Complimentary for Students
FPA of Michigan
3rd Annual Student Success Summit!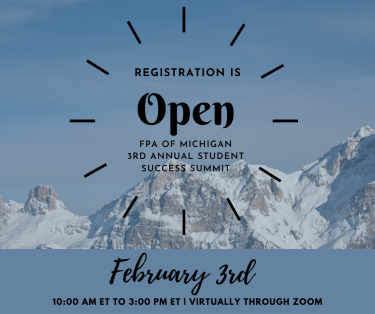 The purpose of this complimentary event is to bring together aspiring financial planning students across the country to network and broaden their knowledge about a career in financial planning. The Summit provides an opportunity for students to learn from thought leaders in the financial planning profession. The virtual event will offer sessions focused on topics outside of the traditional classroom topics. 
Some of our speakers include . . . Michael Kitces, Tyrone Ross, Brett Danko, Colin Overweg, and Justin Castelli . . . with more to come!

Questions? Contact Mary at info@fpami.com.
Career stage
Learning / Aspiring
Early-Career