10:00 AM ET to 3:00 PM ET
Location
Virtual Through Zoom
Registration fees
Complimentary for Students
Please note that advanced registration is required - click here to register!
_______________________________
FPA of Michigan
3rd Annual Student Success Summit!

Agenda
10:00 am (Stephanie Trexler):
  Welcome, Announcements
10:15 am (Colin Overweg/Justin Castelli):
Creating your Own Personal Brand
11:00 am (Tyrone Ross):
Why is Financial Planning a Great Career
12:00 pm (Megan McCoy/Ian Bloom/David Frank):
The Human Element of Financial Planning
1:00 pm (Brett Danko) Breakout:
How to Pass the CFP
1:00 pm (Hannah Moore/Cody Garrett/Luis Rosa) Breakout:
Career Paths and How to Succeed in the Profession and Business Models
2:00 pm (Michael Kitces):
History of Financial Planning
2:40 pm (Stephanie Trexler):
Closing Remarks, Scholarship Giveaways
The purpose of this "virtual complimentary" event on Friday, February 3rd from 10:00 am ET to 3:00 pm ET is to bring together aspiring financial planning students across the country to network and broaden their knowledge about a career in financial planning. The Summit provides an opportunity for students to learn from thought leaders in the financial planning profession. The virtual event will offer sessions focused on topics outside of the traditional classroom topics. See complete details in the flyer below.
Speakers include . . . Michael Kitces, Colin Overweg, Justin Castelli, Tyrone Ross, Dr. Megan McCoy, Ian Bloom, David Frank, Brett Danko, Hannah Moore, Cody Garrett and Luis Rosa!
Also, as we have done at past Student Success Summits, FPA of Michigan will be giving away scholarship(s) in the amount of $2,500/each. To be considered for a tuition scholarship, applicants must be a Michigan resident or enrolled in a Michigan University. If you would like to be considered for a scholarship, please click here to complete and submit an application. Applications must be submitted no later than Friday, January 27, 2023. Scholarship winners will be announced during the February 3rd Student Success Summit Closing Remarks (3:00 pm EST).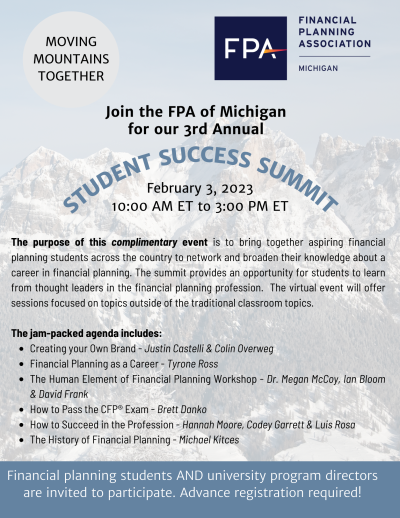 Questions? Contact Mary at info@fpami.com.
Career stage
Learning / Aspiring
Early-Career