Location
Irving Convention Center
500 West Las Colinas Boulevard
Irving, Texas 75039
Registration fees
FPA Member: $315
Non-Member: $415
Enrolled Full-Time Student: $140

Group discounts available for teams of 5 or more. Contact execdir@fpadfw.org to request a discount code.

CANCELLATION POLICY

For a full refund, less a $30 administrative fee, email your request to execdir@fpadfw.org with the subject line "Conference Registration Cancellation" by 1/6/2023. A full refund, less a $75 administrative fee, will be honored for cancellations received between 1/7/2023 - 1/20/2023. Refunds will be returned to the original payer and in the original method of payment.
Due to commitments made to the venue, no refunds cannot be granted after 1/20/2022.

No refunds will be given for no-shows.

A transfer of your full registration to another individual is permitted prior to the conference start date by submitting written request to execdir@fpadfw.org. The individual submitting the transfer request is responsible for any price difference fees (i.e. member --> non-member). Registration fees cannot be split or badges shared.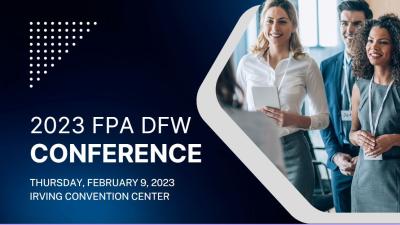 Join us February 9th as we head back to the Irving Convention Center for the 2023 FPA DFW Conference (#FPADFWCONF23). With sessions tailored to your goals, expertise, and experience level, #FPADFWCONF23 provides just what you are looking for: a comprehensive look into current trends and professional development. The 2023 Conference will feature industry leading keynote and breakout speakers and a plentitude of networking opportunities. You will participate in knowledge sharing and collaboration while building relationships and enhancing your professional network. You will leave with practical strategies, insights, and guidance on how to propel your financial planning career forward.  Don't miss this opportunity to learn from and collaborate with the best industry leaders. Join us for a full day of professional development and networking.
CFP Ethics will take place virtually on February 8th (noon - 2:00 PM CT) and is included in your registration fee for those who elect to add this session to their registration.
________________________________________________________________
Join us February 8th and February 9th for the Networking Events of the Year!
February 8 I FPA DFW Pre-Con Reception @ Bar Louie Las Colinas
Powered by: Fidelity Charitable
February 9 I FPA DFW Post-Con Reception @ Irving Convention Center
Powered by: Protective Life 
Topic
Education Planning
Estate Planning
Ethics
FinTech
General Financial Planning Principles
Healthcare Planning
Investment Planning
Practice Management
Professional Conduct & Regulation
Retirement Savings and Income Planning
Risk Management & Insurance Planning
Succession Planning
Tax Planning
Career stage
Learning / Aspiring
Early-Career
Mid-Career
Advanced/Established-Career