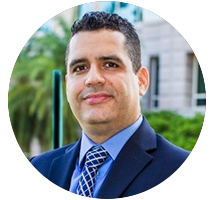 Edgar Collado currently serves as the Chief Financial, Operations and Compliance Officer at Tobias Financial Advisors in Plantation, FL.  Edgar oversees the firm's day to day operations and procedures, finance and accounting, compliance, and leads marketing, human resources, technology and administration processes.  He is focused on driving efficient practices that improve the client experience.
Edgar has 20 years of experience in finance, general management and sales roles in manufacturing, real estate, telecommunications and financial services.  Prior to joining Tobias Financial, Edgar served as the Vice President of Finance for Ingersoll Rand's Latin America strategic business unit, where he led a finance organization with over 100 associates supporting a $500M+ manufacturing and distribution business in Latin America. 
Edgar earned an MBA from New York University's Stern School of Business and a Bachelor of Science in Finance from St. John's University.