As I write this, FPA Annual Conference 2022 is gearing up for a keynote by financial services luminary Sallie Krawcheck, which will mark the conclusion of our event and the end of this year's financial services conference season. Seeing the energy, hard work, and creativity required to orchestrate events like this is astounding. From logistics and program design to partner coordination and promotion, an event like FPA Annual Conference is only possible when you have a team of volunteers and professionals working together to ensure its success.
A New Print Publication, Free To All Members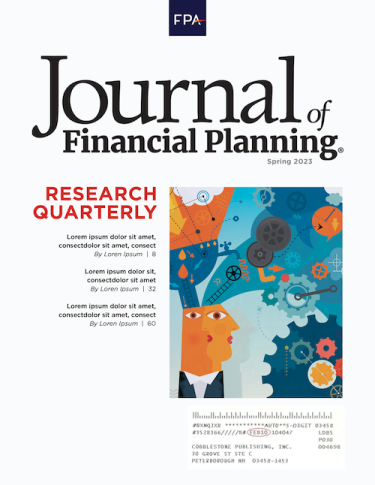 I am delighted to announce the launch of a new print publication — JFP Research Quarterly — during Spring 2023 as a new, free benefit for our Members delivered quarterly to their homes. This new print publication augments the Journal of Financial Planning, our premier monthly digital offering, also free to Members.
The JFP Research Quarterly will include featured research you can already access each month digitally but in a printed format. Allocating our resources in this fashion takes a step toward meeting the desire of Members to see FPA publish a print publication and will be of immense value for our Members' ongoing development as financial planners.
Look for more on this exciting new publication in upcoming communications.
Claudia Kane, CFP®, Elected 2023 FPA President-elect
Claudia Cypher Kane, CFP®, was elected as the 2023 FPA President-elect. Her term will begin Jan. 1, 2023, succeeding incoming 2023 FPA President James Lee, CFP®. From Roseville, Calif., Claudia has been a financial adviser since 1985, serves as the 2022 FPA Treasurer, and is completing a three-year term on the FPA Board of Directors.
We look forward to Claudia's leadership over the next three years as we embark on some ambitious objectives, including title protection for financial planners.
2022 Financial Planning Challenge: Utah Valley University Wins!
FPA, Ameriprise Financial, and CFP Board were pleased to announce that the student team from Utah Valley University in Orem, Utah, was named the 2022 Financial Planning Challenge winner. This annual competition provides students with a forum to showcase their knowledge and planning acumen on a national stage. The winning Utah Valley University team was comprised of Abby Adams, Colten Orton, and Siria Trochez. They were supported by faculty advisor Hyrum Smith, Ph.D., CFP®, CPA.
Celebrating Volunteerism 
Each year at Annual Conference, FPA recognizes several individuals and FPA chapters for their efforts to positively impact the profession, their communities, and society through the FPA Awards program. The Heart of Financial Planning Award, the Power of Financial Planning Award, the Montgomery-Warschauer Award, and the pinnacle of all awards in the profession, the P. Kemp Fain Jr., Award, are presented each year to some very deserving honorees. We recognized their efforts at FPA Annual Conference and know they are role models for all of us.
A Thank You To Hannah Moore
For three years, the FPA Virtual Externship filled an important void in helping to develop the next generation of financial planners in the absence of traditional internships during the pandemic. Under the leadership of Hannah Moore, CFP®, and a commitment of organizational resources, FPA stepped in to provide college students and career changers an opportunity to learn real-life financial planning skills while showcasing the knowledge they accrued in the classroom. As the Nation returns to normal, traditional in-person paid internship opportunities for students at financial planning firms across the country are already being secured for next summer. There is a time and a season for everything, and 2022 concludes the Virtual Externship program for FPA.
As we turn to focusing our resources on serving the needs of our core Member, the CFP® professional, we are grateful to Hannah and the many volunteer financial planners who gave selflessly of their time to expose the next generation to how financial planning is done and why it is a wonderful vocation to pursue. Their time and effort will have a lasting impact on the profession's future.
In Case You Missed It
As the year winds down, I wanted to highlight some other exciting happenings that have taken place in FPA over the past quarter and some new benefits you won't want to miss out on, including:
Focusing on the Psychology of Financial Planning: With increased recognition of psychology's impact on financial behavior, there is a need for financial planners to understand better how they can best serve their clients. In response, the FPA announced a new partnership to offer members discounted access to the Psychology of Financial Planning Specialist Badge™. Developed by Dr. Brad Klontz, Psy.D., CFP®, and Dr. Charles Chaffin, this on-demand program features over 7 hours of video instruction and exercises and includes 9 CFP® CE credits. 
FPA Retreat 2023 Registration is Now Open: The financial services industry is chock full of events and conferences, but none of them are like FPA Retreat, an event where you challenge your thinking, forge lasting connections, and nurture your desire to pursue excellence in financial planning. To be held May 1-4 at the Hyatt Regency Coconut Point Resort and Spa, FPA Retreat 2023 has been hailed by Michael Kitces as a "Top Advisor Conference for 2023." See what the buzz is about for yourself by registering with special early bird pricing now through January 31.
As always, we want to ensure you can make the most of your FPA experience. If you have ideas for improving current programs and services or thoughts on new offerings, please share them. I look forward to hearing from you.
On behalf of the entire FPA Team, I wish you a very happy holiday season and a wonderful New Year!
Sincerely,