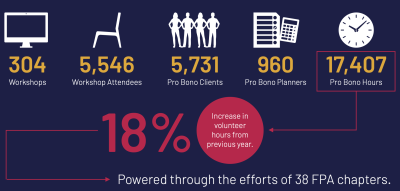 DENVER (February 23, 2022) – Despite the prolonged challenges posed by the COVID-19 pandemic, members and chapters of the Financial Planning Association® (FPA®) continued to provide one-on-one pro bono financial planning services to underserved and at-risk individuals through 2021. For 2021, more than 5,700 individuals received pro bono services from 960 volunteer financial planners who volunteered 17,407 hours of guidance. The hours volunteered represented an increase of 18% from the previous year.
The FPA Pro Bono Program connects passionate financial planning practitioners to individuals, families, and communities in need. When combining the one-on-one engagement numbers with the number of individuals participating in various additional pro bono programs, including financial education workshops, a cumulative total of 11,277 underserved and at-risk individuals and families received much-needed support throughout the year.
"The willingness of those within the financial planning community to volunteer their time and talent as pro bono financial planners is a cornerstone in building a recognized profession. I am grateful to those FPA members and chapters for their efforts in 2021 to continue to provide these much-needed services in their communities," says Patrick D. Mahoney, FPA chief executive officer. "Financial planning is a helping profession that has the power to transform the lives of those it touches. Our community is comprised of selfless professionals who commit to this critical work, and we are grateful for their efforts."
Pro bono financial planning, which has traditionally been delivered in-person through a variety of programs and collaborations with community partners across the country, has seen a shift to virtual delivery over the past couple of years due to the pandemic. While this shift to using technology to deliver these services has been a change for many members and chapters, it has opened pro bono to a wider potential audience.
The Association continued its work to partner with allied organizations in making pro bono financial planning accessible to communities in need. Among FPA's national efforts in 2021, the Financial Planning for Cancer program, done in partnership with the Foundation for Financial Planning and Family Reach, connected 89 FPA planners with 191 families. And the partnership with Homes for Our Troops connected 79 planners with 143 veterans and their families. But it was through FPA's network of chapters that individuals and families felt the most impact.
Among the 38 FPA chapters reporting pro bono activities in 2021 is the FPA of Orange County, which was honored as the recipient of the 2021 Power of Financial Planning Award. In 2021, the chapter customized and utilized a virtual scheduling tool to arrange one-on-one engagements, used video to show members the importance of pro bono, recruited a dedicated onboarding volunteer, and created Spanish language materials to promote pro bono financial planning activities and webinars.
"Ever since the 9/11 tragedy, FPA chapters and members have had a consistent presence in their communities to provide access to financial planning advice that otherwise may not have been accessible," says 2022 FPA President Dennis Moore, MBA, CFP®. "These efforts are playing an important role in dispelling the myth that financial planning is only for the wealthy. The reality is that financial planning can help anyone regardless of net worth."
Through the generous support of the Foundation for Financial Planning, FPA and its chapters can secure funding to support FPA Pro Bono program activities. FPA encourages practitioners to volunteer their time to provide transformational advice and guidance and provide financial support to the Foundation to help make many programs possible.
FPA and its nationwide network of chapters lead the way in helping thousands of Americans struggling to achieve their goals through pro bono financial planning. Financial planners interested in learning more about the FPA Pro Bono Program can visit the FPA website.
Journalists interested in learning more about FPA's commitment to pro bono planning can contact Ben Lewis at blewis@onefpa.org or 303-867-7190.
###
About the Financial Planning Association
The Financial Planning Association® (FPA®) is the principal membership organization for CERTIFIED FINANCIAL PLANNERTM professionals and those engaged in the financial planning process. FPA is the CFP® professional's partner in planning by helping them realize their vision of professional fulfillment through practice support, learning, advocacy, and networking. Learn more about FPA at financialplanningassociation.org and on Twitter at twitter.com/fpassociation.