The FPA community continues its work to provide life-changing financial advice and education.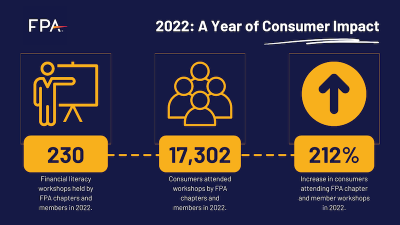 DENVER (March 28, 2023) – The Financial Planning Association® (FPA) is pleased to announce that the number of consumers attending financial literacy workshops held by FPA chapters and members in 2022 increased by an impressive 212% from the previous year. This is a significant achievement for the Association's chapters and members that are dedicated to promoting financial literacy and education in communities across the country.
The financial literacy workshops held by FPA chapters and members offer consumers the opportunity to learn about financial planning, budgeting, investing, retirement planning, and other important financial topics. The workshops are designed to provide practical and actionable advice to attendees, helping them to improve their financial well-being.
"We are thrilled to see such a significant increase in consumer attendance at these important financial literacy workshops," says 2023 FPA President James Lee, CFP®, CRPC®, AIF®. "We believe that financial education is key to empowering individuals and families to make informed decisions about their finances and to achieve their financial goals. FPA chapters and members are committed to positively impacting the lives of those who may not have regular access to such important, life-changing advice."
Among the FPA chapters reporting financial literacy and pro bono financial planning programming in 2022, 230 workshops were held, attracting 17,302 consumers—up from 5,546 attendees the previous year. FPA chapters and members also reported providing 4,424 consumers with 11,506 hours of pro bono financial planning services by 962 individual FPA members throughout the year.
Due to the COVID-19 pandemic, many FPA chapters and members had to innovate to continue to provide these critical programs to their local communities. That innovation is directly attributable to the increase in consumers reached, including programs held by FPA of Dallas/Ft. Worth, FPA of Orange County, and FPA of the National Capital Area.
FPA of Dallas/Ft. Worth: A winner of the 2022 Power of Financial Planning Award by FPA and the Foundation for Financial Planning, FPA of Dallas/Ft. Worth partnered with community organizations to provide live and on-demand financial workshops to underserved community members and reached hundreds of consumers in the process.
FPA of Orange County: A past winner of the Power of Financial Planning Award, FPA of Orange County embraced the use of technology to expand its engagement in the community. The chapter customized and utilized a scheduling tool to arrange one-on-one engagements and developed bi-lingual community outreach materials to promote pro bono financial planning activities and webinars to the Spanish-speaking community.
FPA of the National Capital Area: To reach people throughout the greater Washington, D.C. metro area, FPA of the National Capital Area partnered with the University of Maryland Global Campus (UMGC) to hold a Financial Wellness Day to assist people in the community. Held online, UMGC built an entire virtual campus for participants to engage with volunteer financial planners and participate in learning sessions.
"Sound financial advice and education directly benefit individual consumers and all of society. Those FPA chapters and members that reported providing these needed services in 2022 did so because they wanted to improve society and the financial well-being of those in their respective communities. We look forward to seeing their continued efforts to promote financial education and to empower consumers to take control of their financial futures in the years ahead," added Patrick D. Mahoney, FPA chief executive officer.
FPA is focused on financial literacy as part of its primary advocacy priorities. The Association has embraced the following Financial Literacy Policy Statement to guide its work in advocating for such programs and initiatives across the Nation:
"FPA recognizes that financial literacy is a vital component of helping Americans live healthy financial lives and that financial literacy education in the United States is a particularly important goal. FPA encourages schools to teach the basic components of personal financial management to help with vital financial functions such as understanding credit, savings, loans, home and rent responsibilities, and how to manage debt responsibly. Doing so will help with the overall goal of preparing students for independence and financial wellness. FPA understands there are many avenues to achieving financial literacy and stands ready to assist in support of that task."
###
About the Financial Planning Association
The Financial Planning Association® (FPA®) is the principal membership organization for CERTIFIED FINANCIAL PLANNERTM professionals and those engaged in the financial planning process. FPA is the CFP® professional's partner in planning by helping them realize their vision of professional fulfillment through practice support, learning, advocacy, and networking. Learn more about FPA at financialplanningassociation.org and on Twitter at twitter.com/fpassociation.