Annual Trends in Investing Survey Report of Financial Advisers Reveals ESG May Have Reached an Inflection Point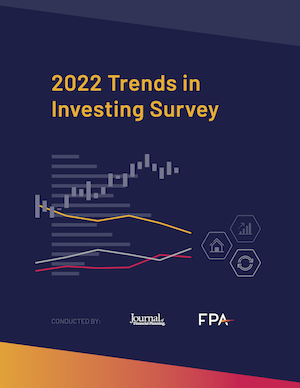 Over the past four years, financial adviser use/recommendation of environmental, social, and governance (ESG) investing strategies have remained consistent. Still, that usage could see a downward swing over the next 12 months, according to the 2022 Trends in Investing Survey, conducted by the Journal of Financial Planning and FPA.
ESG was first added to the survey in 2018 when 26 percent of advisers indicated they were using or recommending them to clients. That percentage grew to 38 percent in 2020 but has leveled off to 32 percent in 2021 and 34 percent in 2022. But it appears adviser sentiment on the asset class could mean less use by advisers moving forward. 
According to the survey, the percentage of advisers planning to decrease their use/recommendation of ESG over the next 12 months has more than tripled to 15 percent in 2022—compared to only 4 percent in 2021. Client interest may be fueling this potential shift away from ESG. Over 31 percent of planners say they've fielded client questions about ESG investing in the past six months, down from roughly 39 percent in 2020 and 2021.
Access the 2022 Trends in Investing Survey report now!