Danika Waddell, CFP®, RLP®, CSLP®, is a career-changer who went from accounting to founding her own firm. She sat down with Hannah Moore, CFP®, to talk about how you can start the journey, what steps you must not skip, and what it means to thrive after the transition.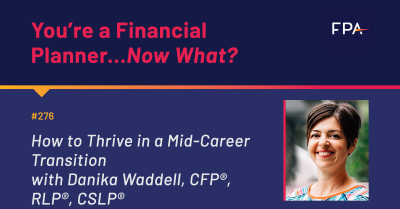 Taking the leap into something new
When Danika graduated college, she had no idea what a perfect fit her skills would be for a career in financial planning. She majored in math and had a minor in psychology, but didn't really know how those two things fit together. But when you hear about her work today, it makes perfect sense.
After a brief stint as a teacher, Danika landed an accounting role, where she built a successful 15-year career using her strengths in communicating with people about complex topics. "It came very naturally to me, but it just didn't feel very meaningful."
Her restlessness grew over several years and Danika started exploring other options. With the encouragement of a family friend who was a financial advisor, she started talking with people in the profession about financial planning.
She had a lot of coffee dates with people in different types of roles, like RIAs and broker-dealers, to try and figure out what she wanted to do within the profession — and how to make her entrance. She was already in her early 30s, and decided that her best route was to get her CFP®. She completed the courses while working at her full-time job, and then struck out to find a position.
"I did a lot of interviews early on. I learned about NAPFA, identified all the local NAPFA firms, and reached out to them."
She says she came very close to working at Ameriprise, because she couldn't find any other way to get experience, and it seemed like the big wirehouses were the only ones equipped with a clear training program. It didn't feel right, though, so she kept looking and finally found a small RIA where she began her career as a planner.
From mid-career success to starting over
Like many career-changers, Danika found the leap from her established career to being back at the bottom wasn't easy. It was a bit of a shock, in fact. Used to taking initiative and reaching out to people directly, she remembers being scolded at her first firm. "It was like, 'No, no, you have to be groomed and learn all the tricks of the trade before you can speak to a client.'"
Knowing that she was adept at connecting with people, presenting financials, and interfacing with corporate clients, it was frustrating to be held back. But Danika admits that she didn't have all the technical expertise right out of the gate.
So she weathered the ego bruising and got settled in, and soon found that she was content. She got back to a comparable income level fairly quickly, although it did take about four years. However, for many career changers, that's a fairly fast track.
Getting her sea legs and launching her firm
Danika spent about six years at three different RIAs, building up her experience before a crisis hit. She was faced with a decision: find yet another employer or strike out on her own.
"It was fairly traumatic, and it was sudden," Danika admits. "I hadn't planned to do this. But I thought long and hard about what my next steps would be, and when I looked around at other firms, I didn't see a lot of them doing what I wanted to do."
It became apparent to Danika that what she really wanted was to launch her own firm. After years of listening to the XYPN podcast, the Kitces podcast, and hearing so many success stories, she decided, "I can do this." And she did.
"My husband was like, 'Don't you think you should maybe give it a week?' And I was like, 'Nope, I'm incorporating, I'm moving forward, I'm registering. I just knew I could do it, and I got very excited and energized by that process."
Danika launched Xena Financial Planning at the beginning of the pandemic and felt like it fit perfectly with what she had been planning. She had always wanted to work virtually and her target market, women in tech, was sitting at home, wondering what to do with their careers.
She had a unique perspective: She understood her audience. "By and large, most people don't stay in tech for 30 or 40 years for a couple of reasons. One is, it's a very young industry. It can be really hard to be the only person over 50 in the room. But the other part is, it can be really stressful." 
Many of her clients are burnt out and looking for a change. With the benefit of their tech career income, they have a lot of options, and Danika loves helping them make plans to go back to school or start a business of their own.
Steps you shouldn't skip on this journey
What are the 5 steps that Danika says you must not miss if you want to thrive in your career change?
1. Get your CFP®
"That's the gold standard," she says. "It's what you have to do."
2. Give yourself five years to get competent
"There's a reason why the CFP® board requires several years of experience. It just takes a lot of going through it to feel confident."
3. Volunteer
"One of my top pieces of advice is to volunteer. I got involved with the local FPA board and the NAPFA board, and I cannot rave enough about the relationships that I've made. The impact has absolutely accelerated my career trajectory."
4. Get a mentor
 "Finding support like that would be invaluable to a new planner."
5. Dream big
"Now that I've sort of gone through this entrepreneurial journey and launched my own firm, it's like, 'Wow, I can do so much more than I thought." So give yourself space to dream big. I think we're all capable of much more than we give ourselves credit for."
For all the career changers out there, this conversation with Danika will definitely hit home. You're welcome in the profession and, as Danika said, you'll thrive if you commit!
What You'll Learn:
Great tips to help you break into the financial planning industry
How to cope with the frustration of starting over
What it will look like as you start to thrive in your new role
5 steps you must not skip for a satisfying career change
In this episode of YAFPNW, Danika Waddell, CFP®, RLP®, CSLP®, and Hannah Moore, CFP®, discuss:
Interested in following Danika? Follow her on LinkedIn!