Jasen Wallace, CFP® is a financial planner at Weinheimer Wealth Management and the Career Development Director for the FPA chapter in Austin. He sat down with Hannah Moore, CFP®, to talk about how new planners can navigate increasingly complex career decisions.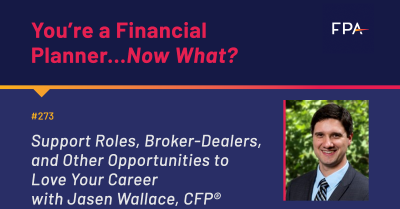 Taking the traditional track: pros and cons
When Jasen is giving career development advice at FPA chapter meetings in Austin, he talks about the different places new planners can go in their careers. He tries to open minds to all of the options, but realizes that most people have come looking for one thing: to fill a lead advisor role.
Jasen managed to find that coveted path. He was lucky to find a great fit with a small firm right after graduation, at Weinheimer Wealth Management. The small team there allowed him to take the lead in designing his career path. Over the last nine years, he's worked his way up from paraplanner, to CFP® with low-risk clients. Now, he is the lead advisor managing clients with higher net worth, more complicated situations, and leading a support team of his own. He's also crafted responsibilities for himself in operations and production.
The journey has been satisfying for Jasen, but he admits there's a downside: it's all on you to design and evolve your role. Jasen says, "You have to constantly advocate to make it happen."
For people who aren't as passionate about charting their own course, who prefer a more structured career path, or whose genius is more in operations than sales and coaching, Jasen is committed to highlighting excellent opportunities out there that planners don't often consider until they fall into them.
The first thing he recommends is looking at different types of firms.
Broker-dealer vs. RIA
When we typically talk about opportunities to do holistic financial planning, we're usually talking about RIA firms. However, Jasen says that the idea that you can't have that same impact at a broker-dealer is outdated.
Most broker-dealers today also have a registered investment advisor under the same name, or maybe under a slightly different name. For example, Ameritas Investment Company (AIC), which is the broker-dealer for Jasen and his team at Weinheimer, also has an RIA sister company called Ameritas Advisory Services. Jasen and the other planners can perform both types of services for their clients under each of the two companies in a seamless way.
This means that an advisor can be talking to a client with their "broker-dealer hat on," and then in the next sentence, they may be switching their hat and working under an RIA structure. One major advantage of being connected to a broker-dealer is that they provide a huge amount of operational structure for you.
"It gives you the ability to start small and move lean, with an office that's more biased towards having more advisors than support staff, and maybe less assets starting out, as well," Jasen says.
Jason's office essentially operates as a "branch" of the broker dealer. They don't have to do compliance, suitability, fiduciary, or legal due diligence, at the first round of any of the products or services or agreements that they enter into. They still have a level of independence and choice with how they structure their relationships and compensation, without having to have built it all themselves.
Jasen really appreciates the structure and guidance he receives from AIC. He says, "I can call compliance and say, 'Hey, I want to post this on our website. How do I make sure this won't get me into trouble?' Or I can call fiduciary and say, 'Hey, I've never dealt with a client who has this type of annuity. What should I do to make sure that I'm crossing all my Ts and dotting all my Is?'"
"I think the big misconception is that corporate America doesn't care about you. The reality is, broker dealers, RIAs, and even insurance agencies, they're just people. They're human beings. They're just like you, they are working their job. And a lot of their jobs in each of those three organizations is just to make sure that you're successful."
Finding a firm that's a good fit
If you'd like to find a fairytale match like Jasen did at Weinheimer, with a firm that fits your values and the perfect role for your talents and aspirations, you can start looking now.
If you're keen on exploring and mastering operational tech, Jasen suggests asking recruiters what type of software stack firms use. For a firm that's focused on getting everyone up and running and following their best practices as soon as possible, it will be a big sign that you're a match.
If you're worried about ending up in a role that is very sales-oriented or product heavy, you can weed that out by asking questions about how the firm handles situations when their clients have expectations that go against their recommendations. Then you'll have a sense of whether the culture lines up with your planning philosophy or not.
Wherever you go, remember to honor your strengths and personality and don't be afraid to look outside the "lead planner" box to find your perfect role.
Call your grandmother
Jasen's parting wisdom to help new planners find their feet? Call your grandma.
"Do it at least once a week," he says. "When you get into this field, you're going to realize that relationships are what this entire field of practice is based on. You need to be able to maintain relationships, and be very well experienced in having conversations with people of different generations and perspectives than you. Calling your grandma is a great way to get started."
Oh, and if a firm gives you a chance, Jasen recommends that you give them a chance back.
A new firm takes a lot of time to get a new hire up to speed. The least that you could do is recognize the points of wisdom offered. Whether or not you see yourself working at that firm for 5-10 years or not, Jasen says it doesn't hurt to respect the commitment. "Give it a real shot," he says, "and you will learn something, no matter how uncomfortable you feel. It's going to be worthwhile."
What You'll Learn:
What the career path most travelled looks like, and why Jasen thinks you should look beyond
A myth about broker-dealers Jasen wants to bust
How to use interviews and networking to uncover different firms' values and structure
How to get awesome at relating and connecting to clients
In this episode of YAFPNW, Jasen Wallace, CFP®, and Hannah Moore, CFP®, talked about:
Interested in following Jasen? Follow him on LinkedIn!