Spenser Liszt, CFP®, is a financial planner at Paradigm Advisors. These days, he helps young families make informed decisions about their money. His journey to this work wasn't linear, as you'll hear. Spenser sat down with Hannah Moore, CFP®, to talk about how he worked his way out of his previous musician lifestyle to become a champion of financial literacy.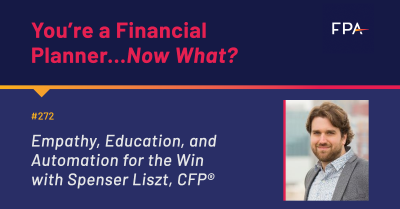 From musician to financial planner
When Spenser first heard about the CFP® program, he discovered that what he was already doing could be a profession.
After Spenser found himself in a position where he didn't have the money in his account like he normally did, he decided to focus on becoming financially literate, and managed to turn his situation around in a dramatic way. After realizing a lot of his musically inclined peers were having the same struggles, he started a business to coach them. He wanted to change the starving artist trope.
He says, "I wanted to learn more about finance so that I could be a better teacher, and to meet more people who had that expertise. I started looking at conferences to attend, and one of them said you had to be a CFP®." Spenser had never heard of the designation, so he looked it up. The more he read about the program, the more it seemed like a perfect fit, so he enrolled in financial planning at the Southern Methodist University in Dallas.
One thing led to another, and what started as a plan to just audit the courses turned into Spenser taking the exam and looking for a firm where he could complete the experience requirement. He met Michelle Underwood Gass, CPA, CFP®, RLP®, at an FPA DFW meeting, and has been with her team at Paradigm ever since. He's come up to speed quickly and managed to help them quadruple their client base in less than three years.
Financial literacy vs. financial planning
Spenser's former musician clients were in a rough place financially and they were in desperate need of financial literacy.
"A lot of people in America need a baseline understanding about money," Spenser says. "Financial literacy is your starting place. It's for people who want to improve their situation."
Now that he's a financial planner, Spenser's clients have the means to delegate the critical thinking to him. Nevertheless, he always tries to include as much education as they'll tolerate. It's important for clients to understand what's happening in a way that makes sense to them — and in language they understand.
He enjoys working with young families and helping them plan their next steps, like buying their first home, preparing to have a child, and starting a college fund. "There's so much to do for them that's really fun," he says.
However, Spenser recognizes that they might not know some basic financial things, like how much to save for their goals or how much to have in their emergency savings account. That's why combining the done-for-you planning with education will always be his goal.
Automation for the win
"When I started working at Paradigm," Spenser says, "I just started doing things. If I felt like something needed to be improved, I would just do it."
He noticed that they were having a rough time getting clients to upload their financial documents into their systems. "People wouldn't upload anything, or even bring it to the office for us to scan. And so they'd start paying us, and we wouldn't be able to do any work for them because we couldn't, in good faith, give advice without that information."
He used his business experience to research some tools and, after a bit of trial and error, got the company set up on a system called PreciseFP. It engages clients in their portal system by walking them through each step of their profile creation.
"Now, I send them a form and they can type in all their information into it, attach documents, and even just drag their life insurance policy right in there." When they finish, the Paradigm team has everything they need.
Spenser also uses a tool called Zapier to automatically grab information from new query emails and create tasks right in their CRM software. It saves the planners a lot of time going back and forth between their emails and their task manager. When a client schedules a certain type of meeting, Zapier also automatically triggers a whole set of tasks to make sure any pre-meeting work gets done and that post-meeting follow-ups get sent, all without the planner having to lift a finger.
When someone becomes a lead, then a client, and then at each milestone in their whole first year of planning, Spenser has created workflows to take care of the vast majority of the administrative tasks that used to be a pain for him and his team. He's still working on it, but Paradigm is currently about 90 to 95% automated. Impressive.
The tools took some effort to set up, but they've paid off in a big way for the firm. Spenser says, "We've taken so much off of our plate that's not financial planning or that's redundant. Now we can just focus on the human element, showing up to the meeting and connecting with that person."
The automation has been a game-changer, helping Paradigm quickly expand their client base from 17 to 71 in a short two and a half years. And with the computer-driven efficiencies, there's room for more.
Find the missing link
If you'd love to be the game changer at your firm, Spenser recommends you try to find the missing link.
He wants you to ask yourself: What's the piece that could get better at your firm? It might be a bottleneck in your process or a part of your job you don't like doing. Start searching for ways to make it better, and you'll be amazed at what you can find.
For example he didn't didn't know that any of the software he now uses existed, but it was out there and all he had to do was research it.
Go through your tasks and your client journey, identify where things aren't working, and figure out whether you can delegate that task to a software tool or to another person, like maybe a freelance paraplanner. As you solve each problem, you'll craft your role around what Spenser calls "your highest and best use," or the things that you do best and enjoy the most. It's a win-win for you, your team, and your clients.
The philosophy has been a success for Spenser, who's loving his job and talking about a partnership track with Paradigm.
His final piece of advice? Don't sweat the CFP® exam.
Although he knows well how scary it can be, he wants aspiring planners to go easy on themselves. "It's just an exam," he says. "Trust the process. If you've put in the work, you're going to pass. And even if it's not on the first try, who cares? I would almost rather see someone fail and pass the second time and say, 'Wow, they persevered. They knew that they wanted it and they went and got it.'"
That's the entrepreneurial spirit, in a nutshell.
What You'll Learn:
How a musician's empathy entrepreneurial spirit made a great fit for finance
Why financial literacy is important for everyone, but especially people who are struggling
How computer automation can make you a rockstar at your firm
How to be a game-changer by crafting your role around your highest and best use
In this episode of YAFPNW, Spenser Liszt, CFP®, and Hannah Moore, CFP®, discuss:
Interested in following Spenser? Follow him on LinkedIn!