Thomas Kopelman is the founder of The Long Game blog and podcast, and a financial advisor at RLS Wealth. Named one of Business Insider's Top 23 Financial Advisors for Millennials in 2020, he speaks with Matt Fizell, CFP®, about why he left a wirehouse role to take a chance on building his own brand. In this episode, you'll hear what Thomas has learned about content marketing that can help you build the career you really want.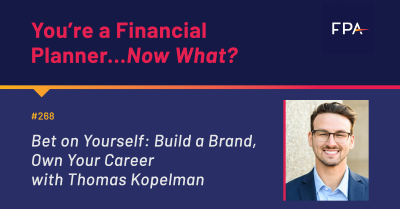 Why bet on content marketing
As a blogger and podcaster in the advising world, Thomas is getting noticed. In the last year, he's been mentioned by Micheal Kitces, honored by Business Insider, and read and heard by over 10,000 people around the world. One of his recent messages has resonated far and wide; "Bet on Yourself." It symbolizes the way he took control of his career.
When asked about "Bet on Yourself," Thomas shared that he's always loved that mindset. However, he didn't really know if it applied to him until this last year, because of his background working in a wirehouse. How did he go from that type of hive-mind culture to championing self-expression and honoring your instincts? 
"I butted heads with the company almost the whole time I was there," Thomas admitted. "They were saying, 'Go to networking events and volunteer opportunities.' And when you go to your wedding, they'll ask, 'How many leads did you get?' on Monday morning. I was like, 'This is just wrong.'"
Thomas knew in his bones he wanted to be an advisor, not a salesperson. His instinct was to be of service, to listen and answer questions, and to help his clients put their dreams into action. That yearning pointed him away from broker-dealing and toward financial planning, and made him eager to meet other advisors who believed in attracting their best fit clientele through content marketing.
He joined Advisors Growing as a Community (AGC), and that's where he met Justin Castelli, CFP®, who would later hire him at RLS Wealth.
What happened when he followed his instincts?
Although he doesn't believe content marketing is for everyone, Thomas is proof that matching your career path to your interests makes the unavoidable work more rewarding.
"There are a million different ways to grow a client base. But this is the way that I was gonna find fun and enjoyable. It's just crazy to me how much my life has changed since I started doing this and how much happier I am."
By indulging his curiosity, he's learned how to make use of blogging, video, podcasts, and email newsletters to provide value to his audience and make a name for himself as a trusted expert on millennial finance.
More importantly to Thomas, by making the move to a firm that embraced his passion for experimenting, he's found a role where he can grow happily for a very long time.
"Justin lets me be me," he shared. "I wanted to try a different process than his when I met with millennials. I had accountability meetings and more touches, versus a lot of the older clients he works with who don't need that. And he said, 'Test it. See how this works, how it affects implementation and how the clients like it.' And I get to run with that."
Similarly, Justin lets Thomas test his instincts in their marketing content and gives his full support and mentoring. Many of us know how rare that is in our profession, where we're more likely to get shut down by our bosses than to get coached on how to nail our own marketing.
What do most planners get wrong in their content marketing plan?
Although Thomas is obviously having great success building his platform, he acknowledges that it's not always an easy process. He says, "Eighteen months ago, if you asked me what my biggest weakness was, I would say writing. It was the thing that I was worst at. You know, I'm a math guy. And so those blog posts took me, like, eight to ten hours to do. What am I going to write about? How am I going to edit to the point where I don't feel embarrassed posting it?"
But he pushed through and gave himself a structured regimen to get in "content-producing" shape. He says, "I have everything scheduled and I just stick to it. I don't give myself excuses. If I don't feel like doing it one week, it doesn't matter. I'm going to do it anyway. With my background playing basketball in college, the only way I got good was because I stuck to a discipline."
He's now at a point where writing a blog post takes him about sixty minutes. He produces a new one every week along with a weekend review, plus a podcast every three weeks and enough social posts to keep his Twitter scheduled for two posts a day, his LinkedIn feed flush with the highlights, and his Instagram fresh with an average of about ten stories per day.
But before you go thinking you need to be producing content everywhere right off the bat, Thomas warns that you have to work up to it. "A lot of new advisors say, 'Okay, I'm going to launch my firm, and from day one I'll do a podcast, a newsletter, a blog, and video, and I'm going to post on four social media platforms.' It's not that I think that's bad, but I think that you're not going to maximize your results by doing it that way."
How to get the most from your content marketing strategy
So, how does Thomas think you should approach building your platform?
First, he wants you to figure out your audience. It's important to pick a niche for your marketing, even if you don't intend to exclude anyone in your actual services. Marketing to a specific audience just means you have somebody that you can write to, as Thomas put it. It helps you build a clear and targeted message when you can picture in your head how old your audience is, what social media they're on, and what questions they have.
Plus, zooming in on a particular audience helps you be more strategic in your social media posting. Each platform has its own rules for what kind of content performs well and how often you need to post to get boosted by their algorithm. Knowing your audience helps you show up strong on their home turf.
"Another thing I think is really important is to get really good at one thing first," Thomas adds. Whether your audience is most interested in writing, video, or another type of content, start there and master it before you add more media and platforms. "Come up with the idea, get really good at it, and once you feel comfortable, then move to the next thing."
His final piece of advice is to trust the process and give yourself a long time to start seeing results before you call your experiment a failure. He believes that people give up way too fast. It takes about a year for momentum to pick up where you actually start to see results. So, if you do anything less than that, it's not a fair yardstick by which to measure success.
For all the work it takes to develop your brand through content marketing, Thomas reminds us the outcome is worth it. "My mindset is, if I'm the one advisor that's constantly in their face, constantly in their ears, constantly across their timeline, and everything's adding value to them, why wouldn't they reach out to me? To be honest, it's worked really, really well for me."
Like anything in financial planning, the payoff is in the long game.
What You'll Learn:
What Thomas means when he says, "Bet on Yourself" in your career
What happened when he followed his instincts
What most advisors get wrong about content marketing
How you can get started with a solid plan to grow your platform
In this episode of YAFPNW, Thomas Kopelman and Matt Fizell, CFP® talk about:
Interested in following Thomas? Follow him on LinkedIn!