Garrett Philbin, CMC®, is the founder of Be Awesome, Not Broke. He provides financial coaching, which is a distinct service from traditional advising that focuses on helping people get out of debt and start the journey toward mastering their money. He sat down with Hannah Moore, CFP®, to talk about how coaching differs from advising, why it matters in the profession, and how the skills and model of financial coaching can benefit any practice.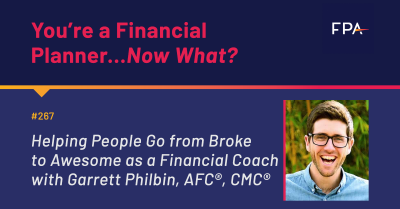 Financial coach vs. financial planner: What's the difference?
Do you know any advisors who work in the financial coaching space? Many of us do not. Among the multitude of career paths in the financial planning profession, coaching is one of the rarest and least understood. 
Garrett recognized early on that he wanted to be a financial coach. He knew his ultimate goal was to serve people who needed help mastering money, but who couldn't afford traditional financial planning. He thought he was alone at the time and cooked up his business model from scratch.
He says, "The planners and advisors I was talking to weren't really serving these people. They maybe touched on cash flow as one of the main pillars of their work, but it wasn't the main focus. Only after a few years did I realize that, 'Oh, there are other coaches doing this.'"
So, what exactly do financial coaches do?
According to Garrett's model, advisors usually help people who either A) have a good amount of assets, or B) already have their stuff together. If you give them a plan, they'll more or less be able to follow it. Whereas with his clientele, if you gave them a typical financial plan, they wouldn't know how to use it or understand its value. For Garrett, financial coaching is really about helping people with the basics: What's coming in, what's going out, and where is it all going? He focuses on helping his clients "get out of a bad place and into a decent one."
Although clients' income level and goals are a major difference between financial coaching and typical planning services, there's also a difference in regulation.
Garrett says, "As a financial coach, I'm not legally allowed to give investment advice, sell insurance, or give tax or legal advice. It's an interesting field, because financial coaching isn't technically regulated, but there are things that we can't do based on regulation in other industries." 
Why does financial coaching matter?
Although we can probably all agree that people who are struggling financially are underserved in our profession at large, many of us feel powerless to help because it seems like the market isn't profitable.
However, Garrett points out that, because of similar worries about profitability, the financial planning community took a long time to come around to fee-only pricing. His firm is proving that a well-designed business model can trump AUM thinking and other misconceptions.
"You can absolutely make a living as a financial coach," he says. "But there are a lot of nuances in that." He describes coaching models that target clients with few assets but a healthy income, and others that leverage group coaching and partnerships with nonprofits to offer coaching at scale. 
Garrett says, "If you want to serve these people based on what they can and can't do financially, you need to ask yourself, what can you put together that works for them?" A number of Garrett's clients are women and other people who have been excluded from conversations about money. He says, "They were never taught how to manage money growing up, and oftentimes, money was used as a weapon or a way of withholding. Information wasn't shared with them around money as a way to keep them in the dark."
For these people, financial coaching can have an incredible impact on their well-being, both in the short-term and the long-term, with ripples that can affect their families and future generations. The benefits can even feed back into the planning profession.
Garrett's services typically only last a few months. "That's getting you to where you're actually in the position to think not just three or six months down the road, but 5, 10, or 20 years down the road. And when you've reached that point, it makes sense for financial planners to step in."
How can you help clients who are financially struggling?
Even traditional advisors can encounter clients who are in distress about money. It helps to take a few pages from the financial coaching book. Garrett starts by empathizing with his clients' state of mind to shift his approach. He knows they need help with these things because they are causing them pain, anxiety, and stress. Instead of selling your clients on a sunny vision of sending their kids to college and buying a vacation home, you need to help them find relief and hope.
"It's like they're asking, 'How do I make my life suck less?' I tell them I can help you build the foundations, both from a numbers standpoint and from your relationship to money standpoint, to make things better."
Financial coaches focus intensely on the emotional-behavioral side of money. Garrett took the Certified Money Coach® training from the Money Coaching Institute for in-depth practice in drawing out and reframing the hidden experiences and beliefs around money that are affecting his client's behavior. These skills can really help you when your advising conversations get derailed by mindset issues.
Garrett says, "I think it's important to just name what's going on. And that can be really, really awkward. That's why it's important for us to do our own internal work around being conflict avoidant, and being able to say it without getting worked up ourselves." He found his coaching soft skills especially crucial when working with couples, who often have an intense relationship dynamic around their money habits.
To learn more about financial coaching as a career
"A lot more people are discovering financial coaching as a potential career path," Garrett says, and he's out there trying to pave the way. In 2017, he wrote an article on the Michael Kitces blog to answer a lot of the questions he was hearing. The piece is called, "What is Financial Coaching, and How to Start Your Own Firm," and has lots of information about what coaching really looks like.
Garrett also runs a Facebook Group called Financial Coaches Community. With over 4000 members, the group is a forum for coaches to ask other coaches practical questions, like what they legally can and can't address with clients, how they should set up their business, as well as how to ethically market and sell to clients who are struggling. There have also been a ton of posts in the group recently about financial planners looking to hire coaches to work in their firms, or planners who'd like to incorporate coaching skills into their practice.
Finally, Garrett also runs the Financial Coaches Network, another Facebook Group with tons of free and paid resources to help you explore the career options and find out if it's right for you.
What You'll Learn:
How is a financial coach different from a financial planner?
What does coaching bring to the industry like no one else?
How can coaching skills make you a better advisor?
Where can you learn more about a career in financial coaching?
In this episode of YAFPNW, Garrett Philbin, CMC®, and Hannah Moore, CFP® talk about:
Interested in following Garrett? Follow him on LinkedIn!