The Foundation for Financial Planning has been expanding access to pro bono planning for over 25 years, helping people in need benefit from quality financial advice. Through their Pro Bono for Cancer Campaign, they've partnered with the FPA National and Family Reach to provide free financial planning to help families cope with the extraordinary financial burdens that come with a cancer diagnosis. In this episode, Hannah Moore, CFP®, spoke to Raven, a client of Family Reach, Robert Sharer, the volunteer advisor who worked with her, and members of all three of the collaborating agencies about their mission, outcomes, and how you can get involved to give back through pro bono work.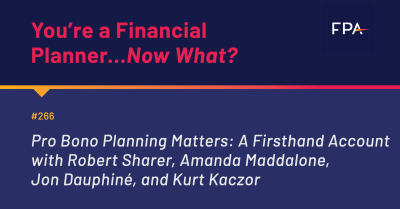 Raven's story
As a single mom to four kids under the age of seven, Raven was no stranger to challenging situations. But when her three-year-old was diagnosed with leukemia in 2019, she encountered a whole new level of stress.
"We struggled financially because I had to miss work," Raven says, "That was our only source of income, so I had to tap into my savings. There were appointments, sick days, and times when my son's immune system was too low and he couldn't be in a daycare setting." It wasn't long before she was relying on overdraft to pay rent, going to food pantries, and asking for assistance from organizations.
One day at the hospital, she saw a poster for Family Reach's Financial Planning for Cancer program. She says, "I knew that I needed help, so I asked my son's social worker to connect me."
Although Raven was worried about being judged for her financial troubles, the planner assigned to her, Robert Sharer, put her at ease.
"Mr. Sharer was very empathetic," she says. "He told me that I was doing good with what I had. He reassured me that he would help me where he could and refer me to resources where he couldn't."
Although the circumstances around Raven's financial plan were extreme, the process that Robert guided her through was one we could all recognize. They went over her budget, addressed her debts, and dug into her important financial goals. For Raven, that included buying a home.
"We met about once a month," Raven says. "Mr. Sharer assigned me homework to look into the programs that might help. I became aware of a housing program, called The Neighborhood Assistance Corporation of America, and I told Mr. Sharer about it. He helped me create a budget for the program, and he encouraged me when I wanted to give up."
The support and advice that Raven received from Robert had a big impact. She says, "I learned a lot from him. I still have to miss a lot of work for my son's appointments, but I haven't had to overdraft my account in over a year. I was able to keep my budget, save my income tax refund, and purchase my first home. It's a four bedroom, three bath, with an interest rate of 1.25%. This is life changing."
She adds, "I will highly recommend Financial Planning for Cancer to others in my shoes."
What's it like to do pro bono work?
Knowing the impact of this work is one thing, but what's it like to do this kind of work? Robert says he went into his volunteering at Family Reach without expectations, but with hope. He says, "You hope that you can help them find a path, to see a way forward through some of the duress, and that you can use your skills and experience to improve their situation."
If you feel like you wouldn't know where to start with a client who's going through such stressful times, you're not alone. A lot of advisors are intimidated by the prospect.
But having done it, Robert has words of encouragement. "I think financial planners really have the skills to address this kind of situation. You start off gathering information, you go through all the aspects of their situation from a financial point of view, and then you work with the person to develop their goals."
His advice if you're considering a pro bono project? Make sure you'll have strong support.
"I found Family Reach to be terrific. At the beginning, I had doubts, and I said, 'Look, I don't know anything about the details of medical insurance. It can be very complicated, and there may be lots of issues that I can't address.' But Family Reach told me, 'You're a financial planner, you focus on that. If there are things outside your knowledge, you refer them to us, and we have other resources we can bring to bear." 
Another thing he recommends is to take stock of how much time you can devote. "You should figure out in advance how much time you have and how much time it will take. Some financial planners maybe don't have the burdens that Raven has with four kids and everything, but you have to be sure that you can commit the time that's needed."
In all, he wants other planners to know how worthwhile he found the experience.
"The skills and knowledge of a financial planner are highly relevant to the problems of people who are in financial difficulties. It will make you a better financial planner, because it will encourage you to be empathetic, and it'll make you a better person because you're giving back and contributing. I would highly urge people to get involved."
How did Family Reach, the Foundation for Financial Planning, and the Financial Planning Association become partners?
Amanda Maddalone is the Financial Planning Program Manager at Family Reach, the program that served Raven. Family Reach is a national nonprofit organization dedicated to removing financial barriers for families with cancer. 
The program was founded by two families who experienced firsthand the devastating financial side effects of a cancer diagnosis. Those effects can include the out-of-pocket costs from travel and lodging that comes with cancer treatment. And more often than not, there is a loss of income. Family Reach provides multiple financial services through their financial treatment program. They include financial planning, financial education, resource navigation, and emergency relief funds.
Jon Dauphiné is the CEO of the Foundation for Financial Planning, and was the initiator behind their Pro Bono for Cancer Campaign and their partnership with Family Reach.
Back in 2017, they were trying to enhance our impact. They were looking at what really vulnerable groups out there could reap extraordinary benefits from pro bono financial planning. One of the things their research turned up was that families facing a serious cancer diagnosis often experience what's called 'financial toxicity,' and it is a terrible burden. In fact, families cite the financial strain as the second biggest source of stress when they're undergoing cancer treatment. The FFP ended up connecting to Family Reach in order to help families get in front of the financial crisis that was attached to their diagnosis.
Kurt Kaczor is the director of the Financial Planning Association's Pro Bono program. He says, "When we were approached by the Foundation for Financial Planning, it was an easy decision for us to get involved. It truly aligns with our mission of helping transform lives through the power of financial planning. We've been working over the last couple years to recruit our members to participate as pro bono financial planners and really make an impact."
In the years that these agencies have been working together, they've made a huge impact.
Jon points out that they aren't only easing stress for their programs' clients, but they're also having a measurable effect on their health and recovery. They funded the Levine Cancer Center in Charlotte, North Carolina to do a study. It was led by an oncologist, Dr. Greg Knight, who was interested in how the financial toxicity of cancer impacts his patient's health and quality of life. What was so striking is he found that this intervention with pro bono financial planning actually led to a 53% higher survival rate, and a similarly higher quality of life as well.
Family Reach gathers survey data on its participants, and Amanda says, "100% of the people who completed our survey would recommend this program to other patients. We're starting to see patients coming to us through word of mouth, hearing from other families that this is great service out there that we can provide."
How can you get involved in pro bono work?
Jon knows that CFP® professionals who have never done pro bono admit they're nervous about working with financially struggling clients. And understandably so, because they're typically used to serving high net worth families.
But once they undergo basic training, Jon says that planners become comfortable and confident that they can add value.
He adds, "One of the things I would recommend is our Pro Bono 101. It's an introductory training offered through FPA and the Foundation on our websites. If you're a CFP®, you get a CE credit. It's digital, so it's easy to do, and it's free." The course is an orientation on doing pro bono planning. 
The Foundation also worked with Family Reach and the FPA to build a training that's specifically related to the cancer program. It covers what families are experiencing with serious cancers and some of the considerations to keep in mind. It's a really good orientation to this specific population in this specific situation.
Amanda says that volunteers with Family Reach have excellent backup. "We are lucky to have a team of resource navigators on our staff, who families or financial planners can access to figure out what organizations in the family's area can best meet their needs."
If you're a CFP® who is interested in delivering pro bono service, you can register at Pro Bono Planner Match, and browse opportunities in your area or available virtually.
Another way you can support pro bono work is by donating to the FFP to support their mission.
What You'll Learn:
How financial planning for families with cancer changes, and saves lives
How the FPA, FFP, and Family Reach work together to ease the devastating financial effects of a cancer diagnosis
What it's like to be a pro bono volunteer
How you can get involved and give back to your community
In this episode of YAFPNW, Hannah Moore, CFP®, spoke with Robert Sharer, Amanda Maddalone, Jon Dauphiné, and Kurt Kaczor about:
Interested in following Amanda? Follow her on LinkedIn!
Interested in following Jon? Follow him on LinkedIn!
Interested in following Kurt? Follow him on LinkedIn!