Matthew Ricks, MBA, CFP®, is the founder of Haystack Financial Planning, a firm that serves people with disabilities and special needs. Matthew spoke with Matt Fizell, CFP®, about how he took control of his career, started his own firm, and niched down in an area where his interests and experience met with great demand.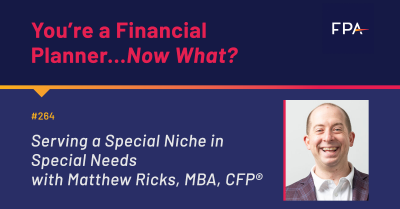 Finding a niche through life experience
When Matthew opened his own firm in late 2020, his niche was pretty unique. He had discovered a need for financial planners who could provide specialized consulting to people with disabilities.
"I got introduced to this community through the Pro Bono Program with the FPA," Matthew says. "I came across a number of parents with a child who had a disability or a special need. From an academic standpoint, navigating the different programs and benefits stimulated me. I'm a planning nerd, so the more complex the better, right?"
Having found his passion through pro bono work, Matthew was worried there might not be a paying market for his growing expertise. But he was wrong. Some of the people he talked with had plenty of means to hire an advisor. There are just not a lot of planners putting themselves out there and marketing to this community specifically.
Matthew did some research and spoke to friends and family, and discovered that his connection to the community was stronger than he thought. He says, "It was never at the forefront of my mind until I was pressed to think about it, but I have family members who have disabilities."
His exposure to families with special needs gave Matthew an understanding of what his clients would need above and beyond typical advising. He saw, unfortunately, that some families were working with advisors who didn't know about the programs and benefits they needed to work with. He tried to undo some of those issues with his pro bono work, and it really helped him to see the opportunity present in this community.
Helping your niche find you
Finding information to help families with special needs navigate their unique financial issues was the easy part for Matthew. The hard part? Getting found by prospective clients.
It was hard for these families to find Matthew at first, because he had a very formulaic website. "It looked like everyone else's website," he admits. He was unsure how the regulations around marketing in finance would apply to his situation, so at first he avoided speaking directly to his clientele or sharing the messages that were important to them.
Eventually, Matthew got a bit more comfortable after managing his own compliance. "Being your own compliance department has its pluses and minuses," he shares. "You kind of have to think things through on your own. But it also allows you to tailor your message better, making sure that the information is tailored to your clients." Eventually, he figured out how to state his expertise and even use each social media platform in a strategic way to connect to his audience. He now maintains a presence on Twitter, LinkedIn, and Instagram, and also runs an email newsletter.
Focusing on specific problems to improve service
Matthew explains that the key to being a truly valuable advisor is to focus down on your clientele and really deeply understand their unique challenges. For his community, there are many specific pieces of knowledge that advisors need to have and keep current on, like legislative changes. Issues like understanding the difference between Supplemental Security Income (SSI) and Social Security Disability Insurance (SSDI), knowing how to determine which programs his clients are eligible for, and helping them complete applications are also critical for him to stay up-to-date on.
Knowing those issues more in-depth helps Matthew as a planner and fast-tracks the process for his clients. He doesn't have to go off and do the research about all the resources and requirements, because he already understands them."
Matthew's passion for helping families navigating disabilities has taken his focus beyond just providing the most relevant financial advice. He says, "What I've been working on is trying to build out a network of other professionals in this space. For example, when it comes to Medicaid applications, I don't understand the process A to Z. So I'm finding other individuals who focus on that. I can be a resource for my clients, helping them find the experts and resources they need." For many of the families he works with, these resources aren't easy to find.
From a business perspective, Matthew says that knowing his clients' world so well makes it easier to plan his marketing efforts. As he put it, "When you know who you're talking to, you can find that avatar and understand and cater to them, versus casting a wide net."
For example, at tax time, Matthew creates content about basic tax stuff, but he also talks about ABLE account contributions and why they're important for his clientele. He also makes sure that they understand what's a qualified disability expense for IRS purposes, because that's important to this community.
Always striving to serve his clients better, Matthew is in the process of getting a designation called the Chartered Special Needs Consultant (ChSNC®). It's offered by the American College and it helps give you a baseline of some of the planning issues that come into play when you're serving families or individuals with disabilities or special needs.
Where's your niche hiding?
Want to find your own in-demand and profitable niche? Matthew says, "I would have never thought of starting my own firm or choosing this niche if it weren't for advisor communities." He recommends the FPA Next Gen groups and local chapters, as well as the FPA Activate group on Facebook. Matthew encourages new planners to find their communities — in real life or online. "You will get a lot of people and a large cross section of our profession. It will help you fast-track a lot of learning," he shares.
What You'll Learn:
How important it is to share life experience with your niche
How he serves his niche with specific services & support
How knowing your audience intimately makes it easy to market and create content
How a deep focus on your clientele increases your value exponentially
Where to get inspired about your perfect niche
In this episode of YAFPNW, Matthew Ricks, MBA, CFP®, and Matt Fizell, CFP®, talk about:
Interested in following Matthew? Follow him on LinkedIn!