Maddi Napier, CFP®, MBA, FSRI, QKA, knows how hard it is for many of us to hone our leadership skills. Hannah Moore, CFP®, sat down with Maddi to find out where she gets her confidence in managing people, what makes a great leader, and how the rest of us can be more comfortable and effective when we're at the helm.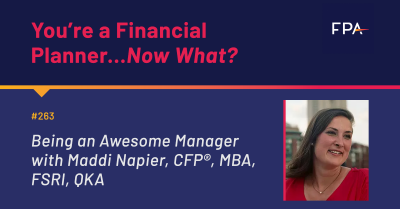 Leaning towards leadership
Maddi's career started at an insurance company, where she moved up from mailroom clerk to team supervisor. Not only was it her first taste of finance, but it was where she fell in love with management. She says, "I fell into leadership. I was very fortunate that I had a really good director at the time who saw potential in me and thought I could do this management-type stuff."
As she worked her way up, Maddi picked up the passion and awareness she'd need to become capable as an advisor, business owner, and leader. In every role, she always focused on how she could help the people get where they needed to go. One of the reasons she went into financial planning was that she could clearly see the parallels between managing a team and helping clients create a vision for their life. That is truly where Maddi shines.
Leading from your values
Maddi knew she would excel at managing others because leading a team had always been her dream. She tells Hannah, "I thought about it for a long time. I just love leading people and helping them in their careers." But when she first struck out on her own, she knew it would take time to grow her practice before the business could sustain employees.
Coming from a huge company where she interacted with hundreds of people every day, Maddi found the solitary times very lonely. "It was only me trying to figure all the things out," she shares. Whether she was working out an answer to a client's tough question or developing her strategy for the business, Maddi missed having a team around her to collaborate.
Finally, she reached a point where she was ready to take someone on. She started by hiring an intern, who thankfully has worked out so well that Maddi ended up hiring the intern as staff.
If you're building a team, Maddi highly recommends using internships as a way to get to know a candidate so you can be confident you've found a good fit before you hire. She also encourages you to reflect on your values and to make sure that the effort and investment you put into hiring will serve your ultimate goals.
Maddi says, "I'm probably doing what most advisors wouldn't, in that I'm paying myself almost the same as I'm paying my employee. But I'm okay with that. I'm setting up this firm to be in line with my vision for life." Fully aware of the financial implications of her hire, Maddi developed a plan to help develop her teammate's skills so she can serve clients as quickly as possible. 
How do you develop leadership skills?
Maddi's first tip for would-be managers is to challenge the way you think about leading. She says, "There's an assumption with management, like, 'I have to oversee you and make sure you're doing what you're supposed to be doing.' It's kind of an old school way to look at it. In my mind, leading is more about empowering your people and giving them the tools to be successful."
She takes a servant leadership approach, and credits her first director with showing her the beauty of leadership done right — with empathy, first and foremost. 
Maddi tells Hannah, "My mentor truly cared about me, and made that known. She wanted to make sure that I was doing okay, every day, and had an interest in who I was as a person. On the flip side, she was a hard boss. She was probably the only person that I ever worked with, where, in every review, I had 15 things I could be doing better. But because she had built that foundation where I knew she cared about me, I didn't ever look at the feedback as a personal attack."
Giving feedback is another area that Maddi thinks most of us need to work on. "There are leaders who just won't have the conversation. They sweep issues under the rug and never give reviews. That hurts the employee and the leader when they're doing that."
Her tips? Be specific, give examples, and bring it up as soon as possible.
"Don't wait six months to say, 'Hey, I remember like six months ago, when you had that conversation with the employee, and you weren't very nice to them?' Also, try to show them with facts what they've done, and why that could hinder them or the organization."
Finally, don't expect to be able to provide great leadership on the fly.
Maddi keeps a consistent schedule of meetings, and each one has a purpose. Some meetings are to discuss client matters and give her employee a chance to ask questions. Others are to discuss the team dynamic, where she and her employee both give and receive feedback and work together to hone their processes. About once every quarter, Maddi reviews her development goals for her employee, asks what type of support she needs, and sets new priorities to keep her progressing for the benefit of her career and the business.
"It's got to be built into your calendar," Maddi says, "to really be able to nurture that culture and make sure your employee is supported."
What You'll Learn:
What type of work experience helps to hone strong leadership abilities
How leaning into your values makes you a more effective leader
What four skills will make or break your management efforts
In this episode of YAFPNW, Maddi Napier, CFP®, MBA, FSRI, QKA, and Hannah Moore, CFP® discuss:
Interested in following Maddi? Follow her on LinkedIn!