Pam Capalad, CFP®, AFC®, is the founder and CEO of Brunch and Budget, a virtual financial planning firm. At Budget and Brunch, Pam provides affordable, high quality financial advice and works to break down financial barriers for people of color. She spoke with Hannah Moore, CFP®, about how her team provided powerful outreach during the COVID pandemic, and how showing up and paying attention can help change lives and right wrongs in the financial system.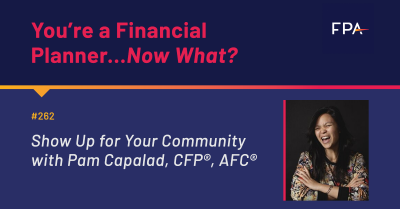 Showing up for the community during the pandemic
When the COVID pandemic first hit in March 2020, the country was stunned. As people all over America watched their lost jobs or watched their businesses dry up, Pam Capalad, CFP®, AFC®, sprang into action. She took her expertise and energy to the grassroots.
"People need triage right now," she remembers discussing with her team. "They're gonna have to apply for unemployment, the CARES Act, and other stuff that's coming down the pipeline." They realized right away that the resource systems were confusing, so they made it their mission to guide as many people as they could.
Pam says, "We put on the front page of our website, 'Pandemic support, COVID support, Please pay what you can.'" Her team pumped the message out through their newsletter and social media, knowing their community needed advice and someone to talk them through all of the overwhelming information.
In the back of their minds, they worried about what would happen if they lost too many clients, but they didn't let it distract them from the task at hand. Pam knew the point was to get people the advice they needed, in the time that they needed it.
Along with Sam, one of her lead financial planners, Pam opened up her schedule and made room for a huge number of low-cost virtual sessions they called brunch sessions. The team also put together free workshops to guide people through important issues, like PPP loans.
"We did a workshop on PPP loans for Art World Conference," Pam says. "It was for artists who didn't apply for the first round of loans because they don't think of themselves as business owners, so they didn't know they were eligible for this money." With so many artist and musician clients devastated by the cancelled shows and closed venues, Pam knew this information was critical.
Between March and December, the Brunch Budget team did 145 virtual meetings and put on over 18 workshops. Pam says, "We were just thinking, 'This is what we're here for.' When a crisis happens, you do whatever you've got to do, right?"
Helping people of color and first generation professionals
Even before she founded Brunch and Budget, Pam knew she wanted to use her financial expertise to change the world. She says, "Our core focus is to be the catalyst for a power shift. A big part of the work that we do is to give people of color, in particular, a space to thrive within this financial system." She saw so many ways that the current system was designed for communities of color to fail. Teaming up with her husband, Dyalekt, she created the Brunch and Budget podcast about personal finance and racial wealth equity. 
Pam tells Hannah, "A lot of the clients that we work with are first generation Americans. They may be first generation college grads, or the first generation to have a professional salary. And sometimes they're all three. They haven't had the opportunity to build wealth in the same way that a lot of our white clients have."
One thing that Pam noticed working with clients of color is that she was not only supporting them, but she was helping them support their extended family members. So, she built a multi-generational consideration into the firm's practice. They always ask, "What's your family's financial plan? Do your parents have wills? Do your parents have a retirement plan? Are you your parents' retirement plan?"
This was critical, because Pam knew these people were really in this interesting space (and still are) where they're making more income than their parents. So she really wanted to figure out how her firm could support them in that.
Changing the world through financial planning
As Pam delved deeper into the struggles that keep people from building wealth, it became increasingly clear to her that the system needs to be fixed. She says, "Our mission is to put ourselves out of a job. If you really think about it, if the system was working, financial planning as a profession should not exist."
"Our parents' parents didn't have financial planners," she explains. "They had pensions, Social Security, and big companies taking care of their retirement. The financial services industry has gotten so complicated that people need a go-between, even to negotiate a mortgage. People just don't know where to go."
She describes her firm's role as performing triage. They want to help their clients get through the system and get the resources they need along the way. But also, maybe 5-10 years down the line, Pam wants to be able to affect policy to the point where her job (and ours as we know it) is obsolete.
Being on the ground with people and seeing what their stressors are helps Pam see the bigger issues at work.
In her firm, she can tell people to contribute to health savings accounts, but the reason they exist is because you have to pay $6,000 out of pocket before your health insurance kicks in. Rather than being excited about the FSAs, what if we improved the healthcare system so medicine wasn't a financial issue?
Advice to new planners
Pam's biggest piece of advice to new planners might surprise you. She says, "If the CFP® is daunting to you, you don't have to dive right into it. You will get to it, I promise. But sometimes it makes more sense to get a series 65 first or to get an accredited financial counselor designation, so you can get your feet wet." Especially if you're new to the profession or a career-changer, the CFP® can feel intimidating. "It's literally the hardest test I've ever taken in my entire life!" Pam admits
"It's gonna feel so good when you get it," she's quick to add, "but you don't have to start there and fail five times before you get it right." Pam recommends getting some advising experience first before jumping into the CFP®.
"What's so interesting about our focus on designations is that a big part of getting the designation is always the experience requirement. And the experience of the other designations will make you better at taking the CFP®. It'll make the courses make so much more sense."
Her final words?
"Remember who your community is, and think about how you show up for them." 
She says, "If we bring ourselves back to our roots in terms of, 'Who are we serving?' and remember that as we deal with all of the random stuff that gets thrown at us, then we'll keep weathering all these storms."
What You'll Learn:
How to show up for your community in a crisis
How Pam's firm makes an impact for people of color
Why Pam wants to make her job obsolete
How new planners can find their way through intimidating designations
In this episode of YAFPNW, Pam Capalad, CFP®, AFC®, and Hannah Moore, CFP® talk about:
Interested in following Pam? Follow her on LinkedIn, Instagram, or Twitter!