Jared Machen, CFP®, co-founded Brownlee Wealth Management after building a successful practice as a virtual paraplanner. He spoke with Matt Fizell, CFP®, about the surprising opportunities available on the paraplanning career path and how it gave him the breadth of knowledge to eventually open his own RIA with confidence.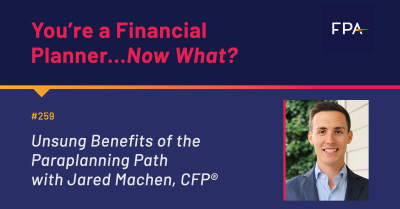 Hidden opportunities within the profession
If you thought that paraplanning would limit your possibilities, think again. Although Jared Machen, CFP®, had his CFP® designation and experience working in a couple of firms, it was his switch to paraplanning that took his career to new places. From working in the U.S. to Honduras and back again, his virtual paraplanning business gave him the freedom to travel and a deeper perspective on the business of financial planning.
"The most succinct definition of a paraplanner is someone who assists in the financial planning process," Jared says. "But it means different things to different people. It can range from entering the data into the financial planning software to developing recommendations, preparing a financial plan, and modeling scenarios for the advisor."
When an advisor delegates to a paraplanner, they ultimately provide better support to the client. Entering client information into the financial planning software is a time-intensive thing for planners, and Jared knew that hiring a paraplanner could really free them up to spend their time thinking more critically and adding value to their clients. So he started offering his services to them.
Jared also worked with a lot of solo advisors who approached their collaboration with him as a chance to get a second set of eyes on their client plans. He says, "You can go back and forth and develop recommendations and provide a vantage point that the advisor might not see on their own, which can end up creating a better plan for the end client. It's been really fun to build that business."
A natural fit in today's market
Jared's decision to leave his advisor position seemed counterintuitive. He just felt drawn to own his own business, though, and shared that his decision was lifestyle-centric. He knew he was going to take a cut in pay, but he was willing to do that to have a business that supported his life (instead of the other way around).
At the time, he had four years of experience as a financial planner. Jared tells Matt that he felt too green to start his own firm. Besides, he wasn't ready to be tied down geographically. His family owned a farm in Honduras that he and his wife wanted to live on for a while, which made a virtual business feel right. He says, "I figured out how to use my passion for financial planning to add value to other advisors."
Of course, it wasn't perfect. He left without any work lined up, and committed his first summer to building as many relationships as he could with fellow paraplanners and other people in the profession.
The first stop on Jared's journey was the 2019 XYPN Conference. He says, "I thought the people who would be likely to hire virtual support would be virtual business owners." He was surprised to find that he got most of his referrals from other paraplanners, and that there was a huge demand for his services. Getting connected with other paraplanners was a valuable resource and, one by one, through referrals and cold reach-outs, he began to get clients.
Paraplanning is much more than data entry
The thing about paraplanning that lit Jared's fire was getting such an in-depth look under the hood of the profession. "It makes you a better planner," he says. "You get exposure to different planning processes." 
Compared to working within a single firm, paraplanning can let you see a much wider picture of the profession. Supporting a variety of advisors showed Jared that different people can come to different conclusions and think of different ways to solve a problem for a client. 
As professionals, we may actually crave a diversity of clients. A firm probably has a niche or a specialty focus, but if you're working for a bunch of different firms, in a paraplanning capacity for example, you get to work with different people and different needs. "I got to review plans for divorcees, tech executives, self-employed therapists, and business owners in various other demographics," shares Jared. "Getting exposure to different client situations really helps you grow and learn different parts of the planning process."
On top of experiencing so many different client scenarios, Jared also became fascinated with business operations. By working so closely with other planners, he got a front row seat to what a good financial planning process looks like. He had the privilege of working with close to a dozen advisors. You really get an idea of what works, what doesn't, and where advisors are commonly getting stuck. From follow-up and communications to managing client data, he began seeing opportunities to offer recommendations in systems and software.
"On top of just learning how to be a better planner, you learn how to run a better planning business," he says.
Is paraplanning the right path for you?
If you're more excited about working with concepts of financial planning than working with clients face-to-face, paraplanning might be a great place for you to grow.
As a virtual paraplanner, Jared says, "You get the data from the advisor and you develop the recommendations. You have access to most of the advisor systems because you need to model the scenarios and build the plan. Then you send your plan to the adviser for their review and discussion." Ultimately, the advisor takes it to the finish line and delivers the plan to the client.
If you're contemplating a move to virtual advisor support, now's a great time to jump in. Jared says, "I would say there's a tailwind. There's a couple things going on in our profession. COVID really accelerated the adoption of virtual work. There's a wide swath of advisors who, a year and a half ago to two years ago wouldn't have felt as comfortable hiring somebody virtually and now they're open to that." The swell of remote work opportunities has been a silver lining to the tragedies of the pandemic.
The other thing is exposure. Simply Paraplanner and Nifty Advisor Support are two of the bigger names in this space, and both of them were on the Kitces podcast recently, which means more people are looking at this career track! Now, more people are learning about the demand for advisor support and the resources available to help them network and grow a business, so get in now.
"Things continue to happen for paraplanners who are interested, diligent, and proactive," Jared says. He does warn, however, that there's no shortcut to doing the hard work or putting yourself out there and meeting people. Although it's important to put solid thought into your website, your agreements, and your tech stack, he recommends that you not let those aspects become a way to procrastinate on the hard work of finding and winning clients.
What really made the difference for Jared was getting himself in front of people, being curious, and showing that he was well-suited to solve planners' problems.
What You'll Learn:
The hidden opportunities within the paraplanning path 
How virtual advisor support fits naturally in today's market
The ways that Jared grew from paraplanning to provide deeper value to his clients
How to tell if paraplanning is right for you
Why the time is now to be a virtual paraplanner
In this episode of YAFPNW, Jared Machen, CFP®, and Matt Fizell, CFP®, talked about:
Interested in following Jared? Follow him on LinkedIn!