Jeremy Walter, CFP®, CKA®, is the founder of Fident Financial, where he specializes in value-led financial planning. He sat down with Matt Fizell, CFP®, to talk about how his family and Christian values led the way for his business. He shares how this unique business approach has allowed him to help people in a way that feels meaningful, without compromising on his faith or life.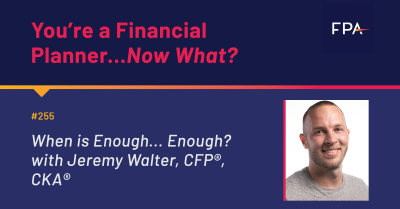 How do you define enough?
Like many financial planners, Jeremy Walter, CFP®, CKA®, began his career without knowing exactly what he wanted. Despite that, he was always focused on his values. Within a short time, he realized something: accumulating the biggest assets or largest business just wasn't what he wanted. Instead, he began to wonder what sort of business would feel like "enough" to him.
Jeremy explained that most financial advisors talk about "enough" on a pretty regular basis with their clients. As their planner, you help them figure out saving for retirement and kids' education, and how much is enough from a savings and accumulation standpoint. We do this with the goal of delivering some level of confidence or contentment to our clients… but we don't always do it for ourselves.
Jeremy realized that he wasn't having the "What is enough?" conversation with himself, and it struck him as hypocritical. As planners, we're talking the talk, but we're not walking the walk.
He wrestled with that feeling of hypocrisy for over a year until he decided that he was getting pretty close to what he would consider a state of "enough" in his business. "Not from an asset accumulation standpoint," he explains, "but just from an income standpoint." So at the end of 2020, he decided he wasn't going to take on any new clients and just focus on serving the ones he had.
Not aspiring to be the biggest
The move to stop actively growing his business felt right to Jeremy, but he realized that it wasn't a popular stance in the profession. He remembers the first inklings of his philosophy during his first job, where he was a producer at a growing firm. The manager of his previous firm had a very big vision of becoming a pretty substantial player in the region, but Jeremy just didn't have that vision. Of course, this was a bit of an issue, because the main part of his job was to bring in clients.
Jeremy kept his head down and his mind open, working for more than ten years at that firm, becoming licensed, developing client relationships, and bringing in his own business.
"I had the utmost respect for that firm and for my employer, but I really had a desire to create something of my own. I come from a family of entrepreneurs, I married into a family of entrepreneurs, and I always had that itch to create something." That creative drive led to him to launch his own RIA at the beginning of 2017.
Even without wanting to be the biggest, it took a lot of effort to grow. Jeremy says, "I worked as hard as I ever worked in my entire career, really grinding and trying to build." It took almost years to get to the point where he knew that he could comfortably care for his family of 6 on his current level of income, and that's when he realized he'd achieved his version of success.
Staying true to your values
While the decision to stop growing felt great, the actual execution was a challenge. Jeremy was honest about the dedication it required. "It's been a bit of a hard shift to go from having a lot of your day, and maybe even some of your identity, built into the idea of building and growing, to figuring out what needs to go into that gap." He had to refocus on his values to find meaning beyond growth. 
In his client work, Jeremy is a huge fan of leading any financial planning or any investing decisions first with values, and then with goals, and then the actual decisions. He always starts with what he calls "family values" with his clients. When he realized that, by cutting out his business development and intake work, he could focus on his family values (and stop working 80-or 90-hour weeks). The decision freed up a significant amount of time to spend with his loved ones, and that was when things felt more in alignment.
Looking back, Jeremy was always disturbed by the unexamined drive to grow. "When I was in my third or fourth year at my old firm, I was catching up with one of my college friends. He didn't really know a whole lot about what financial advisors did, so I described what I do. He just looked at me and said, 'So, you help rich people get richer?' And I was like, No. I mean, yeah. Yeah, pretty much. And to me, personally, that rang hollow. I actually almost left my job."
But instead of walking away, Jeremy reflected on the disconnect between his job and what he felt was important, and went camping to pray on it and ask himself what he needed to do to realign his career. Because of his connection to his faith, Jeremy realized something: He could help Christians use their wealth to change the world, instead of just helping "the rich get richer," as his college friend put it. 
So he leaned into his faith and found a community of other planners who did the same through Kingdom Advisors. He completed the training and became a certified Kingdom advisor, or CKA®. Today, Jeremy helps people to be better stewards, and to have better conversations about everything in finance with a biblical worldview. 
How to succeed when you're not status-focused
No matter what you value or aspire to, Jeremy says that community is essential to help you succeed. For him, that started with personal mentors. He says, "One of the things that I count as a huge blessing in my life is that I've always had a mentor. It's been since I was maybe a sophomore or junior in high school. Having someone who really knows you and isn't afraid to challenge you, and who will encourage you when you need it is hugely beneficial. I'd encourage anyone who doesn't have a mentor to seek one out."
The second thing Jeremy recommends is to connect with peers within the profession. He found lifelong friends and excellent support and accountability through the mastermind programs at XY Planning Network. Being a member of the Advisor Growth Community has offered a huge payoff for him, as the community really champions its members (and calls you out when you need to be called out).
Another major influence that he tips his hat to is Carl Richards and The Behavior Gap. In fact, one of Carl's drawing about "enough" is a major influence in Jeremy's decisions.
Finally, Jeremy comes back to his values as a source of faith in himself and confidence in his professional life. He explains that, sometimes, advisors can hide behind returns. We pat ourselves on the back when things are doing really well or hide a bit when they aren't going well. But by leading with faith or with values, planners can keep what's most important to them at the forefront, and keep moving in a way that feels good.
What You'll Learn:
How can you define 'enough' within your career?
What does success look like when you don't aspire to be the biggest player?
How did Jeremy's values lead him to his unique approach to finance?
How can you thrive when you aren't focused on status?
In this episode of YAFPNW, Jeremy Walter, CFP®, CKA®, and Matt Fizell, CFP®, talk about:
Interested in following Jeremy? Follow him on LinkedIn!