Pamela Rodriguez, CFP®, is the founder of Fulfilled Finances. She spoke with Alexandria Davis about the fulfilling (and exhausting) journey of building a business while raising a baby and how a specialized university program paved the way for her firm. They also discuss what the profession can do better to support women and families.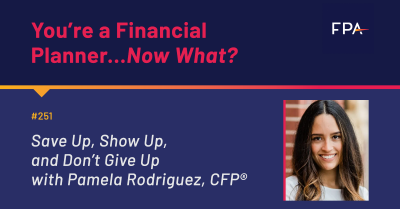 A natural affinity for entrepreneurship
Like many advisors, Pamela Rodriguez, CFP®, didn't grow up knowing she wanted to be a financial planner. What she knew was that wanted to handle money better than her parents had, and she was willing to work hard to build a better life.
Pamela's grandmother built a successful business as a seamstress and eventually had 400 employees working for her. Pamela says, "My grandmother helped raise me, and I saw her always working hard. She would tell me, 'You know, you can do this too.'"
Pamela watched how her grandmother served her clients, giving them care and attention as they tried on clothes. Her motto was, "Whatever you do in life, always take care of people and how they feel." Those words stuck and became part of Pamela's vision of becoming an entrepreneur.
Pamela's first job was as a teller at Wells Fargo, and that's where her path started to take shape. She was promoted from teller to the banking side, and saw that the advisor, who she had to refer the larger clients to, would only come into the branch twice a week. Pam noticed that she and her team were working a lot harder than he was.
She started to talk to that advisor on her lunch break to learn about his work. She says, "I knew that I probably shouldn't be getting in his business, but I just kept picking his brain, like, 'Why do we have to refer everybody to you? What did you do to get to that point? What did you study? What licenses did you take?"
The advisor told her, "Well, you should probably start out as a secretary for a couple of years, because it's impossible to get your series seven." But he also talked about his success. His wife didn't have to work. Because of the money he was making, they had a really good life. Pam ignored his condescending warnings and made up her mind. The next day, she bought The Series Seven for Dummies.
A CFP®-friendly university and a mentor for life
She eventually decided to pursue her CFP®, and started searching for schools. Because her faith was an important influence in her life, Pamela looked for a faith-based university that offered a financial advising program. She found Liberty University in Virginia, whose financial planning program was certified by the CFP® Board. The Bachelor's degree would give her the courses and hours she needed to sit the CFP® exam.
She met the instructor who was running the financial planning department and he and his wife became her mentors and close friends. Pamela says her mentor introduced her to the Kingdom Advisors Conference and helped her meet Dave Ramsey. Her mentor was a CFP®, and she got on-the-ground experience of what life would be like if she actually became a financial planner.
Starting her own firm with a solid plan, but no network
Pamela's lifelong dream of running her own business finally found its moment when a random headline inspired her. She says, "I saw a magazine cover. It must have been investment news, or one of those things, and it was a female and she had started a financial planning firm."
That set Pamela on her new path: to start her own business. It took a few years to solidify the plan, but by 2015, she started saving up. It took three years before she had enough to file for her DBA.
Pamela says, "Without having saved prior to starting my business, I probably wouldn't have been able to make it." Even with her savings, the high overhead costs made it hard to turn a profit. It took over a year for her firm to begin making money. Pamela also shared her words for others who are hoping to own their own firm: 
"I cannot stress it enough: be diligent with your finances on a personal level and save up prior to going off on your own."
Saving was the easy part. When it came to building up her own client base, Pamela was worried. She was thinking, "Who could I tap into? I knew zero people with over $1,000. It sounds crazy."
This is where Pamela's determination and her grandmother's hardworking spirit made it happen. She says, "I was out there networking every single day, probably 12 hours a day, just trying to have conversations with people. I was doing free plans for anybody that would allow me to do it." Her hustle paid off. By the time the pandemic hit in the spring of 2020, she had over thirty clients.
Having a baby and running a business during a pandemic
At the same time that COVID-19 rocked the economy, Pamela had her first baby. She worked hard to maintain her level of service to her clients. Although she was feeling the mommy-guilt that haunts all working mothers, the birth had come at a tender time for her business. With the markets in upheaval and clients needing to be talked down off the ledge, she missed out on being able to take time to recover and rest with her newborn daughter. 
"It was so hard," she says. But her grandmother's words rang true for her, and she stayed dedicated to taking care of her client's accounts and needs.
The one thing she let slide in her business was marketing. Pamela says,"I really didn't do any kind of marketing at all last year, everything was maintaining my book and getting referrals." But her unwavering professionalism paid off, because her happy clients brought in enough referrals to keep the business growing.
The balance between motherhood and entrepreneurship has been a challenge, with lots of pressure on both sides to give more. Pamela says, "You get told in this industry, 'Don't even think of having children in the first five years.'" That attitude disturbs her.
As she put it during the interview, "Having children is natural, it's something that we're going to want to do. And just because we have children doesn't mean makes us less, it actually means that we can connect in many more ways and nurture clients in a better way."
Pamela also mentioned how excited her clients were when they found out she was pregnant, and how many personal conversations and connections it opened up that made the working relationships more fulfilling. She hopes that the profession gets wiser about the realities of financial planning and caring for a family, especially for women. 
She says that the best ways for firms to be more supportive of new moms is to lay off the guilt and give them some flexibility. 
Her message to other young, professional moms
Pamela wants other female professionals to know they're not alone. Whether it's the work-family balance that's weighing you down or the struggle to be taken seriously and to feel confident, don't give up. She says, "Just be yourself and people will connect with you. You absolutely, 100% can do it. It's possible, and I'm excited for anybody listening who is in this process."
What You'll Learn:
Why she had a natural interest in entrepreneurship
How a CFP® program moved her forward
How much she had to save to start her firm
How she succeeded without a pre-existing network
What it took to raise a business and a baby during the pandemic
What she wants every woman in the professionals to know
In this episode of YAFPNW, Alexandria Davis and Pamela Rodriguez, CFP®, discuss:
Interested in following Pamela? Follow her on her website!