Ashby Daniels, CFP®, is a financial advisor and COO at Shorebridge Wealth Management. He is also the author of Medicare Simplified. In this episode, Ashby and Matt Fizell, CFP®, discuss the impact you can create on your business and your audience's goals when you're committed to creating genuinely helpful content.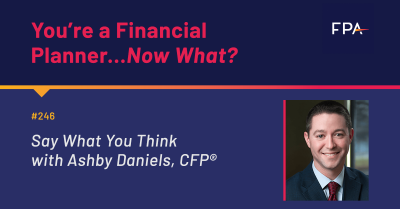 Personal brands, personal content
Ashby's blog, Retirement Field Guide, is the flagship of his personal brand. He started writing it as a way to be in constant communication with his clients. He says, "I don't think it has to be direct, one-to-one communication, but when I think of personal brand, it's a way to get what you're thinking out in the broader world."
As we've heard from other branding experts, getting out there with your unique take on the industry helps attract clients who resonate with you. Ashby added that one of the main ways that many advisors get new clients is through the process of referrals. He says, "One way you can get a lot of referrals is by constantly being top-of-mind with your clients. For me, the easiest way to do that was to write."
Not only has Ashby's blog helped to grow his business, but it has helped his clients make better decisions with their investments. He's proud to say that, during the chaos at the beginning of the COVID pandemic, the only calls he got were people who wanted to put more money to work. He attributes 100% of that to the fact that he's in constant communication with them through his content and 1:1 meetings, and promotes the concept of long-term investing.
When his clients read his confident messages in every blog to "stay the course" (his unofficial tagline), it helps to calm the fears that might otherwise make them react impulsively. Ashby believes that his unwavering optimism is what his clients crave. He says, "I have faith in the future that everything will work out okay, and my clients have bought into my belief system. They feed off of the optimism that I have." 
But he doesn't just blow rose-colored smoke up their investment plans. Ashby is staunch about proving his promises, and takes every opportunity to point out historical examples that inform his approach. He works hard to earn his audience's trust, and says, "That trust is what encourages them. Do they think that I know what I'm talking about? And do I actually believe what I'm talking about?"
How personality becomes a brand
Ashby's dive into blogging and personal branding came about as part of his work. At the time, he was with a firm in the DC area that specialized in planning for federal employees. He came across a few news websites that provided information about benefits for federal employees, and realized they could be an excellent vehicle to help him connect with his target market.
He inquired with the editors of the site to see if he could write articles for them on federal benefits from a financial perspective. When they said yes, he took it upon himself to read the entirety of what's called the Federal Employee Almanac, which is a 500-page book on federal benefits. "It's a miserable read!" Ashby admitted.
But his study of the Almanac was worth every miserable minute, because when he was done, Ashby knew 99% of what was going on with federal benefits. He certainly knew more than 99% of any federal employee he'd had conversations with. The writing and research made it easy to give his clients incredible value as an advisor.
Unfortunately, Ashby's next position was with a firm that didn't allow advisors to publish their own content. It was a frustrating situation. He says, "It seems like some companies want their reputation to be the company's reputation, not 'my' reputation. It doesn't make any sense to me. If I was reflecting well on the company, then it would be a benefit for the company." When he was ready to move, he specifically looked for a company that would allow him to keep writing. Shorebridge was a great fit and they supported his writing completely.
Writing the book on Medicare
Ashby's next adventure was writing a book on Medicare. Medicare is... uninteresting, to say the least. But it came about organically through his work with federal benefits, and he found a way to make the standard-fare content surprisingly useful.
He says, "I started out to write the same 300 page paperweight on retirement planning that many advisors tried to write. As I started the Medicare chapter, I realized I couldn't do it justice in ten pages, to the point that it would actually be useful." He started thinking about how he could address Medicare in a way that was completely different.
He thought about the people he was trying to help, and realized the traditional books weren't meeting them where they were at. He says, "Does the average Joe want to read a 300 page book on Medicare? I don't think so. And so I wondered, 'Could I get 98% of what people need to know about the topic in under two hours of reading? If I can do that, I thought that would be a really unique and useful way to set myself and my books apart.'"
So he wrote Medicare Simplified: What Retirees Need to Know About Medicare in 100 Pages or Less.
Unsure whether it would fly off the shelves, Ashby set up a strategy to leverage the books as a way to double-down on his referral-generating content machine. He decided to send three copies to every client, with the idea that they read one, and give two to their friends. That was tremendously successful for him.
What if a planner feels intimidated by marketing?
Although Ashby would not call himself a brilliant marketer, he feels completely at home creating content. He says, "If you're telling people what you think, they're gonna feel like they know you. I write exactly as I speak, and I think the idea of just being super authentic is unbelievably valuable for creating a relationship with prospective clients."
He understands the hesitancy to be seen as a pushy salesman, and found that by just focusing on the writing and making sure he was publishing regularly and saying something useful, his brand took on a life of its own.
However, he admits that there could be more potential for his brand if he made more of an effort to reach new audiences. He says, "I've always heard that great work finds its own audience, but I also believe that if you don't toot your horn, nobody else will. I could try to get more on the speaking circuit and do a better job of it."
Although there's always room for improvement, Ashby's brand has him doing what he loves, proud of the advice and encouragement he shares, and content with the strong relationships he's building with his clients and audience.
What You'll Learn:
Why financial planners need a personal brand
How your brand can help your audience
The importance of sharing content that clarifies complex financial standards
How your professional opinions can become your brand
What to do if you feel intimidated about marketing
In this episode of YAFPNW, Ashby Daniels, CFP®, and Matt Fizell, CFP®, discuss:
Interested in following Ashby ? Follow him on Twitter and LinkedIn!