Angela Moore, MSPFP, CFP®, MPAS®, CRPC®, CFEI, is the founder of Modern Money Advisor. In this episode, Angela discusses her firm's unique online service model and how they use automation to streamline everything. She also shares how self-acceptance has helped her thrive in every aspect of her business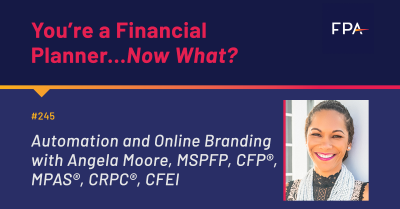 A one-of-a-kind online service model
When Angela left her position at Charles Schwab, she knew she wanted to start her own firm. She wanted to serve people her age — young professionals who were educated and had a great income, but didn't have the financial literacy to make smart choices with their money. So she set up Modern Money Advisors and invented a brand-new service model.
Angela says, "I thought about what someone like me would need. That would be budgeting and accountability, creative ways to cut spending and to stop yourself from making emotional and compulsive purchases. It would also be creating a system and a strategy to save, learning the basics of investing, and learning how to deal with family and friends around the conversations about money."
The firm provides financial planning virtually through online meetings and a robust client portal. Clients pay an upfront fee and then a monthly subscription. Angela says, "We take clients through a process where we have short meetings every three to four weeks and, in each meeting, we focus on a different step of our planning system." The modules that clients work through include budgeting, spending plans, debt elimination, saving, financial goals, and investment strategy. They also cover things like employer benefits, insurance, and estate planning to help clients see beyond their needs in the moment so they can take care of their future.
According to Angela, these modular sessions let clients focus on one issue at a time and complete an action plan. Angela says, "I'm able to really help clients change their lives, because when they get done with us, they've actually implemented everything in their plan."
The impact of automation software
One of the things that makes Angela's online model work is the enormous amount of efficiencies the firm has been able to achieve through automation. Angela's partner, Arial Minicozzi, CFP®, CSLP®, is a business automations expert. She designed systems that streamline every step of their clients' journey. From making initial contact on the website and setting up their own client account, to submitting documents, questionnaires, and payments — everything is done online and at the client's leisure, something that their clients appreciate.
Angela says, "It's so good to take that admin work off the table. Systematizing is also great for compliance. Every client gets all the disclosures. Everything is documented, and anything they do with us gets automatically copied into their client file." The questionnaires, notes, and signatures that clients complete between and during their meetings get immediately entered into the secure portal with multiple backups.
Being the face of the brand
Another unique approach for their firm? Digital marketing > traditional print or in-person marketing. Angela and Ariel have a strong presence on multiple platforms, including Instagram, YouTube, and Facebook, and they get most of their new clients through social media.
Angela says that getting comfortable with herself as a professional made it easier to feel at home with her online persona. She says, "I'm mixed race and, growing up, I never felt like I fit in. When I became a financial advisor, I wanted to fit in to work with older clients. I wore a black or blue suit every day with pearls and wore my hair straight in a bun."
But at a certain point, she felt like she'd paid her dues. "Once I had certain credentials and had been in the industry a while, I started to feel more confident just being myself. I started to wear my hair curly and to wear colorful clothing in the office. All of a sudden, people started flocking to me. They felt so much more comfortable with me, and it made me realize that by just being me, I really stood out."
The decision to grow
When Angela first started Modern Money Advisor, she was flying solo. But she knew that, in order to grow, it would require a partner. But taking on Ariel as a partner was a scary prospect for Angela. She says, "I was scared of bringing anyone else onto my firm because of compliance reasons. I didn't want to be responsible for anyone else and was worried whether they would be able to take care of my clients the way I did."
But after working side-by-side with Ariel for a year through the XY Planning Network, Angela realized they were a perfect fit. "We really got to know each other, and I saw that she's an amazing advisor. At that point, the fear went out the window." The other thing that made the partnership a no-brainer was seeing how well their strengths complemented each other. Ariel was a genius with systems but didn't have many clients, and Angela had a ton of clients but was struggling with systems.
The actual process of forming the partnership was surprisingly complicated. Angela says, "We had to hire an attorney. I thought it would take a month, but it took four." One of the challenges they hadn't anticipated was figuring out which software to keep because they were using different programs. They had to go through each tool and evaluate them. Angela says, "It actually created a much more efficient practice for both of us. And from there, the business kind of exploded, because we were able to get so much done so fast. If it was just me, it would have probably taken me months or years to get the amount of work done that she and I got done in a few months."
Modern Money Education
As Modern Money Advisor became increasingly skilled with using digital tools to serve clients, they realized they were missing an opportunity. They could help more people and change more lives if they provided online courses — but it wasn't feasible from a compliance standpoint. So, they created a separate company, Modern Money Education, to provide a wider array of financial literacy services. They run online courses geared toward women, and they work with corporate partners, nonprofits, schools and universities to create custom learning programs.
Angela and Ariel also do speaking engagements, and love teaching and teaching children, specifically. They've worked with foster kids that are aging out of the foster care system and with new grads, and take opportunities to speak at elementary schools, colleges, and universities.
Making the profession work for you
There's no doubt that Angela has found success after her decision to go out on her own. If she could go back to the start of her career and give herself advice, she says she would tell herself that there were opportunities she never dreamed of where she could thrive in her career and be herself.
She says, "When I was new to the business, all I knew was career paths at Merrill and Morgan Stanley, and they didn't feel like what I wanted to do. I almost gave up, and I've come across a lot of other people who feel like they don't fit in this industry and there are no other options for them."
But that feeling changed as she began to discover the real possibilities in the profession. Angela says, "You could be a wholesaler selling investments, a financial planner working at a big firm, or you could have your own firm and work from your coffee table at home." She never expected she would teach or become a speaker or be working nonprofit programs to make such an impact. She says, "If I had known this sooner, I would have been so much happier and more optimistic."
What You'll Learn:
How Modern Money Advisor's service model perfectly suited their clients' needs
How automation changed everything for their business
What it takes to create brilliant digital branding
The surprises that come with partnership
What unexpected paths Angela took to create satisfying work
In this episode of YAFPNW, Hannah Moore, CFP®, and Angela Moore, MSPFP, CFP®, MPAS®, CRPC®, CFEI, talk about
Interested in following Angela? Follow her on LinkedIn, YouTube, Instagram, and Facebook!