Kevin Mahoney, CFP®, is the founder and CEO of Illumint, a firm dedicated to financial planning for millennial couples. He spoke with Matt Fizell, CFP®, about why the profession needs a variety of fee models, how he found a profitable way to serve a non-traditional market, and how you can build a successful business helping the clients you care about.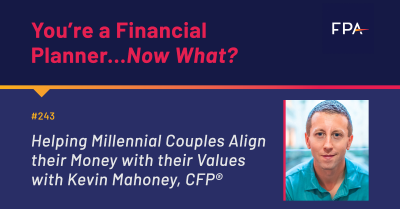 The problem with limited fee models
As most of us will admit, the financial planning profession has traditionally catered to older, wealthier individuals. But it's becoming clear to Kevin that a lot of people can benefit from different types of financial advice. That's why he founded his firm, Illumint, to help the underserved millennial market learn how to build the life they want with the money they have.
Unlike traditional clients who have lots of assets and want long-term help to strategize and manage their investments, Kevin found that his millennial clients didn't have the budget or interest for that type of assistance. His typical clients wanted help with relatively short-term goals, like paying down student debt. As he put it, "I'm not going to charge them $10,000 a year for that kind of help. It wouldn't make any sense for where they are in life."
His challenge was to figure out how to meet his clients' needs in a way that worked for his business.
How Kevin developed his own pricing model
Like many new planners, Kevin began by offering comprehensive advising services. But he found he was getting approached by a lot of millennials. He says, "They weren't as receptive as I expected to a more extensive, long-term engagement."
Kevin's clients were consistently asking just a few questions like how to manage student debt or save for a house. So he decided to create packages to address the most common issues. He says, "Essentially, you could pick how many topics you wanted to cover, and how many meetings you wanted to have. You would be able to address the specific financial issues that were on your mind without having to pay for or commit to anything more than that."
Offering issue-based packages felt like a natural fit for Kevin's clients, but it went against the grain of what he had learned in his CFP® program, where providing good financial advice meant being holistic and covering all the essential areas of financial wellbeing.
But Kevin's efforts to address the big picture with his clients just wasn't resonating. He says, "They were looking to me to tell them what our process should be, and if I come back to them with something that didn't reflect the questions they were asking me, I'd be missing the mark."
After many client conversations, he gradually found a way to broach the issues that he felt responsible to address. He made sure to bring up any red flags or opportunities that came up in client conversations, and he also planned time in the final session of each package to address key concepts that would help his clients beyond their current area of focus.
How are the needs of millennials different from traditional clients?
Kevin has encountered two challenges in helping millennials with their money. The first one is reframing what it means to be wealthy. "A lot of clients I come across, they don't think of themselves as wealthy right now, or even feel able to become wealthy anytime soon," shared. "A lot of the work is just framing finances in a different way and empowering them to make decisions with their money so they can live the life they want, in the near term and the long term."
The second challenge Kevin finds is the confusing influence of popular media. With so much financial advice out there, much of what clients consume is overly confusing. Some resources contradict other things that they've seen, and some are kind of clickbait. All of that noise leads clients to a point where they are afraid to act.
One of the biggest surprises Kevin experienced in his first years of business was the number of people who came to him with a ton of money in their savings accounts, just sitting there because they don't know what to do with it. It seemed like the uncertainty about who to trust or who to believe had them paralyzed — and that prevented them from getting results and hitting goals.
Helping clients navigate online investment tools
Although the fin tech market promises that apps and tools will make it easier for our generation to manage their money, Kevin has found them to be more of a distraction. He says, "I decided fairly early on to try to keep things as simple as possible for my clients. I have these couples who are highly educated and generally organized in life, and they struggle to make basic investment decisions. To me, it signals that the more bells and whistles and complexity I bring to this, the less likely they are to grasp what we're doing, feel confident with it, and stick to it on their own."
Guiding his clients toward independence is central to Kevin's philosophy. He says, "I want to keep this as straightforward as I can and give people knowledge to do it on their own. When it comes to their investments, as long as they're ultimately minimizing costs, sufficiently diversified, and aligned with their goal, timing, and risk tolerance, I know they're in good shape." 
Making consultations more effective
Along with his package-based fee model, Kevin also changed the way he provided consultations. At one point during his "start-up" phase, a lot of people were reaching out, and then just not ultimately deciding to sign up for services. He was spending a large amount of time on those discovery conversations, but not being compensated. 
Instead of doing free consultations, he started offering a $95 initial meeting. He had clients sign an agreement to establish exactly what they would get out of the service, and he found that once he heard about their major issues, it was easy to quickly spot an area where he could make an impact right away. He says, "The $95 signals to me that they're sufficiently interested and committed to this meeting. And I tell them that once they sign up for services, I'll deduct that amount from the cost of their package."
Helping a new client get a quick win in those initial meetings made the process more meaningful and satisfying for Kevin, and also brought him better quality leads. He adds, "I think it probably deterred some people who before, maybe just decided on a whim to reach out without giving it much thought." 
Final words on financial planning for millennials
Kevin shared his belief that it's advantageous and important for financial planners to help millennial clients. He says, "I believe that there are enough financial headwinds for millennials that, if they don't make more prudent or optimal decisions when they're in their 20s and 30s, they may face a lot of regrets and some real trouble when they get into their 60s and 70s."
Plus, he says, "I don't feel imposter syndrome very much because I can see very quickly where the issues are for clients my age. We just need to establish a relationship where they feel safe to admit what they don't know."
What You'll Learn:
Why the traditional fee model in our profession doesn't work anymore
How Kevin developed his firm's pricing model
How the needs of millennials are different than traditional clients
How he helps clients navigate overcomplicated advice and fin tech tools
How he hacked the consultation process
Why you should consider working with millennials
In this episode of YAFPNW, Matt Fizell, CFP®, and Kevin Mahoney, CFP®, discuss:
Interested in following Kevin? Follow him on Twitter and LinkedIn!