Jacqueline Schadeck, CFP®, AWMA®, is a financial planner, author, and speaker who is passionate about improving the profession. She spoke with Alexandria about how she thinks the financial planning profession can do better, and how her dedication to growth built her career.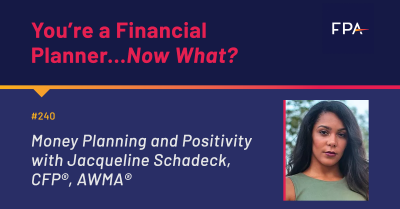 Soaking up knowledge
Jacqueline credits the Financial Planning Association for drawing her into the profession. She was in her junior year at college when she had her first encounter with the association. One day, a classmate who followed FPA of Georgia, let her know there was a career fair on campus.
At the career fair, Jacqueline solidified her first internship, which became her first job out of college. She became more involved with the FPA, and with encouragement from her boss and mentor, began volunteering with the association to make connections and learn more about the industry.
She says, "My advice to younger planners is to always soak up as much knowledge and advice from other advisors as you can get, especially in the first five years of your career." That early exposure to the wide variety of roles within the field helped her chart the path to the career she envisioned.
A desire to help people
Jacqueline always knew she wanted to be in a client-facing role. She says, "I wanted to sit in front of somebody who has a financial issue and tell them, 'Hey, this is your solution.'" Growing up, her family had been victim to bad financial advice, and she wanted to protect other people from the turmoil that could cause. It also showed her the value in the CFP® designation, and upholding a fiduciary standard. 
In her career, Jacqueline wanted to provide a high level of service, give comprehensive advice beyond just retirement, and be accountable to her clients' best interests. After graduating with her bachelor's in finance, she went on to pursue her CFP® and AWMA®. Her studies and experience reinforced her belief that the profession desperately needed accountability, and the issue became a passion.
She says, "I just feel like all financial planners should be held to a fiduciary standard." She strongly encourages young planners to get their CFP® and be mindful of the responsibility inherent in their role.
How to find your next step
In this profession with so many different paths to success, many financial planning professionals end up blazing their own trail. Jacqueline's advice is to pay attention to the voice inside. When it says you have more to give, find ways to grow.
She says, "Young planners should be figuring out what the industry means to them and where they want to fit in it." Challenge yourself, expand your skills, and find ways to provide more value to your clients and your firm, Jacqueline recommends.
She says, "When you get to the point in your career where you don't feel you're being utilized to your full potential, figure out what it is you ultimately want." If you're in a good position with your employer, consider speaking to your supervisor about how you can expand your role to help the firm. But she warns, "Just make sure that you don't let your work go unnoticed."
It's important to stretch yourself and advocate for your potential, but Jacqueline adds that it's equally important to give yourself grace. She had set high standards for herself when she was pursuing her AWMA®, planning to complete it in just two months. Unfortunately, the pandemic hit, and her plans got derailed. She got sick at the very beginning, and while the weeks stretched on with no recovery, her doctor urged her to stop working and rest. Her courses ended up taking almost nine months.
"That was really hard for me," she says. "I was only able to do essential client tasks to keep up with things. I felt like I missed a lot professionally." She reminded herself of all she had accomplished in spite of the crisis and tried to put less pressure on herself.
"You need to extend others grace as well," Jacqueline adds. Maybe you've talked to your manager about new responsibilities or a raise, and they haven't got back to you. "Just understand that it doesn't necessarily mean they're overlooking you, but they may have a lot on their plate as well." 
Serving clients when you're younger than them
One of the biggest challenges to a new financial planner is offering financial advice confidently and accurately, when you are younger than the clients you're consulting with. "We see a lot of age discrimination in the financial planning world," Jacqueline says. Her best advice for dealing with ageism is to show people that your value is in your experience and skills, not in your age.
She's seen other young planners try to make themselves seem older. "Maybe you throw on glasses, maybe you don't wear that bright color, maybe you pretend to know the reference to Elvis' first wife. But at the end of the day, you're still whatever age you are."
Her personal approach is to forget about the client's expectations and just share what she's experienced and how it makes her a better financial planner. She says, "I may not have been a professional during 2008, but I watched everything that was going on." She talks about the history of the markets, what it has taught the profession, and how it impacts her advice in the moment.
"If you're a next gen planner," Jacqueline says, "you're going to be considered young for a very long time. But everyone's perception of young is different." Her advice? Don't try to make yourself seem like you're fifty-five when you're twenty-five, because you'll be working with an eighty-year-old, and your age is still going to be your age. Take confidence in what you know and what you can offer in your profession.
What she does for readers in her book
While she slowly recovered from COVID-19, Jacqueline checked off an item on her professional bucket list: writing a book. It's called Money Planning Positivity, and it shares her best thinking on how to gain clarity on your financial life. The approach she outlines comes from her personal experiences. "Mental health has always been close to me," she says. Watching the world go through not just a health crisis, but a financial one, she shared what she could to help people cope.
"I have conversations with my clients about the emotional pool in their finances," she says, speaking of the stress and worry that can come from their financial situation, as well as the emotional effects of their financial decisions. She brought that concept into the book. "I broke it down into four pillars," she explains. "I refer to them as wealth pillars." It explains how to care for your four pillars, including your time wealth, physical wealth, financial wealth, and social wealth.
Jacqueline made the book an active exercise in increasing your financial and emotional wellbeing, adding pages at the beginning and the end for readers to complete a self-assessment. She says, "I believe that you're gonna get out what you put into it."
What the future holds
As you can probably tell by now, Jacqueline is a highly ambitious person. So what's next for her? She's taking the world of podcasts, where she'll be the new co-host of THE UNCENT$ORED SHOW with George Acheampong. How does she stay motivated and focused on growing her skillset? Her final word for other financial planners is something she was told by a mentor long ago, "Take any chance where you can excel."
What You'll Learn:
How networking, volunteering, and mentorship will pave the way for your growth
How Jacqueline's vision for her career led to advocacy for the profession
How to find your next step and what signs say you're ready
How to get taken seriously when you're younger than your clients
What Jacqueline's book does for readers' financial and emotional wellness
Why you should consider writing a book
How you should approach social media and your personal brand
In this episode of YAFPNW, host Alexandria Davis and guest Jacqueline Schadeck, CFP®, AWMA®, discuss:
Interested in following Jacqueline ? Follow her on Instagram, Twitter, and LinkedIn.