Chelsea Ransom-Cooper, CFP®, is the founder of Women with Equity and a partner at Zenith Wealth Partners. During this episode, she shares how her childhood experiences and drive to serve led her to where she is today. Her goal is to empower women and people of color through accessible financial education and wealth planning. Listen as she shares the mentors and moments that helped guide her through the world of finance, from lack of experience and work that didn't resonate to connections, expertise, and ownership of her true calling.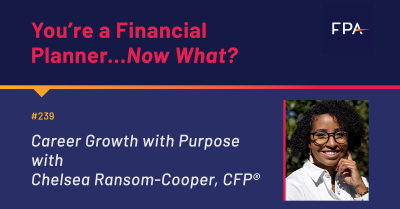 Caring about finance from an early age
Growing up, Chelsea became interested in finance from watching her mother's struggles. She was a fashion designer, and they lived together in Northern New Jersey. Chelsea's father lived more central in the state and was a mortgage broker.
Chelsea noticed that her mother's approach to money and lack of financial literacy caused them problems. Her mother relied on the people she worked with to make financial decisions, but they weren't always made in her best interests. Chelsea said, "My mother inspired me to be interested in finance. I was just seeing some of her challenges, and I wanted to be more knowledgeable so I could help."
Chelsea held onto her money-conscious attitudes as she grew. She says, "I would get money for my birthday, and I would literally sit on it for a year until I found something that I deemed worthy enough to buy." She got her first job at age fourteen as a summer camp counsellor, and after that always maintained a part-time job through school. She even started a business selling candy from her locker. "Money was always near and dear and kind of a focus for me. I was kind of subconsciously always making sure I had some."
Starting a career in finance
Chelsea took her financial interests to Syracuse University, where she studied corporate finance. "They didn't have any financial planning or any options like that. A lot of the companies that came were the JP Morgan's, the Ernst and Young, PwC, those big accounting firms. So that was the path I naturally went."
She got hired on at Ernst and Young and tried to follow the traditional path of accounting finance, but really wasn't happy. On the side, she was helping my mom sort out her financial future and helping some friends with their student loans. While she helped them, she started learning about 401ks and realized that these simple conversations were bringing her joy. That's when she knew what she wanted to do with her life. But she wasn't sure how to make it a career. That's when Chelsea started aggressively researching, looking at FinTech, RIAs, broker-dealers, and wirehouses, trying to figure out all her options.
"I was fortunate enough to actually meet an advisor on Twitter. His name is Doug Boneparth. And I literally just reached out to him, sent him a message and said, 'Hey, I think I want to be a financial planner, but I don't really know what it entails. Do you have any tips for me?" To Chelsea's amazement, Douglas responded and invited her to meet at his office in New York.
They went for coffee and had a chat that changed her life. "He sat with me for an hour and just explained everything to me about financial planning. What's the difference between an RIA, a broker-dealer, and a wirehouse? What paths should I think about?" 
After that conversation with Douglas, Chelsea knew she needed to focus on getting her CFP® so she could work with an RIA firm. Although breaking into the RIA space was incredibly hard work, Chelsea knew that it was the right move for her. That knowing fuelled her through the long days, nights and months of earning her stripes as a CFP®, and it made her more determined than ever to learn everything she could.
The next step closer to her goal
Chelsea's next step was to join a large RIA (while working on her CFP®) based out of San Francisco, working with clients who had between one and ten million in assets under management. The work didn't include financial planning but was an excellent opportunity to learn about investment management. She described her work at the RIA as "the bones of everything." She created proposals, went through paperwork, did data entry, and things like that. It helped her understand her clients' investment process. Her manager was an excellent mentor. He walked her through how the markets work, how and why the firm made decisions. During her interview for the firm, they told her it was their goal to make her a Certified Financial Planner™ after her first year. The expectation was a bit intimidating. 
Chelsea said, "It's definitely one of those things where sometimes you don't feel fully confident that you can do it. But at the end of the day, you have to step up to the plate." She worked hard, finished her CFP® program and passed the exam a year after joining that firm. As soon as she had her CFP®, completed did her Series 65. 
At that point, the firm said, "Okay, you have all of your credentials. You've seen what we've been doing here for the past year and a half. So now, we're going to provide a book of business to you and move some clients over to you. And this is going to be your opportunity to shine." 
Founding Women with Equity
On top of finding success within her RIA firm and managing her own clients, Chelsea also aligned her expertise in finance with her deep desire to help, and founded Women with Equity. It's a group on Instagram that inspires and empowers women to build wealth through equity, whether that's through partnerships, real estate, owning shares in the stock market, or by other means. 
They produce videos to explain equity building strategies and share interviews with women from other professions, such as CPAs, lawyers, real estate professionals, and more. The group aims to let women learn and share what they know about finance through authentic, relatable conversations, striving to empower women to understand and take control of their financial wellness.
Making a big change during a pandemic
It was around this time that Chelsea heard she heard from an old friend, Jason Ray. They'd been meeting up for years, having deep chats about their life and business goals. About a year prior, Jason had founded Zenith, an RIA specifically for millennials of color. He'd asked Chelsea for her thoughts and insights before, but this time as they spoke, something clicked, and the two decided to become partners. The change was deeply satisfying for Chelsea. She said, "I absolutely enjoyed a lot of my clients at the old firm, but it came back to that same question: Am I at a place where my mother could be a client?" With Zenith, the answer was finally yes.
Although Chelsea knew this new venture aligned with her purpose, Chelsea's financially cautious nature made her pause when the pandemic hit. She asked herself hard questions, like, "Maybe in a pandemic, we should be grateful to have a job, and just sit tight? Is this really the right time?" She mulled the decision for months, talking it over with family and mentors.
But they all responded the same. They said, "Chelsea, as long as we've known you, this has always been what you wanted to do. Now that the opportunity is here, are you going to take it?"
Chelsea took a hard look at her personal finances and started to imagine how she could structure her entry into the partnership. Jason was already the owner and had fronted the start-up costs. That gave her confidence; going solo and taking the full responsibility on her own didn't feel right. 
Finally, her heart won out. She said, "I was seeing some of the challenges that specifically people of color in our community were facing, with nowhere to go for help. I was getting about twenty-two people a week reaching out to me, asking if they could work with me, and at the old firm, I had to say no, I'm sorry." Jason reached out with perfect timing, and she knew that as partners, they could grow the firm together.
And that's what they're doing!
Final advice for aspiring financial planners
During the final part of our interview, Chelsea shared her advice for fellow financial planners. "The biggest thing," Chelsea says, "which is probably the most cliche, is to not be afraid to ask questions." 
"If you see someone who's very successful, reach out to them. I probably reached out to over a dozen financial planners in the last few years. Maybe one every week during this pandemic. But be confident to reach out and ask for insights. Sometimes they will answer and sometimes they won't, but that guidance and wisdom is so important. It saved me a lot of time just wondering and being in my own head."
We also love her closing thoughts: "There's never a time when you'll stop learning. Always keep reaching out to people and make sure you're staying on top of what you can be doing. There's a lot of wisdom in this business, and we're never done learning.
What You'll Learn:
How Chelsea's childhood made her care about financial wellness
How she started her career in finance
What she achieved through the power of networking
How she made smart moves at the right times
When she finally felt like a"real" CFP®
How she found her niche, her business partner, and her true calling
Her advice to any financial planner who's looking for their next step
In this episode of YAFPNW, Alexandria Davis, CFP®, and Chelsea Ransom-Cooper, CFP®, discuss:
Interested in following Chelsea? Follow Chelsea on Instagram, LinkedIn, and Twitter