Dasarte Yarnway is the Founder and Managing Director of Berknell Financial Group, a fee-only and fiduciary firm that serves a broad range of clients, as well as professional athletes and entertainers. In this new episode of YAFPNW, Hannah and Dasarte discuss who Berknell serves and how, the books Dasarte has authored, his approach to clients, and what "onward to greatness" means.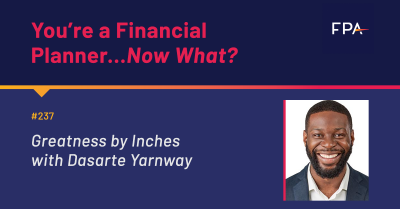 Onward to greatness
Dasarte and the word "onward" are almost synonymous. Specifically, his motto "onward to greatness." What does it mean and how did Dasarte come to use it in his financial planning career?
Dasarte was a highly touted recruit for football and attended UC Berkeley. But, right before his first game, he suffered his first injury. In the years that followed, Dasarte's football career "kind of took a turn," as he put it. But his dedication to achieving greatness didn't waver. That's where his motto came from.
"I was committed to just making sure that no matter what happened, the destination would be something great," said Dasarte. "You can do great things, and you can have a great impact on the world and the people around you. So that's what it means to me."
This message has resonated with people throughout his career, from colleagues to clients in financial planning. No matter what someone is trying to pursue financially, career-wise, or in their personal life, you can root for yourself and encourage yourself to succeed. 
Discovering the profession
How did Dasarte enter the profession? Coming from a football background, as well as a household that encouraged careers in medicine and law, Dasarte didn't really imagine himself in the financial planning space at first. He even tried several different industries to see which might be a good fit. Eventually, Dasarte stumbled across an independent firm that showed him how to build generational wealth.
"I'm a first generation Liberian-American. My parents came from Liberia after a civil war. My mother was born on a rubber plantation. So as you might imagine, she didn't get the tools and the information and the knowledge needed to really build generational wealth," said Dasarte. 
The discovery of this new career gave him the same exciting feeling of playing on the football field. Eight years later, he still finds it fulfilling...and even thrilling. 
"When you have built a great investment portfolio and it performs well not only to the upside but the downside, that's a win, right?" said Dasarte. "That's how I look at it...it begins to be exciting. It's fun. It's challenging."
How Berknell serves a variety of clients
After working for a few different independent firms and a bank on Wall Street, Dasarte realized that he wasn't able to serve the demographic he really wanted to. He wanted to provide financial services for people like his parents who immigrated from Liberia, "people who I consider underserved and overlooked," as Dasarte said. That's how he founded Berknell Financial Group.
Berknell still serves more affluent clients of a higher net worth through its one client group, the Private Client Group. Their second client group, the Wealth Bridge Group, includes younger adults, growing families, or people who don't yet have the asset minimum to fit into the Private Client Group.
While the Private Client Group is charged a percentage-based fee, the Wealth Bridge Group is charged a fixed retainer fee. This structure gives people who aren't ready for the first group a chance to work with Berknell and receive sound financial advice.
Dasarte is proud of the way his firm is able to serve different segments of the population, but it wasn't easy getting to this point in his career. One thing that made it difficult? Creating a firm pricing model from scratch that supported his mission.
"I had to come into my own identity as an advisor and as a business owner, and not try to replicate what I've seen in the industry or at the bank," said Dasarte. "That wasn't the community that I wanted to serve. So I had to definitely restructure the way things were done and reimagine how they were done."
Dasarte's trailblazing worked, because he was able to build his firm to serve his intended community. By letting his target demographic influence his firm's business model, he created and continues to grow a business around it. 
"They call it a 'niche' when you try to find it, but it's a niche when it finds you," said Dasarte.
The human advisor approach
In addition to managing Berknell Financial Group, Dasarte also writes blog posts, hosts the Young Money Podcast, and has written three books to date: Dating Benji, Young Money, and Pay Me in Equity. The content may be targeted toward clients and prospective clients, but they provide value to anyone who reads them. 
Writing may be yet another avenue that financial planners can serve their clients, because today, what clients are looking for is a partner to help them make financial decisions — not a salesman. And that requires what Dasarte called "the human advisor approach." 
"When you look at it, stocks, bonds, ETFs, mutual funds are commoditized. You can get them anywhere; our clients can get them by themselves if they really want to," said Dasarte. "But that human advisor experience is something that is rare."
Apart from leaning into the human advisor approach, Dasarte would also advise new professionals to stick with it. Keep doing your work and don't give up. It's something his mom told him when he was in a tough spot.
"Continue to do the micro things, the small things daily that are gonna allow you to steal an inch off the table a day," said Dasarte. "If you keep taking an inch off the table per day, like in football, a game of inches, you're going to score."
What You'll Learn:
What "onward to greatness" means
How Dasarte started his career in the profession
The creation of Berknell Financial Group
How Berknell serves two different client groups
Building a community with clients
What compelled Dasarte to write books
How clients have evolved over time
The human advisor approach
Motivating clients around their money
Dasarte's work at Altruist
In this episode of YAFPNW, Hannah Moore, CFP®, and Dasarte discuss:
Interested in following Dasarte? Follow him on LinkedIn and on Twitter and Instagram at @DasarteYarnway!