Jamie Hopkins ESQ., MBA, CFP®, LLM, CLU®, CHFC®, RICP®, is the Managing Director of Carson Coaching and Director of Retirement Research at Carson Group. Prior to his work at Carson, Jamie was an attorney and worked as an academic and educator with the American College of Financial Services. In our latest episode of YAFPNW, Jamie talked to Hannah about his roles as attorney, researcher, teacher, and coach in the profession. They also discussed the importance of culture at a firm, why firm owners need to invest in their people, and how to become a better financial planner.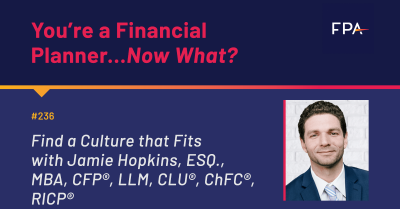 From attorney to financial planner
"I think in seventh grade, I wrote down that I wanted to be a private equity attorney...I'm still not sure where it came from, I just assumed I saw it on TV," Jamie said. "Fast forward, I ended up in private equity."
From there, Jamie spent time in the finance world. He worked as a clerk in the appellate division and got to experience the trust side of financial advising, which piqued his interest in estate planning. That led him to eventually build the Retirement Income Program at the American College of Financial Services.
Jamie has had a variety of experiences in finance and the personal finance world, but an important moment in his personal life really sparked his interest in retirement income planning. His father passed away when he was eight, which left his mother to run a construction company as well as the family. 
"She is now in her late 60s, and looks like a lot of Americans do: very heavy reliance on the future, on Social Security, on Medicare, with her mortgage almost paid off...no 401(k) or pension ever in her life" said Jamie. "And watching her through the years was what piqued my interest on retirement income planning." 
From education to national wealth management firm
Jamie joined American College of Financial Services in a research role; it wasn't client-facing, and he wasn't taking on individual estate planning or financial planning clients, though one of his goals was to build out his estate planning practice. But it didn't happen that way. Jamie didn't expect to end up in a teaching position.
"I figured I would spend 40 years working and then maybe go teach again, right?" Jamie said. "We had about 18,000 financial advisors come through the [program]. I could go back to private equity and I could impact my clients. But if I can impact 20,000 advisors, and then 100 to 200 clients...it's a lot more impact than I would have by myself." 
Jamie worked at the American College for nearly seven years. He loved the impact that education had on others, and thought he could make a whole career out of that role. However, leadership changes in the college led him to interview at other places that had already reached out to him.
Enter Carson Group, a national wealth management firm that provides advising services to clients, solutions to advisors, and coaching services. Jamie came on to work in the retirement side of things. 
"I came in as Director of Retirement Research, but...probably a better description was Director of Retirement Planning," said Jamie. "It impacted a lot more things than just the research side. But as an academic, I got to create my title, and I love keeping the research title."
Advice for those in the profession
Jamie is also the Managing Director of Carson Coaching, so he gets to work with a lot of new young planners or professionals looking to make changes in their career. What advice would he give to these people in order to find success?
"Find a place with a culture that's going to fit you," said Jamie...."I see some young people who are coming out of programs that are really entrepreneurial, really high energy, and then go to very, very traditional firms. That might be a challenge long term, right?"
Jamie's second piece of advice involves figuring out your expectations for success once you land a role. The definition of "success" may be nuanced from firm to firm, but it's still important to have that conversation. You have to know how you can measure success so you'll understand how to structure your work.
As for firm owners he coaches, one of the most common topics discussed is human capital. Hiring and retaining people. It's not just about getting people in the door, but it's setting them on a path to success, investing and reinvesting in their development, and giving them reasons to stay.
"When I look at larger firms, they have a problem of retaining. And that's building the right culture, building the right pathways, investing back in them and then incentivizing people to actually stay and not go find another job," said Jamie.
Jamie and Hannah had a lot to discuss in this episode, including the role technology is playing in the profession, moving up in a firm, and how to become a better financial planner. Tune in to the full episode and give it a listen.
What You'll Learn:
How Jamie jumped from attorney to financial planning
His research role at American College of Financial Services
Making the switch to the Carson Group
Jamie's advice to new planners and planners at a crossroads
Why culture and investing in people is so important
Becoming a better financial planner
Advice for moving up in firms
What is the future of financial planning?
In this episode of YAFPNW, Hannah Moore, CFP®, and Jamie Hopkins ESQ., MBA, CFP®, LLM, CLU®, CHFC®, RICP®, discuss:
Interested in following Jamie? Follow him on LinkedIn and on his podcast, Framework!