Erin Lowry, financial translator, author, and speaker, is the founder of Broke Millennial, a popular financial advising brand that helps millennials "get your financial life together (#GYFLT). In our newest episode of YAFPNW, Hannah and Erin discuss how Erin got the idea for Broke Millennial, what's unique about serving this particular generation, what it's like to write books, and much more.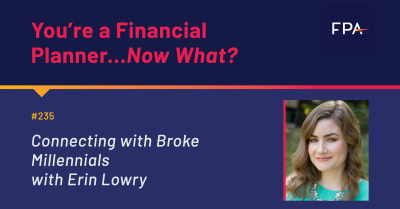 The origins of Broke Millennial
Erin is not a "math-minded" person, as she puts it. She was a journalism and theater double major in college. Following graduation, she moved to New York and worked as a page for The Late Show with David Letterman, a barista, and a babysitter...all at the same time. She was "as far away from the business world as you're going to get."
So how did Erin found Broke Millennial, which has been featured in The New York Times and Wall Street Journal, highlighted on news broadcasts, and spawned two books (with one on the way)? She credits how her parents raised her to understand and handle money.
"I was...pretty confident about my financial situation, just because I understood how to control it. I wanted to make a space for other people to feel the same way," said Erin. "And that's really what started brokemillennial.com, was just writing these stories about experiences that I was having, trying to make it work in New York, funny things that my parents did when I was a kid to teach me about money growing up."
Erin launched the Broke Millennial blog in January 2013 on WordPress. It introduced her to a brand new online community that she didn't know of before: the world of personal finance blogging. What she found interesting was the lack of diversity in the community at the time. 
"A lot of people were married, a lot of them were men, and a lot of them lived in non-big cities," said Erin. "I was single, living in New York City, not earning a ton of money. It was just a very different perspective than a lot of the personal finance blogs that already existed at the time."
Erin's story just goes to show that aspiring financial advisors can get into the profession simply by starting to write. Telling their stories. Explaining how they'd tackle financial problems that they see all the time. 
About the Broke Millennial book series
Erin's first book in the Broke Millennial book series is called Broke Millennial: Stop Scraping by and Get Your Financial Life Together. A "Color of Money" Book Club Pick by Washington Post, this book outlines steps to take to go from "flat broke to financial badass." She followed up her 2017 debut book with Broke Millennial Takes on Investing: A Beginner's Guide to Leveling Up Your Money in 2019. It answers common questions from beginners who want to start investing and don't know how.
Now, Erin's third book is due to hit shelves December 29, 2020. Broke Millennial Talks Money: Scripts, Stories, and Advice to Navigate Awkward Financial Conversations will remove stress from tricky financial conversations at work, in relationships, or with friends and family. Erin's had the early idea for this book since the inception of Broke Millennial as a concept.
"So much of our pain, when it comes to money, truly comes down to an inability to communicate about money with other people in our lives," said Erin. "Sometimes that could be as simple as having to tell your friends, 'No, I cannot afford to split this dinner bill evenly. Or maybe it's having to ask your coworker, 'Hey, how much do you make, because I kind of have a sense I'm getting underpaid compared to the rest of the people here.'"
As with her previous books, Erin completed a lot of interviews when writing the book. Talking to other people who have either researched the topic, are experienced in the topic, or who simply had very different experiences is always important to her in the writing process.
"I very rarely come from the place of 'I'm the expert,'" said Erin. "It really comes down to me playing more of a translator role."
How serving millennials is different
What makes serving millennials different from other generations, like baby boomers or Gen Xers? Where and how millennials want to communicate is one thing, said Erin. Speaking to a financial advisor remotely or through text has been a huge part of it.
Another way millennials are different? The finances themselves. Conversations around student loans, wage stagnation, and a completely different economy than the one baby boomer parents faced. Retirement, investing, financial goals, and lifestyle choices are not the same as previous generations' because the context isn't the same. That's what a financial advisor has to take into account when serving millennials.
Millennials may want a financial planner, but they often fall for the misconception that you need to have millions in assets, or you have to hire someone with services that don't meet your needs. That's not the case, said Erin. There are so many ways to offer financial planning, whether it's providing long-term comprehensive services, an a la carte type of offerings, or something that falls in the middle. 
However you go about it as an advisor, connecting with your clients through personal stories — and using layman's terms — is key. It's really for advisors to use financial jargon that their clients may not know. And one of the best ways to forge a bond with people is by sharing your own personal story. Even better if clients can work with a planner who understands them on a deeper level.
"This is no surprise to anybody in the industry, but there has to be more representation," said Erin. "People do want to work with people who reflect their own experiences, or just can understand their own experience without a whole lot of background conversation, to some degree. So I do think that that's an incredibly important part of what we need to be working on as well."
What You'll Learn:
How Erin got the idea for Broke Millennial
The book writing experience
About her new third book in the Broke Millennial series
What's unique about serving the millennial generation
Financial content that resonates with millennials
How to build an audience
Erin's advice for reaching out to their communities
In this episode of YAFPNW, Hannah Moore, CFP®, and Erin Lowry, financial translator and author, discuss:
Interested in following Erin? Follow Broke Millennial on Facebook, on Twitter at @BrokeMillennial, and on Instagram at @brokemillennialblog!