Cody Garrett, CFP®, is a financial planner at Legacy Asset Management and a financial independence educator at Measure Twice Money. As a career musician first, Cody has traveled quite an interesting path to the profession. In our newest episode of YAFPNW, Hannah and Cody discuss his education and background in music, his passion for honest financial education, and how a music background influenced his approach to financial planning.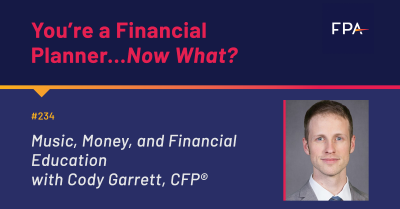 Coming to the profession from a music background
Cody's career began in music. A pianist since the age of five, Cody studied music theory and contemporary piano performance in college. He worked as a music director for contemporary worship at a church for eight years, on top of music arrangement, Broadway music tours, and studio work. 
While his role at the church was fixed and regular, he found it difficult to balance work and life, especially when he was at home most days and working most nights. Cody was always interested in personal finance, and being a musician, he knew he'd have to figure out his money at some point.  
"Most people think about musicians or being a musician as, 'oh, you're sacrificing your finances and a lot of other parts of your life because you love music," said Cody. "And I feel like that's only a half truth."
What made Cody realize he wanted to pursue financial planning? After going through the Financial Peace University program, he wanted to learn more. Cody began devouring financial podcasts like Radical Personal Finance, The Money Guy Podcast, and much more. Once he discovered that his godfather worked in the profession, Cody began the CFP education program.
After completing the financial planning fundamentals class, followed by insurance and risk management, Cody realized he wanted to know more. And he needed at least two years of experience if he actually wanted to become a CFP using the accelerated path. Joe's godfather took on the role of his mentor, and Cody learned everything from client meetings to investing to opening accounts and more.
It's not the typical way many people get started in a firm, but it was like "going to see a movie without seeing the preview first, which can be actually great," said Cody. "If you have really high expectations of something, it's more likely to not meet those expectations. Whereas if you don't have expectations, or low expectations, you can be pleasantly surprised."
The real value in financial planning
Cody's favorite part of being a financial planner is honest financial education. While most people think of financial planning as an information dump followed by being told what to do, Cody believes that the value in planning is "the clarity and peace of mind" planners bring to clients.
"Both of those things require education, because if you aren't able to educate the client about where they are, you can't talk about where they're going," said Cody. "So I feel like education plays the major role in planning. And that's my favorite part."
That's why Cody launched a website, Measure Twice Money, just a few months ago. He wants his blog to educate people on finances honestly without being sold any sort of product. Not only do his blog posts teach others about financial planning, they help Cody learn even more about the profession. Every blog post requires thorough research and careful writing to be accurate.
"These blog posts require me to educate myself," said Cody. "Ultimately, it's a win-win because I'm improving my skills and hopefully helping people determine more steps they can take to improve their financial life."
Even though his blog is geared toward DIY readers, people who aren't necessarily looking to hire a planner, Cody has gotten at least three prospects a week from his posts. By learning new information from his blog, his readers realize that they might want a second pair of (professional) eyes on their finances.
Advice for new planners
What's the best way for someone interested in financial planning to get into the profession? Surround yourself by people doing it, said Cody. Talk to people in the field. Be curious and ask them questions. You'll find a lot of opportunities that way and learn a lot about the profession.
"I always recommend that people join FPA Activate or join FPA in their area," said Cody. "The more conversations you have, the more you'll realize if this is something you really want or not."
What You'll Learn:
Cody's background in music
How Cody got into the profession
Mentoring hours with his godfather
Cody's website, Measure Twice Money
Helping others through FPA Activate
Finding clients through his blog
Collaboration in music and planning
Cody's advice to new financial planners
In this episode of YAFPNW, Hannah Moore, CFP®, and Cody Garrett, CFP®, discuss:
Interested in following Cody? Follow him on LinkedIn!