Diana Yanez is a CFP® and Associate Financial Planner at RTD Financial. Her career path to RTD Financial has been long and diverse: running the numbers at a nonprofit, volunteering in Costa Rica, and studying for the CFP exam. On our new episode of YAFPNW, Hannah and Diana discuss how Diana got into the profession, how culture and upbringing affect money decisions, and what advice she'd give to other new professionals in the same situation.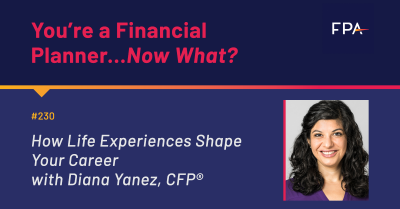 Discovering the profession
Diana's journey to financial planning began in 2015, but before that, she'd always loved numbers. While studying as an economics major and eventually getting a master's degree in demographics and social analysis, Diana interned at Merrill. Though her internship was a positive experience, it didn't feel like the right fit. It was more sales-focused, while Diana wanted to help people, not sell to them.
After getting her master's, Diana began volunteering at a mental health clinic for people who were experiencing homelessness. Since it was a nonprofit that needed to apply for grants, she began working the numbers side of things. 
"It was a big journey. I love working with people," said Diana. "But I also love numbers, and I couldn't find a place where I would get to use both of those interests."
Diana left social work to explore a career in data analysis, which was "so dry. I am not meant for government work," she said. What led Diana to the profession? Meeting Janet Larson, CFP®, at an event run by nonprofit group Toastmasters. 
Janet invited her to attend FPA meetings, and the rest is history. Diana could see that this segment of the financial services industry was different. It was something that might be a good fit for her personality and goals.
"People really liked their job. They were really happy with it," said Diana. "And they were doing the work for their clients. And it felt different than the way that people at Merrill Lynch talked about their clients."
How personal money stories impacted her career
It wasn't just Diana's desire to help people and work with numbers that influenced her career choice. Culture and personal history, personal money stories, played a role, too. Diana was the first one in her family on her mother's side to be born in the United States. She realized she had broader access to resources and more opportunities compared to others in her family.
"One of my earliest memories is going to a store with my cousins. And because I was the only one with money, compared to my cousins who are living in Mexico...being expected to pay for everything," said Diana. "I felt the inequality of that, the fact that I had no say in it, the responsibility of it."
Other life experiences influenced her idea of the career she wanted, too. Diana did a microfinance program in Costa Rica for five months, where she volunteered 40 hours a week helping small businesses and people with credit and cash flow. Living abroad was very different from her routine in the states, but she learned more about herself and how important work-life balance was.
Having these experiences can help you become a better planner, too. When your clients know your story, you can share it with them to help them discover what they want for themselves — without being preachy or pushy.  
Diana's current role
Diana moved from Southern California to Philadelphia to work at RTD Financial. She spends typical days meeting with clients as well as helping with marketing. That doesn't mean she's left behind volunteering, which has made up such a big part of life. And her experience in Costa Rica has shaped how she works to this day.
"I do pro bono work. I'm working with someone right now, surprisingly, out of San Francisco. It's over the phone," said Diana. "I remember last Friday, I was so overwhelmed, I had all of these meetings to prepare for. And I just...what I learned in Costa Rica was to just relax. I actually got more done when I had enough rest." 
Now that Diana is a financial planner, has her career met her expectations?
"Yes, yes...It only took me ten years to find where I wanted to work," Diana joked. 
For anyone else unsure of what exactly they want to do in the profession, Diana recommended staying curious and being patient. Read books, listen to podcasts, attend events, and talk to other financial professionals. That can help you discover your own career path.
What You'll Learn:
Early experiences in the financial services industry
Diana's career path
Personal money stories
A microfinance program in Costa Rica
Diana's current role at RTD Financial
How the profession has differed from her expectations
Diana's advice to planners in a similar situation
In this episode of YAFPNW, Hannah and Diana talk about:
Interested in following Diana? Follow her on LinkedIn!