Tim Maurer, CFP®️, speaker, and author, is the Director of Advisor Development for Buckingham Wealth Partners. His motto, "personal finance is more personal than finance," drives his writing, speaking, and of course, his financial planning work. In our new episode of YAFPNW, Tim and Hannah discuss the meaning of that motto, as well as the skills planners need to excel and the impact we can make on our clients' lives.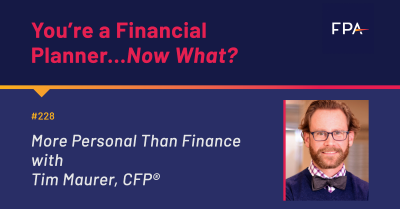 Addressing the personal side of planning
"Personal finance is more personal than finance." Check out Tim's writing, his LinkedIn, or his Twitter bio, and you'll see that this theme drives Tim's approach to financial planning. It's not so much the numbers or quantitative plans that make the difference with clients. It's the emotional and personal elements of the profession. 
Tim first thought about this concept through discussions with other financial advisors and aspiring advisors. He continued his research, and once he discovered behavioral economics, he realized there were scientific facts backing up this idea. 
"It's not just like a clever tagline," said Tim. "It's been proven, and that means we need to engineer how we work with clients in such a way that it respects this scientific fact. That personal finance is, indeed, personal."
How do we address the personal side of things when we work with clients? If we're not one of those advisors who's naturally gifted at it, we have to have a process in place for it. That's been the bulk of Tim's work over the last ten years: figuring out how to bring the more emotional and motivational elements to the forefront.
"Systematizing workflows is one of the things that advisors want. They want a sense of direction; they're planners, and that helps guide them in the process," said Tim. "My objective is to help people create systems and to institutionalize this wisdom, but to do it in a way that is really hyper-personalized. And that feels customized and customizable."
Being better planners
Processes aside, what can we planners do to accommodate each clients' unique personal needs? Empathy is the key, said Tim. It's a challenging skill to learn (and teach), but once you have that foundation, you can handle almost anything the client brings to the table. Tim also suggests that planners do their own life plan so they can do them well for their clients. 
"That can be a little bit intimidating for us as advisors, but it is so freeing, and it is so valuable, it actually helps you figure out what you want to do in life and in your career, going through that process yourself," said Tim. "And then you will be better skilled to do that with clients."
Communicating — specifically, listening — is a skill that planners need too, especially with new clients. The fact that a client is sitting in front of you doesn't necessarily mean that they're ready to change, Tim said. To pave the way for that change, you have to listen to the client's pain points. And when they're done speaking, give them a few seconds of silence. Most times, they'll keep talking.
Beyond the bottom line
There are a few different studies on the numbers, but around 80% of financial planning recommendations are not implemented, Tim said. So, what happens for advisors or planners who give wonderful recommendations to clients...and they don't follow it? 
Instead of focusing on why clients don't take our advice, we might benefit from seeing ourselves as guides rather than heroes. A hero financial planner swoops in to save the day and totally changes a client's life (as long as they implement your recommendations). On the other hand, a guide walks a client through the process, helping them uncover what they need to do.
"The best job you can do is often to be a guide for your client in self-awareness," said Tim. "Because the fewer the steps and the simpler they are, the higher percentage chances that they're going to actually do what we recommend."
This approach takes adult learning theory into account. There are five to six assumptions of Knowles' theory, but the relevant one discussed in the topic is the idea of self-concept. How we prefer to learn changes from being instructor-led as kids to a more self-directed approach. We don't want someone to tell us what to do. We want to discover the answers on our own.
As guides for our clients, we have an unbelievable privilege and power to make an impact, especially in times such as these. Not just influence a client's finances, but their whole life. That comes from reaching a client personally and emotionally.
"It's almost as though as advisors everyday, we have a choice," said Tim. "Am I just gonna help somebody's bottom line today because you've probably got the skills necessary to do that? Or am I going to actually help make somebody's life better?"
What You'll Learn:
How personal finance is more personal than finance
Why clients come to us
Developing processes and skills
Practicing empathy with clients
Common pushback when it comes to life planning
Communicating better with clients
Helping clients discover the answers
Reshaping our message to potential clients
The future of the profession
Tim's advice to aspiring financial planners
In this episode of YAFPNW, Hannah Moore, CFP®, and Tim Maurer, CFP®, discuss:
Interested in following Tim? Follow him on LinkedIn and on Twitter at @TimMaurer!