Alexandra Armstrong was the first woman to earn the CFP®️ certification in Washington, D.C. in 1977. As the chairman and founder of Armstrong, Fleming & Moore, Inc., Alex has put her vast experience to work providing financial planning services to single women, couples, and retirees. We were thrilled to have Alex as a guest on our latest episode of YAFPNW. She and Hannah discuss the differences in how men and women approach retirement, how to understand the retirement mindset, and what inspired Alex to write her new book.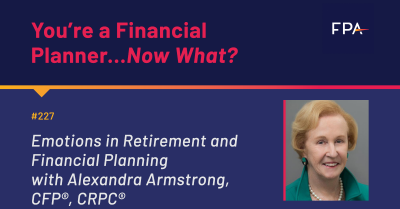 Combining finances and emotions
"Most retirement books I read...they were either from the financial point of view. How do you make your money last as long as you do? Or how do you travel around the world and have a good time?" said Alex. "But there was nothing out there that we could find that was combining the two. How can you make financial decisions that are sound, but at the same time, emotionally adjust to retirement?"
That angle, handling a major life change from a financial standpoint and emotional standpoint, is what inspired Alex to write Your Next Chapter: A Woman's Guide to a Successful Retirement with psychologist Mary R. Donahue. The two previously teamed up to write On Your Own: A Widow's Passage to Emotional and Financial Well-Being, another book about adjusting to change.
Why focus on books for women? There is a difference in the way men and women approach retirement. For one thing, women tend to live longer than men by around five to eight years. And if their retirement funds are smaller — maybe working less or working in lower-paid jobs — that can be a problem. With the pressures women face today, it's even more important than ever to prepare.
Helping clients transition to retirement
What do we, as financial planners, need to know about helping clients navigate life transitions? Remember that it's not just a financial decision, Alex said. There's emotions involved, too. For many retirees, their work takes up all of their time. It can also provide a sense of identity, drive, and a social network. What happens when all that is gone?
Having so much free time and not knowing what to do with it can be overwhelming for retirees. There's volunteer work, pursuing hobbies, or maybe even launching a second career, yes, but retirees may find those changes hard to experience.
When talking to our clients about retirement, we should discuss how to fill time and keep meaning and purpose in their lives. That's the most important thing, Alex said. Need practice doing that? Get to know the older members of your family or friends. It'll help you understand the mindset of your client.
It's also important to include both partners in the conversation if you're helping a couple. Involve both people in the conversation, make sure they understand their options, and encourage them to share their thoughts and emotions. You don't want to cater to only one partner's needs when both of them may have very different visions of their retirement.
What we've learned from COVID-19
The coronavirus pandemic has certainly changed the way we help our clients, but it's also changed our clients' perspectives on retirement. For younger clients, maybe it's even changed how they felt about planning ahead and dealing with the unexpected.
"Our whole profession is 'plan ahead,'" said Alex. "We beat that drum with our clients. But I think you can reach your clients better by saying, now, COVID is a good example."
The pandemic has helped everyone realize that the future can change in an instant. You get laid off or experience a job change. There's an unexpected illness. Or maybe you don't even want to retire and you want to keep working in a job you love. It's important to plan for all of that, or at least begin thinking about it.
"People hadn't done any planning, because 'I know I've got lots of time.' And I think everybody thinks they have lots of time, but they really don't," said Alex.
What You'll Learn:
What inspired Alex to write her new book
The difference between men and women approaching retirement
Making decisions in retirement
The most important thing when helping clients retire
Understanding the retirement mindset
What COVID has reminded us
Helping successful single women with no kids
In this episode of YAFPNW, Hannah Moore, CFP®, and Alex Armstrong, CFP®️, discuss:
Interested in following Alex? Follow her on LinkedIn!