You may know Julia Lorenz-Olson and Philip Olson for their quirky, fun web series Two Cents, a weekly personal finance show on PBS aimed at millennials and Gen Z. Philip and Julia also founded The Art of Finance, an Austin-based financial services firm that helps clients in the creative industry. How did the Olsons create Two Cents? What led them to launch The Art of Finance? Julia, Philip, and Matt discuss that and more on our newest episode of YAFPNW.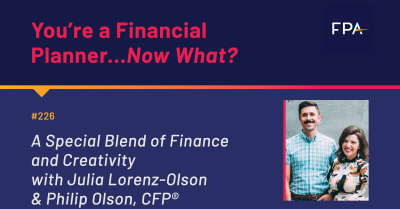 The origins of Two Cents
Julia and Philip met at theater school in college. Their shared backgrounds became a part of their marketing strategy for The Art of Finance. They began creating YouTube videos that covered different everyday financial subjects like student loan forgiveness, saving money while dining out, and so on.
"I wanted to specifically make more educational content so people would get a sense of who we were as people," said Julia. We would attract people who were cool with us being younger and open to talking about things that might have seemed pretty basic, but that most people really don't understand."
Their videos caught the attention of a friend who worked as an editor for a PBS Digital Studio Show, who asked if they'd be interested in creating a show about personal finance. Two Cents was born. Philip described it as a "natural evolution" for them, working and hanging out in the creative community.
"The creative community, I would say, is almost expected to be bad with finances," said Philip. "There's an enormous hunger for explaining basic personal financial concepts in a simple and straightforward way."
That need for simple yet effective financial education is clear: Two Cents is one of the top five financial education programs in the world. Yet Julia and Philip never want to make their viewers feel ignorant, nor do they want their show to feel salesy and inauthentic.
In initial consultation calls with new clients, Julia tries to make it very clear that she's making no assumptions about financial background or education, essentially taking the pressure off of these clients.
"I tell them it's not their fault...nobody really learned this stuff in school. Very, very few people ever talk about it at home," said Julia. "So I'm gonna start by breaking things down very, very simply. And if this is too dumbed down, you can tell me like, 'Hey, you know what, I'm ready to move on.'"
How Julia and Philip got into the profession
Philip began his career working as a teacher and waiter. When he heard about the financial planning industry from a recruiter, he was intrigued. He worked as a broker dealer, but Philip soon realized he wanted a role with more transparency for clients that didn't conflict with his own goals. That led him to financial planning.
Julia ran a personal organizing business, and eventually launched a vintage clothing shop online. While navigating the role of small business owner, Julia was recruited into the mortgage industry, which introduced her to the intimate details of other people's finances. While on calls with people, she found she wanted to give people financial advice. 
"I just really wanted to tell them, please do not buy this house, get on a budget, here's what you should do," said Julia. "Go check this out, pay off this debt first. That's what I wanted to do, and I couldn't."  
Philip and Julia realized they could not only start their own firm, but build their own brand and marketing strategy using their creative backgrounds. Plus, they could serve a group of people not typically targeted by others in the profession: creatives, artists, and entrepreneurs who may not have the wealth, or may be intimidated by traditional advisors.
That doesn't come without challenges, of course. Julia and Philip struggled with the idea of raising their fees. They also have to consider how their model serves people who bring in a certain amount of income, but still may not be accessible to others. Philip pointed out that Two Cents is essentially a free service they offer, along with workshops and seminars for the community.  
Providing value to clients
Where do their clients find the most value? Looking at their finances as an ecosystem, said Julia, rather than separate functions like cash flow or buying a home. When you look at finances as an overall picture, you can better see how everything works symbiotically. And that's not something people are taught, nor is it something you can learn quickly in one article or YouTube video.
Philip agreed. "The feedback we get from folks is that the most valuable or most enjoyed process or service we have done over the years is cash flow management and budget coaching, which isn't something that's very normally offered by a CFP RC or an RA."
Understanding clients' feelings is important to Julia and Philip, too. Money can be tied to complicated feelings, and understanding those feelings allows them to better help their clients.
Philip and Julia had lots of fantastic advice and stories to share, so be sure to tune in to the full episode!
What You'll Learn:
How Two Cents came to be
How the creative community influenced their business
Keeping things simple and unintimidating
The demographics of their show
How Philip and Julia got into financial planning
Being able to serve a lot of different people
Where their clients find value
The importance of emotions
In this episode of YAFPNW, Matt Fizell, CFP®, talks with Julia Lorenz-Olson and Philip Olson about:
Interested in following Julia and Philip? Check out Two Cents on YouTube. Follow Julia on LinkedIn and Philip on LinkedIn and Twitter at @philipnolson. You can also follow The Art of Finance on Facebook.