Don St. Clair, CFP®, AIF®, ChSNC®, is the president of St. Clair Financial, a firm that specializes in self-employed professionals and educators in California. Don is also the owner of MortgageNudge, a tool that helps users figure out how to pay off their mortgage within their budget and in respect to their goals. In our new episode of YAFPNW, Hannah and Don discuss how MortgageNudge came to be, why developing skills is just as important as gaining knowledge, and the importance of embracing uncertainty.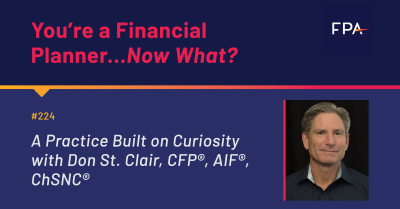 How Don became a financial planner
Don was a finance major in college because, after taking many career aptitude tests, every one of them told him that he should be a CPA, a stockbroker, or a financial planner. But his impression of CPAs and stockbrokers wasn't great. He had no idea what a financial planner was. Once someone explained the profession to him, he thought it sounded interesting, that it required good life skills.
"I never thought I'd make a career of it. I thought I'd gain a little bit of experience and maybe find an interview for another job, but here we are," said Don. "Going on what might be close to 30 years later. And it has become a career."
There were a pivotal couple of moments in Don's career where he discovered that financial planning was where he wanted to be. One was a chance meeting on a chairlift in Utah, where a mortgage professional asked him, "Should I take a 15 year loan or a 30 year loan?"
That question would come back in Don's career again and again. Another mortgage professional asked him to prove that a 30 year mortgage is better than a 15 year mortgage. Later on, Don's wife asked him to explain why a person with a 30 year loan is better off, and by how much.
"I actually don't know the answer to her question. In fact, now that she asked the question, I'm actually not even quite sure that what I said is true," said Don. 
That drove him to go into his office and write a spreadsheet — which he still uses in a different form today — that would help him prove it.
Planning and preparing for uncertainty
The early form of that Excel spreadsheet provided "the foundation for everything, all of the planning around the liability side of the balance sheet," as Don put it. But they weren't always ready to be used by other financial planners and consumers. 
Don gave a group of people access to the spreadsheets and began training them on how to use it. While his biggest worry was that they wouldn't know how to use the spreadsheet, Don found that the bigger challenge was training them to "think the thoughts" that would send them to the spreadsheet in the first place.
That's why the typical information we learn in the profession can only take us so far. The ability to recall information, learning how to the CFP test...many new planners are told how to do these things. Those are certainly important, but what will make you a more agile and helpful planner is honing your way of thinking. More specifically, changing how you embrace and handle uncertainty.
"I'm afraid that the more time, energy and resources we spend on becoming better calculators of probability, the less time we spend developing our skills to navigate uncertainty," said Don. "You can measure randomness. We measure things ad nauseum, as financial advisors. But...we live in a world of uncertainty."
Developing skills and sensibilities
With his debt tools, Don hopes to help financial planners, as well as their clients, develop those essential skills and sensibilities. We can have all the knowledge and information at our disposal, or stuck in our memory, but what we rely on are those skills.
An example: one of Don's clients worked in a town's health department and was planning for his retirement. After asking many "what-if" questions that had an infinite number of answers, Don quoted Einsenhower and said, "In preparing for battle, I've always found plans to be useless, but planning, indispensable." His client looked at him and understood.
"We spend an inordinate amount of time in conference rooms, speculating about all the disasters natural and otherwise that might happen in our county," he said to Don. "You know what happens when one of these disasters happens? We all just act. We know what to do."
Don pointed out that they developed those skills and sensibilities. They did the work so that they were prepared for the uncertainty. At that moment, they didn't reach for a plan in a binder or a checklist of action items. That's what we can, and should, develop a sense for as financial planners.
What You'll Learn:
How Don entered the profession
A random conversation with a stranger
The liability side of the balance sheet
Psychology and "mortgage nudge"
How Don developed a spreadsheet as a debt tool
Randomness vs. uncertainty
Knowledge vs. information
Don's advice for new planners
In this episode of YAFPNW, Hannah and Don discuss:
Nudge By Richard H. Thaler and Cass R. Sunstein
Interested in following Don ? Follow him on LinkedIn and on Twitter at @DonStClairJr!