Colin Overweg, CFP®, is the founder of financial planning firm Advize Wealth. Colin's firm is unique, not because it's primarily virtual or that he doesn't have a traditional niche, which are traits a few other firms share. Colin uses video reviews of financial plans to help his clients. In this new episode of YAFPNW, Hannah and Colin talk about his use of video, what pushed him to start his own firm, and giving back to his alma mater.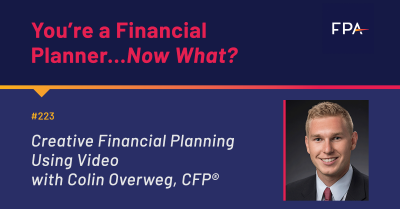 Using video in financial planning
What makes Colin stand out in the profession is his use of video with his clients. Rather than send a "45-page PDF financial plan that just sits on the shelf and collects dust," as he put it, Colin will record and share a video review of a financial plan.
Following an in-person meeting or a Zoom call, Colin records a walkthrough of all the details and intricacies that he just discussed with the client. He's found that videos are much more impactful deliverables than lengthy PDFs.
"They want to remember all of the inputs that we used in the plan," said Colin. "I found it to be so much more motivating to watch a video than to shuffle through, you know, a couple PDFs." 
Colin has also found that he's able to bond with his clients more easily through video. Expressing positivity or radiating calm are much easier through video than, say, an email full of emojis. He connects with clients and is able to show off more of his personality, too. 
Was this use of video in his firm because of COVID-19? And how does it work for older clients who may not be as comfortable using technology?
"Whether you're young or old, nobody wants to be sifting through the 45-page PDF," Colin quipped. "So that was really well received by all clients."
Colin had actually planned to make his practice almost entirely virtual before the pandemic. Of course, when quarantine orders started being issued, he didn't really have a choice. But because he had already been helping his clients get online and get comfortable using Zoom, it worked out in his  favor. He hasn't had one client leave since transitioning his firm online.
Giving back and changing the profession
Colin didn't get into this business with a goal to start his own firm. After working at a few traditional broker dealers, he realized he wanted to be more of an advocate for younger clients. He wanted the flexibility and freedom to give advice that was in his clients' best interests — not his or his firm's.
"I just didn't see another way out but to create my own path," said Colin.   
His experiences also led Colin to help out young people trying to break into the profession. He pointed out that, for other professionals getting into their respective businesses, their first role isn't business development. They're not told to go out and sell: they focus on becoming a sufficient practitioner and honing their skills first.
"It just seemed really backwards to me and I wanted to be able to kind of be the person that I wish I knew when I was in college," said Colin. That's why he connected with one of his old professors at Michigan State, and eventually began giving back to his alma mater. Advisors looking to make a difference can do something similar, rather than try to change the profession. 
"Whether it's your alma mater, or just the college down the road, or maybe just looking up other places that are offering the CFP programs…say, 'Hey, how can I help out? How can I pitch in?'" said Colin.
No niche? No problem
Many of our guests on YAFPNW have stressed the importance of having a niche. The narrower your target audience is, the more you can focus on serving them to the best of your ability. But what if you don't have one? Or even want one?
Colin pointed out that there are many different metrics you can use to build your business. You may not have a traditional niche where you serve specific segments of the population, but you can define your business in other ways. 
For example, Colin's firm is unique in that he helps manage client assets by leveraging existing platforms that offer that service well. Colin's clients can sign up for the platform on their own, sure, but by working with him, they get advice tailored to their financial plan. (Plus a discount on the platform.)
Another factor that defines Colin's firm? It's important that he works with clients who are willing to have fun, clients who are in it for the long-term.
"I love being honest about...my hobbies and interests, and knowing theirs," said Colin. "It makes me a better planner because you really can't hide the passion for your clients to succeed when you care about them so much."
What You'll Learn:
Building a practice through video
What tools Colin uses for his videos
How he uses video to attract clients
What drove Colin to start his own firm
Giving back to his alma mater
How Colin manages client investments
Outsourcing asset management platforms
Colin's fee structure
The importance of being nice 
Working from home (before it was cool)
Colin's advice for new planners
In this episode of YAFPNW, Hannah and Colin discuss:
Interested in following Colin? Follow him on LinkedIn, YouTube, and on Twitter at @advizewealth!